xoxoxoBruce Wednesday Feb 4 01:26 AM

Feb 4, 2009: Snow Lantern

No, not a Yukimi Gata, a lantern actually made of snow.
In honor of Sundae's snowfall, this could be a way to celebrate.

If the snow is right, you can make ring of snowballs, then add a second ring on top.





Ok now keep adding more rings until you have a little snowball igloo, then stick a lit candle inside.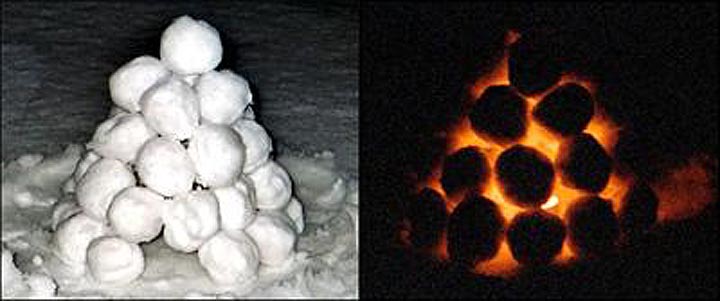 Be sure the candle is centered, away from the snowball walls. A small candle doesn't give off that much heat.
And if the snow is too dry to make snowballs, add a little water.



link

---

ZenGum Wednesday Feb 4 06:00 AM

Cool. I'm off to do that right now! :p


Maybe if I were to use marshmallows...

---

Sundae Wednesday Feb 4 06:46 AM

That's so cool Zen!
Apparently we're due more on Thursday (I have my doubts about whether it will reach us in our protected location though) so if I get any, I'll make one and take a pic.

---

Sheldonrs Wednesday Feb 4 08:34 AM

Great balls...of fire!

---

sweetwater Wednesday Feb 4 10:10 AM

Someone try that, then take pix of the inside walls after the candle has burned out. I'll wait.

---

Gravdigr Wednesday Feb 4 11:05 AM

Please keep your candle away from my balls. Thank you.

---

Sheldonrs Wednesday Feb 4 12:12 PM



---

TheMercenary Wednesday Feb 4 03:09 PM

---

dar512 Wednesday Feb 4 06:02 PM

Make your own joke

That snow lantern. That's a ________.

---

HungLikeJesus Wednesday Feb 4 06:30 PM

It looks to me like a pile of powdered donuts. Ummmm, donuts.

---

TheMercenary Wednesday Feb 4 06:51 PM

Donut holes.

---

Shawnee123 Wednesday Feb 4 06:56 PM



Revised.

---

Antimatter Thursday Feb 5 09:37 AM

I remember building similar snow lanterns as a kid. We left them open at the top, though, not the side. Never experienced any problems with melting snow on the inside, and anyway you could always just build a new one

---

Skylight Thursday Feb 5 09:41 AM

it doesn't snow in my part of Australia..

i'll just have to chip it out of the freezer.. :/

---

Sundae Thursday Feb 5 09:43 AM

I got in trouble for "stomping up and down stairs" and "opening and slamming doors" during my parents' unofficial nap time. FTR I slam no doors and I never stomp.

Anyway. Despite the family issues.

Here is my lantern. All ready for dusk.
I will take a pic of it then, in the hope that it's worth the grief I got

---

Cicero Thursday Feb 5 02:43 PM

Neato.

---

Sheldonrs Thursday Feb 5 02:50 PM

You glow girl!

---

Sundae Thursday Feb 5 02:58 PM

Proper...

---

Sheldonrs Thursday Feb 5 05:29 PM

Oooooooooooooooo....


Ahhhhhhhhhhhhhhhhh....



:-)

---

Clodfobble Thursday Feb 5 10:34 PM

Bravo!

---

BigV Friday Feb 6 02:30 AM

Well done Sundae Girl!

I have a similar picture. I must confess, I did not build the igloo, nor did I carve the troll on the outside, but I did put my zippo lighter inside and take a picture of the result. I'm quite happy with the result.

---

xoxoxoBruce Friday Feb 6 05:53 AM

Excellent, Sundae.



V, you got a Zippo? Right on!

---

Sundae Friday Feb 6 07:16 AM

V that is beautiful.
I'd show it to Dads - the artist in the family - but I know he'd say, "I've got too many jobs to do!"

Said artist is currently painting the kitchen

---

limey Monday Feb 9 01:19 PM

Well done SG and BigV!

---

Cloud Monday Feb 9 01:59 PM

it looks like a crocenbouche. You know--that desert made up of stacked creampuffs?

---

dar512 Tuesday Feb 10 03:25 PM

How different would Islam be if only they'd had ready access to creampuffs.

---
Your reply here?

The Cellar Image of the Day is just a section of a larger web community: a bunch of interesting folks talking about everything. Add your two cents to IotD by joining the Cellar.