xoxoxoBruce Sunday Jan 25 01:52 AM

Jan 25, 2009: Pirates

Anybody not in a coma has heard about the Somali Pirates hijacking ships and holding them for ransom.
We've heard more about the biggies, like the shipment of Russian tanks and the supertanker of oil, but they have been preying on a lot of smaller ships for some time.

On Dec. 19th 2008 they tried to grab the M/V Zen Hua 4 but the crew fought back.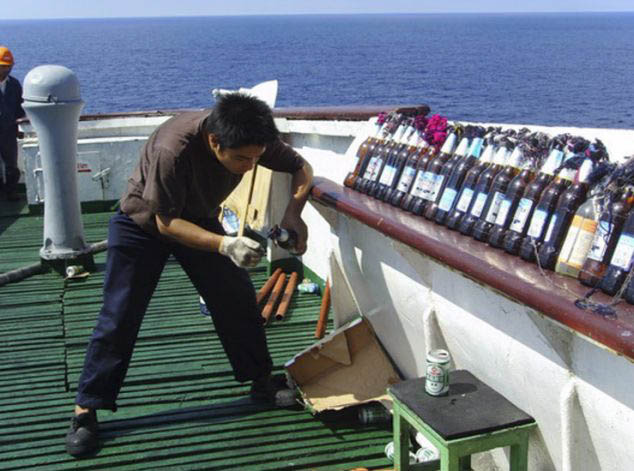 Quote:

The 30 Chinese crew of M/V Zhenhua 4 -- off the Somali Coast -- locked themselves in their accommodation area - which includes their sleeping rooms, mess rooms and recreation area - to prevent the bandits from entering the ship itself. The ship's captain, Peng Weiyuan, said the crew used 'water cannon, self-made incendiary bombs, beer bottles and other missiles to fight the pirates' during the five-hour stand-off. 'Thirty minutes later, the pirates gestured to us for a ceasefire then the helicopters from the joint fleet came to our help.
The helicopters launched from a Malaysian warship after responding to the distress call sent to the International Maritime Bureau's piracy reporting center in Kuala Lumpur.

After blasting the pirates with gunfire, the pirates clambered back into their speedboats and made off back to their coastal hideout.

These are stories we normally would expect from our great-great grandparents. The crew of M/V Zen Hua 4 is very lucky.

One for the goodguys!


A lot more pictures at CargoLaw.

---

SPUCK Sunday Jan 25 04:41 AM

Good for them!

I don't understand why they don't start putting a few special forces guys on these ships. I think if you greased all the pirates a few times the attacks would reduce a lot.

---

Sundae Sunday Jan 25 05:55 AM

Quote:

The crew of M/V Zen Hua 4 is very lucky.

... and very brave. Good for them.

---

capnhowdy Sunday Jan 25 01:31 PM

Note: Canned courage sitting on the little green stool.
I can't believe it took five hours for the choppers to get there.
Good story. Very good.

---

newtimer Sunday Jan 25 03:23 PM

Quote:

Originally Posted by

SPUCK

I don't understand why they don't start putting a few special forces guys on these ships.

Why risk the lives of many special forces guys, whose time is better spent not babysitting the working crews? One submarine lurking in the area would quickly put an end to several pirate ships.

But why does the US military have any responsibility to protect foreign trade interests, especially in a part of the world that is strongly anti-American? My opinion is to let the Chinese navy put one of their subs to work, since it's largely Chinese trade ships and crews at risk.

And speaking of Chinese trade, ...what? You need to do your laundry NOW?? (sigh). OK, I'll get off the soap box.

---

xoxoxoBruce Sunday Jan 25 04:09 PM

Quote:

WHY NOT ARM THE MERCHANT VESSELS?
So why can't we just forget about all the reporting centers, Gurkhas and new laws; and just arm the merchant ships; and blow these pirates away before they board!!

The fact is; most nations including "Her Majesty" have placed an outright ban on arming merchant vessels in order to avoid creating the "Wild Wild West At Sea."

The fear is that use of guns by crew members could easily escalate both the violence of these attacks and the harshness of pirate reprisals. Worse, shooting the "wrong pirate" could cause political, military or legal problems that are simply impossible to solve. More, you can't even use a cell phone or walkie-talkie on a tanker for fear for making a spark which might explode the vessel, so imagine the problem of firearms!

No, guns seem to be out of the question even though they are used to victimize hundreds of innocent merchant crew every year.

This said, an effective brace of merchant weapons are the fire hose, flare gun and ship's horn. Used together, an alert crew can startle, blind and hose a pirate group off the deck before an attack takes hold. The key here is robbing pirates of their chief weapon; the element of surprise.

Note the date, three years ago!


Quote:

The Somali Pirate Patrol
Largely unknown & unappreciated by the media, there has been a multi-national task force operating in the lonely waters off Somalia for the past several years.

Nations supporting this effort have included Britain, Netherlands, France, Germany, Spain, Greece, Belgium, Denmark, Italy, Australia, New Zealand, and Canada. It is noticeable that China & Russia are not included in the group.

Currently (as of Feb. 2006), the task force is led by the Dutch, and includes the following ships:

France: FS Enseigne de Vaisseau Jacoubet, FS Courbet
Germany: FGS Emden
Netherlands: HNLMS De Zeven Provincien, Replenishment Ship HNLMS Amsterdam
Italy: ITS Euro, ITS Maestrale, ITS Granatiere
Britain: HMS Enterprise
USA: USS Oak Hill, USS Vicksburg, USS Roosevelt
Logistics Support: HNLMS Amsterdam, USNS Niagara Falls, USNS Rappahannock (T-AO 204)

An Under Appreciated Theater In The War On Terror

Again, three years ago.


Quote:

Enough of You Bastards, Since The Barbary Pirates in 1804! >> USS Winston S. Churchill steamed at 40 knot flank with no smoke in response to a report from the Int'l Maritime Bureau in Kuala Lumpur on Jan. 20, that said pirates in captured dhow -- now a pirate ship had fired on Bahamian-flagged bulk M/V Delta Ranger passing 200 miles off central E. coast of Somalia. USS Churchill fired warning shots over the bow of the pirate vessel with her 5"/62 cal gun main gun -- pirates surrendered. U.S. Navy was still investigating the incident & would discuss what to do with the detained men.
Piracy rampant off the coast of Somalia, which is torn by renewed clashes between militias fighting over control of the troubled African country. Many shipping companies resort to paying ransoms, saying they have few alternatives. Last month, Somali militiamen finally relinquished a merchant ship hijacked in October. In November, Somali pirates freed a Ukrainian ore carrier & her 22 member crew after holding it for 40 days. Unclear whether a US$700,000 ransom demanded by the pirates had been paid. (Sun. Jan. 22, 2006)

So this crap has been going on for some time, though it really hasn't come to our (my) attention until they hijacked the Russian tank shipment last fall, followed by the supertanker.

And now...

Quote:

Anti-piracy patrols to be led by US Navy
By Brian Murphy
Associated Press / January 9, 2009
DUBAI, United Arab Emirates - A new international naval force under American command will soon begin patrols to confront escalating attacks by Somali pirates after more than 100 ships came under siege in the past year, the US Navy said yesterday.

But the mission - expected to begin operations next week - appears more of an attempt to sharpen the military focus against piracy rather than a signal of expanded offensives across one of the world's most crucial shipping lanes.

snip

The announcement on the new mission - issued by the US 5th Fleet in Bahrain - said more than 20 nations are expected to take part and it will be headed by US Navy Rear Admiral Terence McKnight.

US Navy officials declined to list the nations, but suggested it would likely comprise many of those already in the region.

It's highly unlikely, however, that nations such as Iran would agree to operate under US command.



---

sweetwater Sunday Jan 25 07:13 PM

Vick's dogs are unemployed now. Maybe they'd like to be sailors and 'welcome' the pirates.

grrrrr!
OK, but there are dogs that could do the job, though I like the idea of water canons best ~ 'cept I'd pump the ship's septic tanks.

---

capnhowdy Sunday Jan 25 07:26 PM

This IS a highly overlooked theatre. I had no idea the militaries were so involved. I guess if it's not in my backyard I tend to ignore it.

And sweetwater: I second the septic idea.

---

hipshot Sunday Jan 25 08:19 PM

Remind me not to mess with Sweetwater... "Sweet" water?

---

ZenGum Monday Jan 26 05:51 AM

Looks like McGyver and the A-Team went fishing.

---

suncrafter Tuesday Jan 27 09:41 AM

Good for them! Awesome!

---

where are the fnords Tuesday Jan 27 03:50 PM

---
Your reply here?

The Cellar Image of the Day is just a section of a larger web community: a bunch of interesting folks talking about everything. Add your two cents to IotD by joining the Cellar.