xoxoxoBruce Monday Jan 19 11:24 PM

Jan 20, 2008: Ticket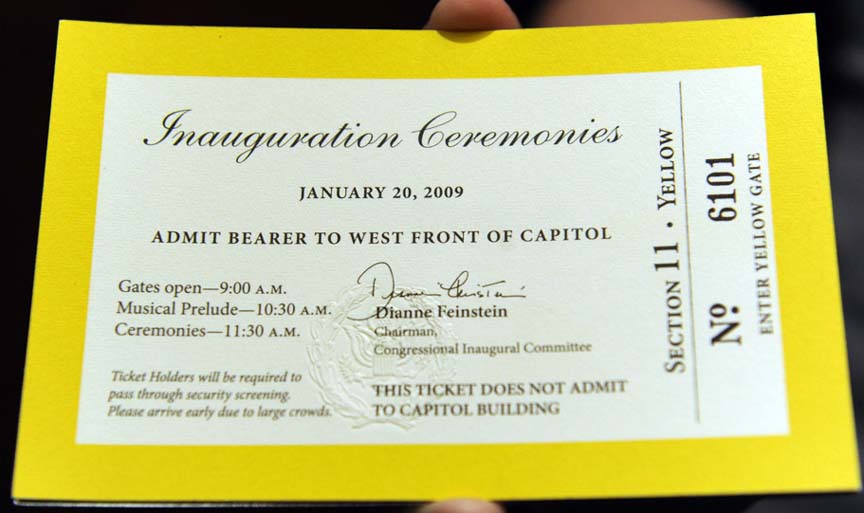 ---

smoothmoniker Monday Jan 19 11:31 PM

nicely done! How did you swing that?

---

Juniper Monday Jan 19 11:39 PM

I've got a class scheduled for 12:20. It has been rescheduled for 1 instead!

Lordy, I wouldn't be at that event for all the tea in China.

Maybe 'cause I hate crowds. Maybe.

---

xoxoxoBruce Monday Jan 19 11:46 PM
Hell no, I won't go.

---

wolf Tuesday Jan 20 01:54 AM

Heard from an employee at another hospital ... Secret Service called to do a services assessment ... how many medical beds do you have, how may psych beds, what's the surge capacity of your emergency room ... this other hospital is 150 miles away. I guess that this is called planning for the worst case scenario.

Couple of times in the past patients have ended up admitted simply because the Secret Service did a sweep prior to a presidential visit in the area. We've heard they've also put up all the threatening nuts in hotels.

---

spudcon Tuesday Jan 20 02:38 AM

"We've heard they've also put up all the threatening nuts in hotels." I didn't know we had that many hotels in America.

---

Cicero Tuesday Jan 20 03:31 AM

It doesn't seem too hard to get an invite, seating is somewhere around the capitol...you could be standing in one direction or the other....

---

SPUCK Tuesday Jan 20 05:59 AM

Yeah! Go to the inauguration! Feel the genuine history of what a gold rush pioneer felt like every time he went to town to buy food...

You want how much for a hot dog?!?!!!

---

sweetwater Tuesday Jan 20 11:10 AM

Check eBay for all the others.

ETA: eBay has banned the sale of inauguration tickets, at least so far

---

xoxoxoBruce Tuesday Jan 20 11:17 AM

But don't you think the news media just might cover this event?


I'd like a nickel for every TV camera in Washington today.

Yeah, I remember when Obama was sworn in.
How exciting, tell me all about it... do you remember what you were wearing?
Uh... nothing.

---

sweetwater Tuesday Jan 20 11:49 AM

It'll be Washington's Woodstock! I was there, I was there, Me too!

---

spudcon Tuesday Jan 20 12:57 PM

I'll be glad when the honeymoon is over, so I won't have to hear the media gushing 24/7

---

wolf Tuesday Jan 20 02:38 PM

I just hope that it ends. I'm presuming that the gushing will continue through any awful, stupid, damaging thing that he does.

---

BobT Tuesday Jan 20 06:07 PM

I have watched and waited for so long for Americans to take back the ownership of their Country. I feel that we have now reached that point where we can begin to build upon the foundation built by our Founding Fathers.
I served my Country in Vietnam when I was called to duty. It was there that I learned what damage an ill conceived war can do to ourselves and to others. While there I lost my legs to a landmine, and I feel a great sorrow for those who serve in Iraq and Afganistan who are placed in harms way in those ill conceived wars. I pray that this intelligent and thoughtful man can lead us back to the stature we deserve in the world.
It is time that science and intelligence once again reside in the White House.
GOD BLESS BARACK OBAMA, and GOD BLESS THE UNITED STATES OF AMERICA.

---

lumberjim Tuesday Jan 20 06:10 PM

why does this thread give me deja vu?

---

BobT Tuesday Jan 20 06:49 PM

Ronald Ragan once said that "Government IS the problem". He was right. Under Bush the Government abdicated its responsibility to protect the Citizens of the Country from the unbridled avarice of big business. The Country was left without a leader, as Bush took less government to its ultimate by giving us no leadership or oversight.
We can now rejoice that Obama can now say "Government is the SOLUTION"! With science, technology and inovention we can begin to employ those workers left without jobs because of big business's haste to seek low wages of foreign workers (often children). I welcome this great man's leadership into the 21st Century--8 years late!

---

capnhowdy Tuesday Jan 20 07:58 PM

I wonder if obama will allow another [substandard mortgage scam] which , while making realtors and loan czars wealthy, is the main goddam reason we're in this crap.
Never bite the hand that feeds you.

---

BobT Tuesday Jan 20 08:46 PM

I started my Mortgage Company in 1989, before that I was a Commercial Lender since 1975. So, as you can see, I have made a life long carrer in the HONORABLE profession of lending money. There are honest profits to be made in the banking industry. The fact that the Republican administration abdicated its responsibility of properly regulating that industry is an entirely different issue. I appologize to no one for my profession.

---

WillieO Tuesday Jan 20 08:53 PM

Hey Bob, I hate to interupt, but I have to laundry so I can go to work tomorrow. Do you mind getting off the soap box?

---

capnhowdy Tuesday Jan 20 08:59 PM

Took me two scotches and a deleted post to recover.

---

monster Tuesday Jan 20 09:15 PM

Hey guys, instead of berating Bob, why not just direct him to the politics forum where he can soapbox and debate to his heart's content, and better still be welcomed to do so? the Cellar isn't just aboout images, although that is how most of us find it in the first place....

Bob, go here: http://www.cellar.org/forumdisplay.php?f=5

---

newtimer Tuesday Jan 20 10:09 PM

How refreshing it was, to see a president gracefully step down from office after peacefully ending his term, WITHOUT spending his last few hours in office selling 140 presidential pardons to criminals.
And this time none of the outgoing white house staff vandalized the furniture or crapped on the copy machines.

---

monster Tuesday Jan 20 10:19 PM

(he looked stoned to me, frankly....)

---

SquidGirl Tuesday Jan 20 10:36 PM

---

xoxoxoBruce Tuesday Jan 20 11:12 PM

---

BobT Tuesday Jan 20 11:32 PM

---

Leokins Wednesday Jan 21 12:28 AM

Heh, poor Obama. Just before Bush got into the helicopter and finally left he hugged Michelle and said "I'll keep in touch, I promise."
I'm imagining awkward, annoying relative scenarios now...

---

Gravdigr Wednesday Jan 21 04:48 AM

I am sooooooooooooooooooooooooooooooooooooooooooooooo tired of the words Barack & Obama. Sooooooooooooooooooooooooooooooooooooooooooooooooooooooooooooooooooooooo tired.

(And, he looks like a pimp. :-)

---

SPUCK Wednesday Jan 21 05:47 AM

nevermind - self editing.. LOL

---

floatingk Thursday Jan 22 01:09 PM

Can you believe there was about 1.7 Million peoples there? Insane. I thought New Years in Times Square was crazy!

I couldve gone without stepping in the subway bum's poop, and him laughing at me though.

---

capnhowdy Thursday Jan 22 06:27 PM

Glad you got to go.

Glad I didn't.

---
Your reply here?

The Cellar Image of the Day is just a section of a larger web community: a bunch of interesting folks talking about everything. Add your two cents to IotD by joining the Cellar.