xoxoxoBruce Sunday Jan 18 06:54 AM

Jan 18, 2009: Icefish

Antarctic Icefish, it doesn't live on the ice, but in water that's close, at minus 1.8 degrees C.
This is the only one of many fish in the southern ocean, that was able to survive and thrive after the Drake Passage opened up about 40 million years ago, allowing a current of cold water to isolate the continent and turn it into an icehouse.

Well so what? This fish has no red blood cells, and a minimal, very brittle skeleton. So scientists studying anemias and osteoporosis among other diseases, want to know how this thing survives.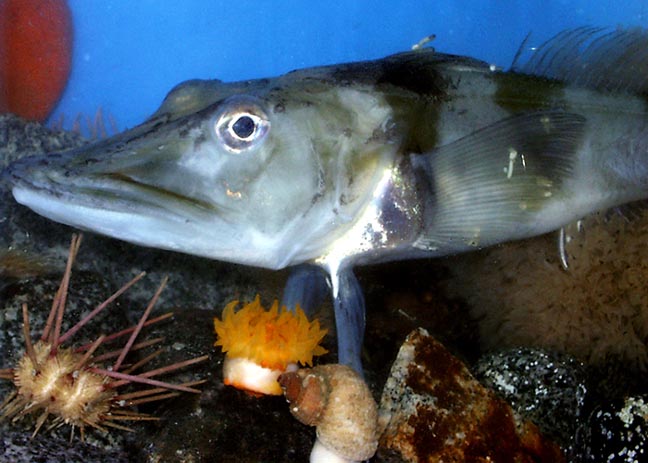 link
---

spudcon Sunday Jan 18 08:22 AM

Protein folding in the Antarctic Uglyfish happens best when tartar sauce and lemon are added.

---

classicman Sunday Jan 18 10:38 AM

No no spud, its right after the first side is done cooking and you flip it in the pan. Only then can the folding happen properly. Its a small distinction, but one of scientific importance.

---

Trilby Sunday Jan 18 01:38 PM

It's gross. Another gross sea thing. How many can there be?

---

Sundae Sunday Jan 18 03:21 PM

I often wonder why such time and effort and money were spent on going into space when there are so many mysteries in the Deep. This is another one of them, and it is fascinating. Bri - if you think this is grim you should read up on copepods/ Greenland Sharks. The parasites feed on the corneas of of the sharks, and the resulting scars blind them. Huge - up to 21 feet - blind, poisonous sharks (their flesh is toxic - except to eachother, yes they are also cannabalistic), swimming 5,000 feet deep in sub zero temperatures, with these parasites scoffing their eyes.

If there is a Creator he had a sick sense of humour.

---

capnhowdy Sunday Jan 18 04:38 PM

We don't explore the depths because if we did the Russians would have to come on our turf to join the "race". And we on theirs.
No red blood cells? Absolutely amazing. This creature has got to be unique in that respect.
...pours another Glen Livett and hunkers down for a long google....

---

sweetwater Sunday Jan 18 06:23 PM

From the Antarctic? I would have assumed France, since he's sporting a narrow mustache, and holding onto a snail and an order of fries.

---

capnhowdy Sunday Jan 18 06:37 PM

I didn't know all those pretty coral/anemonae thingys could thrive there. hmmm.

---

Aliantha Sunday Jan 18 06:41 PM

---

newtimer Sunday Jan 18 06:43 PM

"...a minimal, very brittle skeleton."

A fish that probably won't get a bone lodged in your throat? No wonder it hides in subfreezing water, away from fishermen.

(SweetH2O, that's a good observation. I had to scroll back up to see, but sure enough, there be French fries there!)

---

classicman Sunday Jan 18 06:51 PM

Is that a bloomin' onion in the background?

---

capnhowdy Sunday Jan 18 08:04 PM

or coral/anemonae thingys?

---

SPUCK Monday Jan 19 05:33 AM

I think he's cute.

---

Sundae Monday Jan 19 08:31 AM
I know other people have said it too, but I couldn't let it pass without congratulations. That really tickled me, thank you.

---
Your reply here?

The Cellar Image of the Day is just a section of a larger web community: a bunch of interesting folks talking about everything. Add your two cents to IotD by joining the Cellar.