xoxoxoBruce Monday Jan 5 11:40 PM

Jan 6, 2009: Snake Eater

Snake Eater was a (derogatory) term used for the U.S. Special Forces in Vietnam.
But this isn't about them, or any other American for that matter.
Leokins sent me this story about Wen Xide, 41, of Wangzhuang village, Zhumadian... uh, I think that's China.
Wen...may I call you Wen? Cool. ...is a snake eater.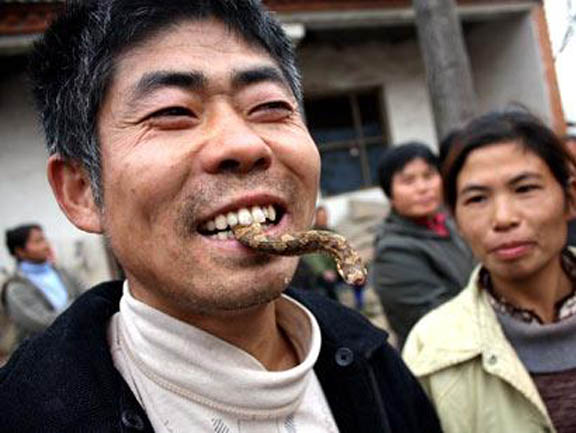 I wasn't surprised, because I know Asians eat a lot of things that make we westerners raise an eyebrow, but;

Quote:

Wen demonstrated his habit to a visiting journalist from Oriental Today by chewing down two live snakes bit by bit over a bottle of beer.

"It's a bit smelly, but they're very delicious," he exclaimed - although watching villagers said the sight gave them goosebumps and two vomited at the scene.

Yeah, that would probably be my reaction too.



In case you think it would be cool to try;

Quote:

But Wang Tianming, a doctor specialising in digestion at a local hospital, said Wen could suffer nerve problems and risked infection from parasites.

Don't.

Link

---

monster Tuesday Jan 6 12:32 AM

I Boa-t a snake once, but I adder let him go.

---

newtimer Tuesday Jan 6 03:12 AM

Geez, that's gross. I can't believe the weird crap that them foreigners eat. I'm glad to be an American so that I can eat normal, wholesome stuff like Spam, Cheese-whiz, and high fructose corn syrup.

---

spudcon Tuesday Jan 6 04:46 AM

Anybody got a recipe for a Chinese guy with parasites?

---

SPUCK Tuesday Jan 6 06:20 AM

Salmonella collector..

---

sweetwater Tuesday Jan 6 07:07 AM

I hope they poop in his mouth.


Are people eating more live animals and insects for entertainment these days, is it that so many audience members have cameras now? Not good. Nope!

---

capnhowdy Tuesday Jan 6 07:43 AM

I wonder how long the snake will wiggle inside his stomach. EEEEWWWW

---

Antimatter Tuesday Jan 6 01:33 PM

Unusual diet and not something I'd do sober, but it doesn't really gross me out either. And I remember being grossed out by the notion of raw fish but now I love sushi. I even regularly eat beaver and nobody ever vomited because of that.

---

capnhowdy Tuesday Jan 6 05:15 PM

Quote[I even regularly eat beaver and nobody ever vomited because of that.] Quote (Antimatter)
psstt... that could be taken two ways.

---

Antimatter Wednesday Jan 7 06:58 AM

Would it be fun if it couldn't?

---

capnhowdy Wednesday Jan 7 07:15 AM

Sure wouldn't.

---

Sheldonrs Wednesday Jan 7 01:12 PM

But does he lick the carpet after or before eating the beaver?
And is it still a carpet if the floor is waxed?

The questions and more, plus Andy Rooney, tonight on "69 Minutes".

---

Shawnee123 Wednesday Jan 7 01:17 PM

Thanks Lesley Stahl.

---

wolf Wednesday Jan 7 02:52 PM

*chills*

wolf no like snakes.

Dinner shouldn't wriggle.

---

Sheldonrs Wednesday Jan 7 03:39 PM

---
Your reply here?

The Cellar Image of the Day is just a section of a larger web community: a bunch of interesting folks talking about everything. Add your two cents to IotD by joining the Cellar.