xoxoxoBruce Sunday Jan 4 11:02 PM

Jan 5, 2009: Vick's dogs

You remember Mr Vick don't you? The Atlanta Falcons sure do.
Well, seeing how Mr Vick is kind of unavailable for awhile, the authorities were left with 10 dogs to care for.

They were in a quandry because everyone knows Pit Bulls are blood thirsty father rapers.
But euthanizing involves all that paperwork and expense, so they just gave them away.
Here's Teddles.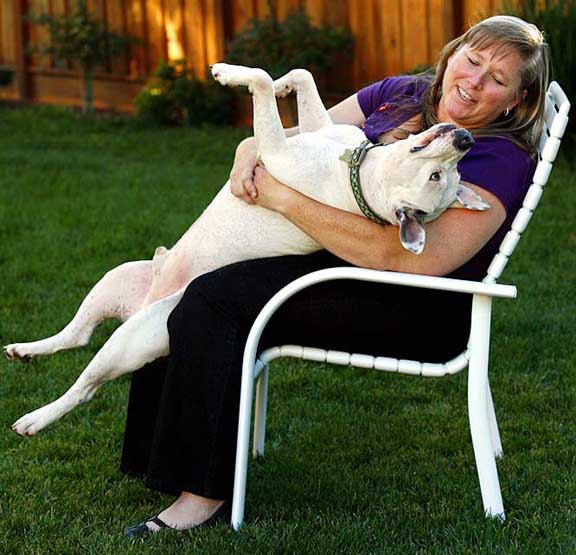 Sports Illustrated has this picture and pictures of 9 more here.
Just be careful when you go there because those dogs will rip your throat out.

---

monster Monday Jan 5 12:24 AM

Recipe for Pitbulls:

Take 1 human
tenderize......

---

dmg1969 Monday Jan 5 07:39 AM

Yep...looks REALLY vicious!

I still say Vick should have been wrapped in bacon and thrown into a pit of food deprived animals...preferably the dogs he had been fighting.

My wife and I own a pit bull mix (our second) and they are wonderful dogs. She is a pit/rottweiler mix and is just great. We had a pit/shepherd mix for 13 years until she died of cancer. She was awesome as well. They have a bad image because of idiots like Vick and the guys from the 'hood who use them to protect their crack houses.

---

chrisinhouston Monday Jan 5 01:00 PM

I hope that's his tail cause if it's you know what it doesn't look to well.

---

capnhowdy Monday Jan 5 06:25 PM

I'm very happy the dogs didn't catch runoff from the owner's idiocy. Justice would be to pit Dick..er.. I mean Vick for a death match every day and let him survive as long as he could (which prolly wouldn't be long). But wait. Two wrongs don't make a right. Or does it?

---

DucksNuts Monday Jan 5 06:55 PM

Wow, Teddles looks indentical to my Clyde.

Same look on his face n all.

---

Elspode Monday Jan 5 08:55 PM

No bad dogs. Just bad owners.

Pit bulls are *awesome* dogs. No dog is more loyal or loving, in my experience. I've never owned one (Selene is terrified of them), but I have several friends who are pit owners, and their dogs are all like giant poodles.

A few months ago, we were at a friend's house, and headed back to the car. There were three dogs in the front yard, two were chained, and the third, a young pit bull, was not. They were all barking, and the free range pit was coming toward us at a trot. Everyone else freaked. I just walked up and gave the dog the attention she wanted. She was a big wuss, and just wanted some companionship. I think she would have gotten in the car with us if we'd let her.

---

TheMercenary Monday Jan 5 09:16 PM

I say the same about parents every day.

---

Clodfobble Tuesday Jan 6 12:25 PMpotential for danger with some breeds of dog, and I for one am not inclined to trust that some stranger I don't know well is inherently a great dog owner.

---

footfootfoot Tuesday Jan 6 01:13 PM

Those dogs would make a tasty snack for these dogs:
http://www.pieterhugo.com/nigeria/index.html

---

Shawnee123 Tuesday Jan 6 01:22 PM

"It's just some dawgs, man."

---

Wombat Wednesday Jan 7 06:37 AM

---

Griff Wednesday Jan 7 07:08 AM

[croc]Now that's a dog.[/dundee]

---

capnhowdy Wednesday Jan 7 07:10 AM

On the other hand, so are we. (vicious killers) Thank the stars for evolution. Some dogs (and humans) just seem to have flashbacks from prehistoric eras.

---

Coign Wednesday Jan 7 11:15 AM

---

Shawnee123 Wednesday Jan 7 11:25 AM

No, a dingo ate your baby.

---

wolf Wednesday Jan 7 02:14 PM
---

seakdivers Wednesday Jan 7 02:43 PM

I love the pic of the dog & the boy reading a book. Too cute!

---

dar512 Wednesday Jan 7 04:17 PM

The wild dogs cry out in the night...

---

Scriveyn Friday Jan 9 09:14 AM

deleted, will have to re-word this.

---

dar512 Friday Jan 9 10:32 AM

---

Shawnee123 Friday Jan 9 10:38 AM

Ahhhh...Toto.

Had to google. I thought maybe it was a White Fang or Call of the Wild ref.

Good one.

My head was running

Tyger Tyger burning bright
In the forests of the night
What immortal hand or eye
Could frame thy fearful symmetry?

---

footfootfoot Friday Jan 9 10:40 AM

Isn't it
Dare frame thy fearful symmetry?

---

Shawnee123 Friday Jan 9 10:40 AM

In the last paragraph it is.

In the first it is not.

---

footfootfoot Friday Jan 9 10:45 AM

I see what he did thar

---

dar512 Friday Jan 9 10:52 AM

---

Shawnee123 Friday Jan 9 11:04 AM

Me too dar!

---
Your reply here?

The Cellar Image of the Day is just a section of a larger web community: a bunch of interesting folks talking about everything. Add your two cents to IotD by joining the Cellar.