xoxoxoBruce Tuesday Dec 30 02:52 AM

Dec 30, 2008: Wood Pipe PAR

I originally got this in a email, but it peaked my interest so I went searching the net. I found it, but I have the impression this happened in 1966.
Since you didn't know about it, I guess that doesn't matter... no you di'n't.



btw, PAR is the Port Arthur Refinery in Texas.



Quote:

The Wood Stave Line that is pictured in the photos below was installed in 1917 on Estimate 1636. Drawing Y-1745 depicts the route of this line, which was from the West Side Coke Stills (which were located generally where FCCU 1 & 2 were later built) along South "R" street between Ninth Avenue and First Avenue. The line was a condenser water overflow line from the WSCS to Alligator Bayou (which in those days was along the route of Flare Road in that area).

Two things;
1- they were dumping waste water directly into the bayou.
2- the bayou isn't there any more... probably filled.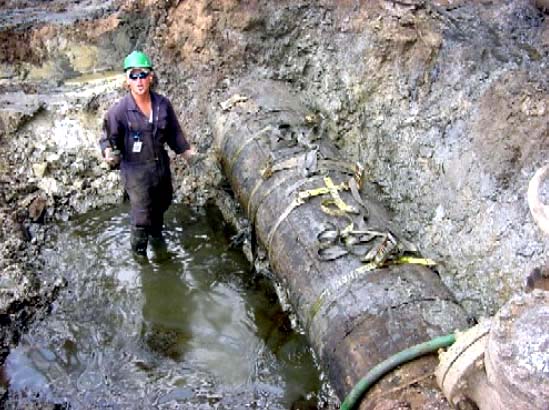 Quote:
We are currently finalizing efforts to secure and restore a section of the line that the CEP (Crude Expansion Project) team would like to donate to the refinery museum.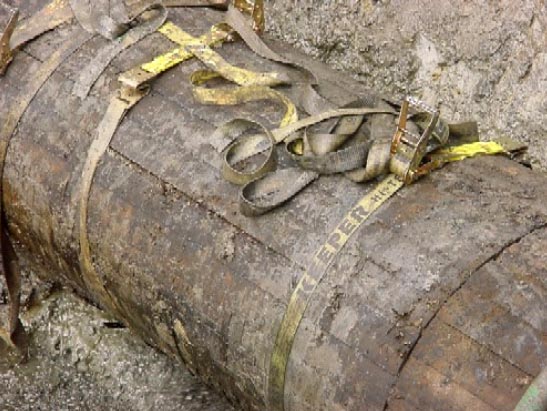 From the patent (US 4897140) for this style of pipe.


Quote:

Wood stave pipe is "composed of a plurality of longitudinally straight but transversely curved wood-staves, the longitudinal edges thereof being provided with a tongue and groove configuration and being glued together, while being mounted in a sidewise engagement in a cradle-like mounting means. The pipe-shaped bodies are later processed by milling, grinding or polishing internally and externally..."

Like a barrel, only straight instead of tapered.


Quote:

Most likely the wood used in PAR's wood stave pipes was cypress. It is in very good condition, considering that it was probably cut in 1916. The craftsmanship in the line that we found is almost unbelievable. The joints are meticulous.

They use cypress for industrial "swamp" type air conditioners and cooling towers, because it doesn't rot when it's used in wet locations.

---

SPUCK Tuesday Dec 30 06:00 AM

Yeah they need that in a museum....

"Yes, we're seeking donations for a museum piece."
"What is it?"
"Um, well it's a um, ahh, a ah, yes, well, a piece of pipe"
"A what!??"
"A piece of old pi"
<CLICK>
"Hello? Hello?"

---

TheMercenary Tuesday Dec 30 09:21 AM

They are obviously full of shit.

---

Griff Tuesday Dec 30 09:32 AM

"Hello, Museum of Hazardous Waste."

---

hipshot Tuesday Dec 30 12:26 PM

Condenser Water is not part of an internal system. It's basically the water that flows through a swamp cooler (although we think of it as "cooling" the air, it actually acts as a heat sink to remove heat from circulated air). The cooling towers you see near power plants and huge HVAC systems have CW trickling down the sides. That's why you see steam plumes in the winter time.

No HAZMAT this time!



See http://tristate.apogee.net/cool/cfn.asp for a more thorough explanation... if you are REALLY bored.

---

xoxoxoBruce Tuesday Dec 30 01:21 PM

No, this is not a drain from a swamp cooler. This is from a coke still where I get the impression they cook the crude oil to drive off water and gas. The condenser is not for boiler steam, which would send the condensate back to the boiler, but the condensed water vapor cooked out of the crude oil. This condensate would be mostly water.

---

Griff Tuesday Dec 30 04:20 PM

mmm... how about a tall cool glass of mostly water.

---

monster Tuesday Dec 30 04:26 PM

That's not a pipe. it's buried treasure! Long, thin, buried treasure.

---

busterb Tuesday Dec 30 07:12 PM

Bruce. My friend happened to call last nite and I checked to see if he got e-mail.
Awh Anyway He said he found some of same while working in AU. A fews yrs back. Hell it was only water running tru the line anyway.
Hello! What was water barrels made of years ago.
In fact there was a stavemill in this town in times past.

---

xoxoxoBruce Tuesday Dec 30 10:24 PM

Yeah, that's what water (and everything else) barrels were made of years ago, but how many survived being buried in the ground for 50+ years.

---

busterb Wednesday Dec 31 11:41 AM

Quote:

wood used in PAR's wood stave pipes was cypress

Key word being Cypress

---

Flint Wednesday Dec 31 12:05 PM

So, my foundation should have been built with Cypress...

---

Shawnee123 Wednesday Dec 31 12:37 PM

Don't click on that cypress link. It's a rickroll.

---

Coign Wednesday Dec 31 01:55 PM

---

Shawnee123 Wednesday Dec 31 02:22 PM

lmao...my plan...it worked!



I thought it looked like a linky and I was being a smart (read: dumb) ass.



---

Gravdigr Wednesday Dec 31 02:26 PM

Pipe? Fill it, light it, shut up, and close the door...

+

=

---

xoxoxoBruce Thursday Jan 1 04:00 AM

Quote:

Originally Posted by

Coign

Damn you. I was thinking, I haven't heard Rick Astley in a while and when I clicked on it, it was just underlined and not a link at all.

Like this woman. No, it's not a link to Rick, I promise.

---
Your reply here?

The Cellar Image of the Day is just a section of a larger web community: a bunch of interesting folks talking about everything. Add your two cents to IotD by joining the Cellar.