Skunks Wednesday Dec 24 11:28 PM

Dec 24, 2008: Santa Brings the Coal (ash)

via NYT:

In short, it seems that the ash produced by Kingston Fossil Plant was stored in a pond. That is, until about two days ago, when a dam or levee burst.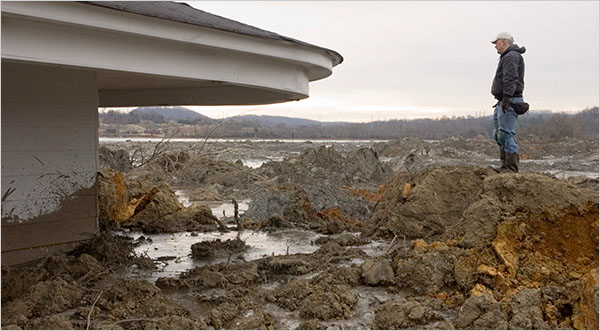 Beyond the simple kinetic problem of a sludge-flood, apparently there is some question as to exactly how toxic the material is.


Quote:
The Tennessee Valley Authority has issued no warnings about the potential chemical dangers of the spill, saying there was as yet no evidence of toxic substances. "Most of that material is inert," said Gilbert Francis Jr., a spokesman for the authority. "It does have some heavy metals within it, but it's not toxic or anything."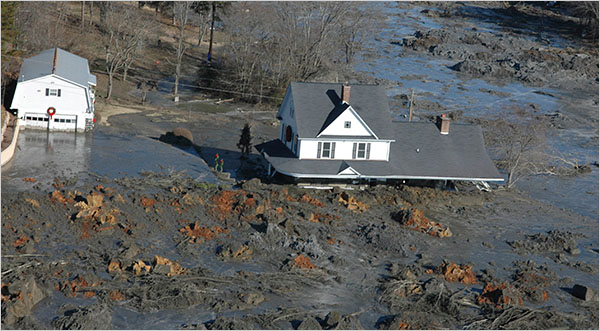 On the flip side, Tennessee Valley Authority did provide a really nice fly-by video of the spill area. Their website probably has the highest resolution .wmv, but you can also find it on the NY Times website and, most-streamable, this copy on youtube.

---

Kasszia Thursday Dec 25 12:52 AM

I'd say he made an ash of himself.

---

SPUCK Thursday Dec 25 02:06 AM

Merry Christma.....damn!!

---

gozar Thursday Dec 25 11:40 AM

The video is better if you watch it while listening to Monkee Gone to Heaven by the Pixies.

---

onetrack Friday Dec 26 01:01 AM

The NYT is pretty big on the "may be" toxic content of the fly ash .. but not real big on kicking a***, when it comes to the engineering failure here.
These power station engineers and managers are paid big $$$ to ensure, that what they do, engineering and safety-wise, is fundamentally sound.

Looks like someone needs to go back to school to get a better grasp on subjects such as .. soil stability .. engineering dam walls for strength .. etc etc ad infinitum.

The lawyers will have a field day with this kind of incompetence, and we all pay for it ..

---

classicman Friday Dec 26 05:31 PM

85% of the problem is directly traceable to the engineers....

---

TheMercenary Saturday Dec 27 08:20 AM

Moral of the story is to know where you house is on a potential flood plain. If there is a levee or dam up the hill from where you live you might be a fool if you bought a house and land in that location. We use to live in a neighborhood that was a bit hilly with various serene ponds about. I never could understand why anyone would have ever bought one of the two houses that were directly below the dam that held the pond water in. The top of their roofs were below the dam. I mean really, wtf.

---

Leokins Sunday Dec 28 01:10 PM

My workplace was built on a flood plain. I'm told that this is because the land is cheap. We do get a few puddles now and then that we have to pump out, but overall I'm not too... ah man my coffee cup just went down river.

---

Karenv Monday Dec 29 02:23 AM

[quote=onetrack;516649]The NYT is pretty big on the "may be" toxic content of the fly ash .. QUOTE]

Don't want it in MY watertable. The wells here will really suck.

---

Undertoad Monday Dec 29 09:29 AM

The wells in Brooklyn?? :O

---

Griff Monday Dec 29 10:27 AM

I believe UT is asking you to update your location or educate yourself on NYC's water supply. Unless you really are using an old well.

---
Your reply here?

The Cellar Image of the Day is just a section of a larger web community: a bunch of interesting folks talking about everything. Add your two cents to IotD by joining the Cellar.