SPUCK Wednesday Dec 10 05:47 AM

Dec 10, 2008: Mango Express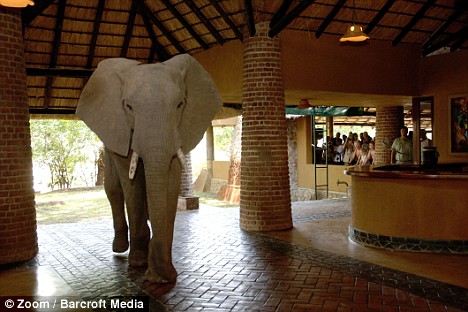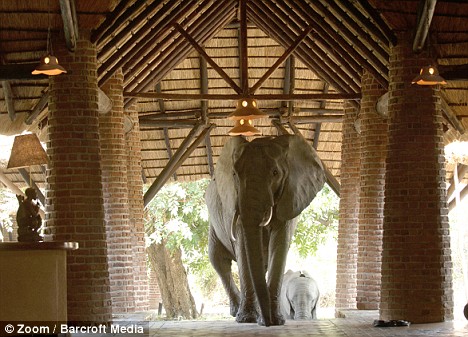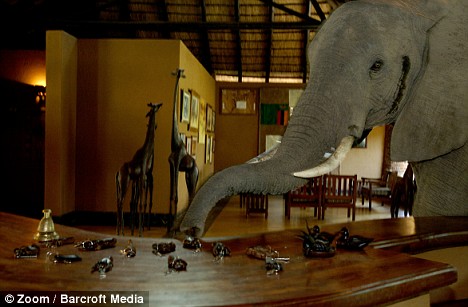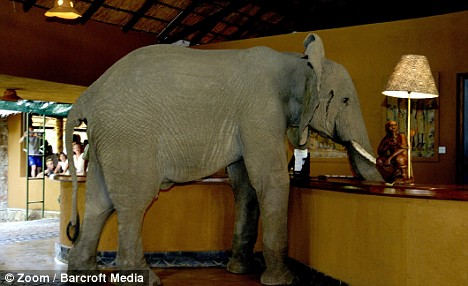 ---

Aliantha Wednesday Dec 10 06:03 AM

Awesome. Imagine being there and seeing that!

---

ZenGum Wednesday Dec 10 08:32 AM

That is so amazingly cool. I want to buy that elephant a martini. I bet they charge extra during mango season.


"Waiter, there's a fly in my soup!"
"You think you got problems, mister?"

---

spudcon Wednesday Dec 10 09:09 AM

After seeing the third picture, I think I know how I lost my keys.

---

sweetwater Wednesday Dec 10 09:38 AM

Mfuwe Lodge in Zambia happens to have been built next to a mango tree that one family of pachyderms have always visited when the fruit ripens.
...
The elephants start coming through base camp in late November of each year to eat the mangoes from our trees.

Gotta love humans and their perspectives on things. As for me, if the elephants claim the trees, then they are their trees. I'm not going to stand in their way.

---

Coign Wednesday Dec 10 10:40 AM

---

Shawnee123 Wednesday Dec 10 10:52 AM

That is great. Why are elephants so darn cool?

---

dar512 Wednesday Dec 10 11:10 AM

They've got nothin' to prove.

---

Shawnee123 Wednesday Dec 10 11:18 AM

True, so true.

"I think I could turn and live with the elephants
They are so placid and self-contain'd"

With apologies to Whitman

---

ukamikanasi Wednesday Dec 10 11:29 AM

Is it typical for places like this to have huge open doorways there? It just seems rather convenient, makes me wonder if there's more to the story.

---

Pie Wednesday Dec 10 11:39 AM

It's quite common in the tropics to have structures with minimal or no walls, just roofs and support structures.

---

xoxoxoBruce Wednesday Dec 10 12:11 PM

More pictures here. http://www.africatravelguide.com/art...uwe-lodge.html

I didn't know the elephants would take the stairs.

---

Shawnee123 Wednesday Dec 10 12:12 PM

Uh, how many elephants do you think could fit into the elevator? No doy!



---

Leokins Wednesday Dec 10 03:35 PM

---

Shawnee123 Wednesday Dec 10 04:03 PM

lol @ leokins

Welcome!

---

Leah Wednesday Dec 10 04:57 PM

That's a place that I'd love to stay at, I'd spend all day and night in the lobby. What an experience it would be.

---

Aliantha Wednesday Dec 10 05:57 PM

I noticed it was very similar in Bali too. Not so much in NZ though.

---

Elspode Wednesday Dec 10 08:00 PM

The American Way is to build a completely artificial structure in a hostile environment, totally enclosed and separate, then dare reality to fuck with it.

---

Aliantha Wednesday Dec 10 08:02 PM

Well I should probably have said 'up north'. Down south they're mostly closed in because it's generally cooler climate. I suspect it might be the same in the US?

---

ZenGum Wednesday Dec 10 08:10 PM



I also thought, if this happened 100 years ago, that elephant's head would be hanging above the bar.

---

footfootfoot Thursday Dec 11 02:34 PM
Elephant: "And at these prices you aren't going to get many more."

---

onetrack Friday Dec 26 02:49 AM

Hey! - Did ya hear the one about?? .. An elephant walked into a bar, and asked for a mango smoothie ......

---

TheMercenary Sunday Jan 4 08:49 PM

Strange. Most elephants are among the more dangerous animals encountered in Africa.

---

richlevy Sunday Jan 4 09:23 PM

clerk: I'm sorry sir. We do not check in couples without luggage.
elephant: What are you talking about. My wife and I both brought our trunks.


Zambia? Damn, we were hoping this was Tuscany.

---
Your reply here?

The Cellar Image of the Day is just a section of a larger web community: a bunch of interesting folks talking about everything. Add your two cents to IotD by joining the Cellar.