xoxoxoBruce Tuesday Dec 9 02:30 AM

Dec 9, 2008: Feed Your Head

Shrooms...


Quote:

During the rainy season in some regions of Japan, are beginning to populated forests of small lights in the trunks of trees and into the moist soil fungi grow hundreds of bioluminescence, which through a chemical reaction produced by an enzyme, emit a light that shines on a greenish tone.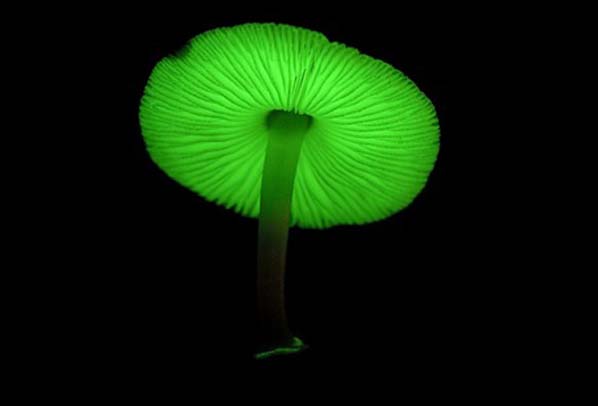 Quote:

The reason for the phenomenon of still bioluminescent fungus has not been explained scientifically, but according to the theory, is believed to be a response to the need for survival: to shine, attract insects that help disperse spores in an environment where the dispersal by wind is very limited.

See, they do it because they aren't getting enough sex.


Quote:

Luminescent fungi, grow only in native forests with lots of trees, where humans have interfered very little, so its discovery is relatively fairly recent.
The phenomenon of luminescent fungus occurs between late May to July in the forests of the island Mesameyama in Ugui in Wakayama Prefecture, but copies have been found in coastal areas south of the Kii peninsula in Kyushu and other regions.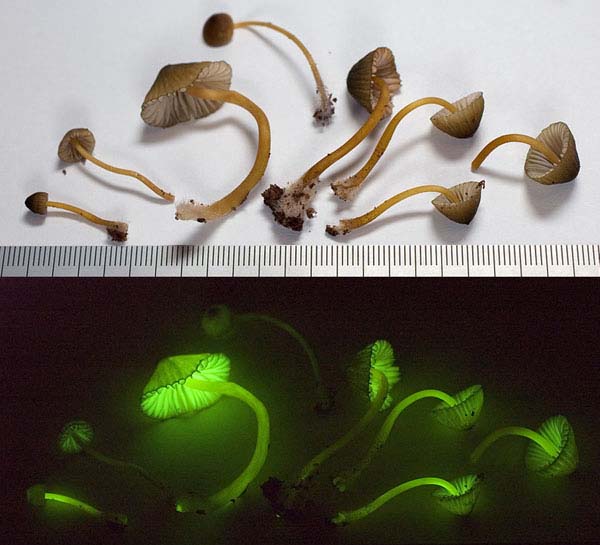 Quote:

Thousands of guests nightly visits guided by the forests of Masameyama to dazzle with the show.

Sure the kids go into the woods to marvel at the mushrooms, because by treaty, Japan isn't allowed to have submarine races.

link
---

ZenGum Tuesday Dec 9 02:37 AM

That is really cool, I love bioluminescence, and spooky pictures too.

Mind you, since it is Japan, I'm only surprised the mushrooms don't flash images of Hello Kitty.

---

JuancoRocks Tuesday Dec 9 03:07 AM

A+ in Chinglish for the descriptions.......

---

SPUCK Tuesday Dec 9 05:41 AM

After a rafting disaster, as I climbed out of a river gorge in bare feet, clawing myself up a steep bank at about midnight, in the pitch dark I came to a bunch of these in California, about 35 years ago.

---

ZenGum Tuesday Dec 9 07:48 AM

California, circa 1973, rafting at midnight, glowing mushrooms ... faaaar out, man!

---

WillieO Tuesday Dec 9 01:06 PM

Reminds me of that web page "www.engrish.com"

---

Wombat Wednesday Dec 10 01:02 AM

I saw some glow-in-the-dark mushrooms in Congo, New South Wales, Australia. They were next to the footpath between the beach and the road.

http://maps.google.com.au/maps?f=q&h...06909&t=k&z=17

---

xoxoxoBruce Wednesday Dec 10 01:06 AM

Nice beach, Wombat.

---

sweetwater Wednesday Dec 10 10:08 AM

A perfect topping for a munchies-curing pizza.

---

Leokins Wednesday Dec 10 03:31 PM

I could totally see a new industry of bioluminescent mushroom growers developing and selling them for music videos, sci-fi movies and fashion shoots. Then the next thing you know they will flash hello kitty :P

---

ZenGum Wednesday Dec 10 08:18 PMHi Wombat! I lived in Canberra from 97 to 04. Plenty of wombats thereabouts.

I've seen luminous fungi growing on trees at Byron Bay, and there is a place just near the NSW/Qld border called Natural Bridge where there is a cave and pool inhabited by fireflies. I love it when nature glows.

---

Aliantha Wednesday Dec 10 08:23 PM

Natural Arch! Aha! Now we're even.

It's at Springbrook.



ETA: Thought I'd better check out my facts this time. lol Apparently it is called Natural Bridge too.

That must be for you bloody southerners who troop up here when it's too cold down south.

---

ZenGum Wednesday Dec 10 08:44 PM

Touche'!





Yeah, that's the main thing I don't like about Queensland ... too many old Victorians.

---

Aliantha Wednesday Dec 10 08:46 PM

Thats the main thing Queenslanders don't like about Queensland too. lol

Here's another historical fact which I do know about: The reason so many Victorians and New South Welshmen started moving here was because Joh (Bjelke) was the first premier to abolish death taxes...so they all started coming here to cark it.

You should see the size of our cemetaries.

---

onetrack Friday Dec 26 03:04 AM

These are great! I think I'll import a container load to sell to pizza shops!! Just imagine! .. a pizza that glows in the dark!
No more, the problem of finding 10-day-old chunks of leftover pizza under the couch!
The glow will give them away, and you'll be able to find those lost portions, the same day! ....

---
Your reply here?

The Cellar Image of the Day is just a section of a larger web community: a bunch of interesting folks talking about everything. Add your two cents to IotD by joining the Cellar.