xoxoxoBruce Sunday Dec 7 02:48 AM

Dec 7, 2008: Beer Crystals

The guys at The Florida State University, have some very neat toys. Big expensive toys for taking pictures of itty bitty things, like Beest does.

They have a website where they post lots of great pictures, up close and personal, of animal, vegetable, and mineral structures.

On this page they explain how they tried Polarized light microscopy then differential interference contrast microscopy with limited results. Next they tried freezing a thin sample which led to tons of problems in the florida humidity.
After considerable effort, they end up with, "seed crystallization technique with semi-hydrophobic seed crystals", which I can hardly get my head around but it sure makes pretty pictures.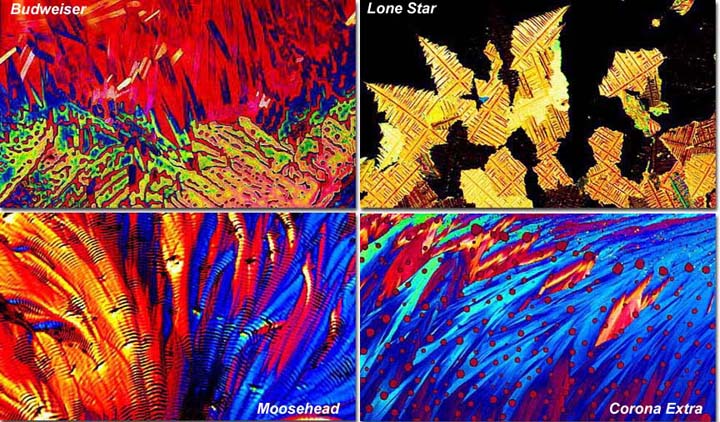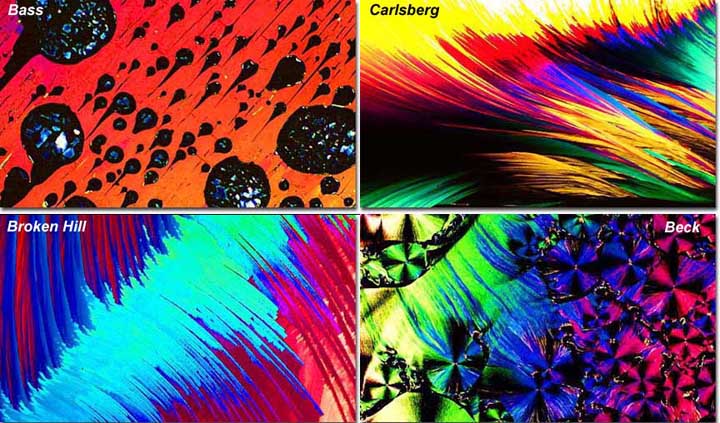 They not only have beers from 30 different countries, but birthstones, drugs, brains, buckyballs, and a host of other cool stuff.

---

wolf Sunday Dec 7 10:21 AM

No wonder I don't like Bud. That looks as awful as it tastes!

---

footfootfoot Sunday Dec 7 11:52 AM

Dude, that is so four years ago.
http://cellar.org/showthread.php?t=6911

---

xoxoxoBruce Sunday Dec 7 12:21 PM

It's taken me four years to find out what the hell you were talking about. :p

---

footfootfoot Sunday Dec 7 01:59 PM

---

sweetwater Sunday Dec 7 02:38 PM

Drink enough of those purty beers and you won't care if you know what you're talking about.

---

xoxoxoBruce Sunday Dec 7 02:42 PM

Or care.

---

sweetwater Sunday Dec 7 02:54 PM

[insert image of Homer Simpson drooling here]

---

monster Sunday Dec 7 03:22 PM

beest hasn't seen the images yet, but says he's "not impressed because they're artificially seeded"



It's looks like Corona is made from peacocks, Bass from tar and Lucozade, and Beck's from acid.

---

richlevy Sunday Dec 7 04:18 PM

Y'know, when I read the thread title I thought someone had invented 'instant beer' crystals that could be added to water like instant coffee.

There's a Nobel Prize waiting for the first guy to do it.

---

Gravdigr Sunday Dec 7 04:50 PM

Bud is okay. The pic of Bud is that also, just okay. Corona...I love Corona. I love the pic of Corona. I've never tried Carlsberg, but based solely on it's pic, I'm gonna.



That there Carl's Berg beer shore nuff do be purty.

---

jinx Sunday Dec 7 07:15 PM

Reminds me of those drink molecule ties.





---

xoxoxoBruce Monday Dec 8 05:55 AM

Oh, and tell beest he's a microscopy snob.

---

monster Monday Dec 8 11:00 PM
i did.


he told me to STFU because he'd suceeded in connecting his laptop to the record player. (yes, vinyl)

---

ZenGum Monday Dec 8 11:33 PM

Bwahahaahaa

I love it when nerds fight.

---

xoxoxoBruce Tuesday Dec 9 12:55 AM

Even started a couple of threads about it.

---

dar512 Tuesday Dec 9 09:48 AM

Turntable -> (cheap) preamp -> computer.

Not much geek cred to be had there, Beest. Sorry.

---

Beest Tuesday Dec 9 02:18 PM

winter sport is trying to SEM a snowflake, for me it has to be a fresh fallen snowflake, it has been done, but i think they grew theirs

.

Anyway the beer guys will be on the invite list for my next Microscopy Conference.

I once applied for a job doing microscopy on ice cream for Walls ( Good Humor) the size, shape and distribution of fat particles is what makes it taste creamy (fat in ice cream, who knew!), ice crytals affect the taste too.

X-ray Diffraction of Chocolate is also a career objective.

---

dar512 Tuesday Dec 9 02:50 PM

It's shareware ($40), but I can vouch for Wave Corrector.

It does everything I need:
Record a whole side of an album.
Split it into tracks.
Declick it.
And save the tracks to disk.

---

Pie Tuesday Dec 9 03:00 PM

I used Amadeus on my Mac when I had to digitize 50+ tapes (of varying states of degradation) for my grandmother. It did a good job splitting up tracks, de-hissing, etc. $40 from Kagi.

I've also heard good things about Audacity (free, oss).

---

xoxoxoBruce Wednesday Dec 10 12:45 AM

After of going to the trouble of figuring it out, my brother gave me a turntable that plugs into a USB port to record direct, for my birthday.

---

glatt Wednesday Dec 10 08:51 AM

---

dar512 Wednesday Dec 10 10:06 AM

---

Gravdigr Saturday Dec 20 08:59 AM

Audacity rules!

---

xoxoxoBruce Saturday Dec 20 11:48 AM

---

Cicero Saturday Dec 20 11:57 AM

lol. Successfully connected the comp to the record player. lol! I wanna see that. It will be the first and last time I do! lol!

ok I miss the record player and my records.

---
Your reply here?

The Cellar Image of the Day is just a section of a larger web community: a bunch of interesting folks talking about everything. Add your two cents to IotD by joining the Cellar.