xoxoxoBruce Monday Nov 24 12:58 AM

November 24, 2008: Anthropomorphic Test Device

Anthropomorphic Test Device, crash test dummies to the masses, are heroes.
They routinely suffer indignities, on our behalf, that would kill us softies.



Quote:

Formally known as an A.T.D., for anthropomorphic test device, the crash-test dummy, with its graceful form and inscrutable face, has also become an artifact of contemporary culture.

In the 1930's, with traffic fatalities becoming a growing public health concern, manufacturers began to explore the design of safer cars. But the new science of crash testing raised a seemingly intractable problem: to study the effect of a crash on the human body, researchers would have to equip the test car with a live human being. Volunteers were few. As a result, the first crash-test dummies were cadavers. While useful in collecting basic data, they lacked the durability required for repeated trials. And because no two cadavers were exactly the same size and shape, no two tests were strictly comparable.

The dummy that is the current industry standard for frontal crash testing in the United States is a lineal descendant of one Mr. Samual W Alderson began manufacturing for the aerospace industry in the early 1950's. In 1968, Mr. Alderson produced the first dummy, called the V.I.P., built specifically for automotive testing. With the dimensions of an average adult man, the dummy had a steel rib cage, articulated joints and a flexible neck and lumbar spine. Cavities held instruments for collecting data.

In the early 1970's, researchers at General Motors built a new dummy, Hybrid I, combining parts from Mr. Alderson's dummy with those of a rival, Sierra Engineering. An improved model, Hybrid II, developed in collaboration with the traffic safety administration, quickly followed. Hybrid III, released in 1977, remains the industry standard.

Guess GM got that one right.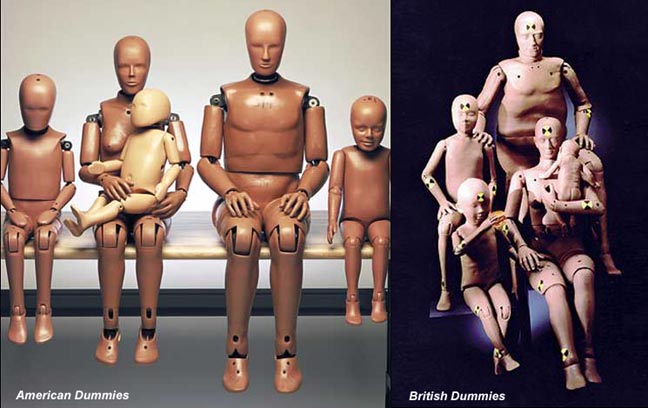 Quote:
Crash test dummies are fattening up to make car safety checks more realistic.
Bosses at independent crash test body Euro NCAP claim rising obesity in the UK means current models – based on an average Fifties man – no longer reflect the size of typical male motorists. Secretary general Adrian Hobbs said: "It looks a bit under-fed by today's standards!"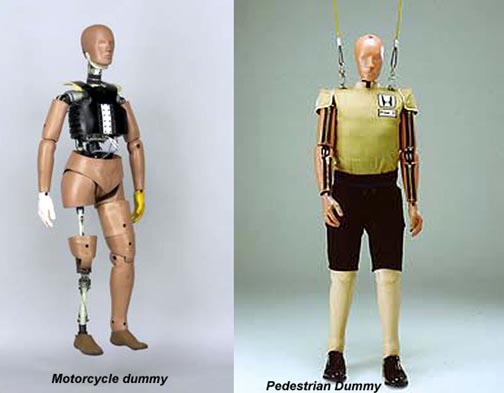 Quote:

Honda uses crash-test dummies specifically designed for motorcycle testing
Sensors embedded throughout the dummy's body eliminate the need for external wires that could interfere with test movements. They also give a more accurate measurement of the extent of injuries to specific body parts.

May 10, 2000 - Honda Motor Co., Ltd. announced the development of its 2nd generation crash test pedestrian dummy. Known as POLAR II, the dummy accurately simulates the kinematics of the human body during car-pedestrian collisions. POLAR II was designed to help Honda develop new safety technologies that reduce pedestrian injuries, providing accurate data on damage sustained by the human body in accidents.

Those dummies are very expensive, so if the unemployment rate continues to climb, it might be cheaper to hire volunteers. like the drug companies do.

Link
---

ZenGum Monday Nov 24 01:05 AM

GM's been working on hybrids since the '70s? And they still haven't released one??
(and can we have a crash test dummy for the economy, please?)

Used to use cadavers... ummm... eeeiiiuuuwwww!

---

Scriveyn Monday Nov 24 04:26 AM

Quote:

... produced the first dummy, called the V.I.P., ...

Vehicular Impact Pedal-Pusher?

Vandalism in Progress? (this one from Wikipedia)

---

SquidGirl Monday Nov 24 08:49 AM

I find it hilarious that the British test dummy baby has a butt crack.

---

spudcon Monday Nov 24 09:21 AM

Naked crash dummies. Is that for dummy porn?

---

TheMercenary Monday Nov 24 11:28 AM

They look like such a happy family.

---

TheMercenary Monday Nov 24 11:29 AM

Anyone hear these guys? I love their music.

http://www.google.com/musica?aid=3pA...usic&ct=result

---

amykins Monday Nov 24 11:29 AM

Here's footage on crash test dummies for the Segway. http://www.youtube.com/watch?v=G0y4B-I4pMk (And they're actually not naked, sorry to disappoint.)

---

newtimer Monday Nov 24 01:51 PM

The American designer didn't bother to put a nose on the middle child, but he did spend the time to make sure ma had nipples.

---

el fantastico Monday Nov 24 03:17 PM

what happens when some smarty combines a crash test dummy with a sex doll? do they have to make the internal sensors water-proof? eeew.

---

SquidGirl Monday Nov 24 08:37 PM

Newtimer - I guess that just goes to show where priorities are....

El Fantastico - nice....good one.

---

monster Monday Nov 24 11:52 PM

1) note how pale the Brits are
2) Note that they need stickers on their heads so the local population doesn't waste time on small talk with them

---

SPUCK Tuesday Nov 25 06:02 AM

Speaking of Segway crashes check this one. About 3/4th thru some nasty ones caught on film. Big lesson. Never let the wheel of a Segway hit the wheel of another one. Bad..


http://www.youtube.com/watch?v=k87cdUco7rI&NR=1

---

Cyber Wolf Tuesday Nov 25 11:39 AM

Quote:

Originally Posted by

SquidGirl

I find it hilarious that the British test dummy baby has a butt crack.

Yah, saw that too. And I noticed that someone found it necessary for the female American dummy to have nipples. I mean... isn't the general shape of the chest enough of a clue or are they worried about nipple injuries as well? And if they are... how come the male dummy doesn't have a Dummy? I'm sure those things can get plenty hurt in a crash

---
Your reply here?

The Cellar Image of the Day is just a section of a larger web community: a bunch of interesting folks talking about everything. Add your two cents to IotD by joining the Cellar.