xoxoxoBruce Sunday Nov 23 12:08 AM

November 23, 2008: Roads

Roads, streets, highways, thoroughfares, lanes, etc, of the USA.
Well 48 states of it, anyway.



Quote:

All of the streets in the lower 48 United States: an image of 26 million individual road segments. No other features (such as outlines or geographic features) have been added to this image, however they emerge as roads avoid mountains, and sparse areas convey low population. This began as an example I created for a student in the fall of 2006, and I just recently got a chance to document it properly.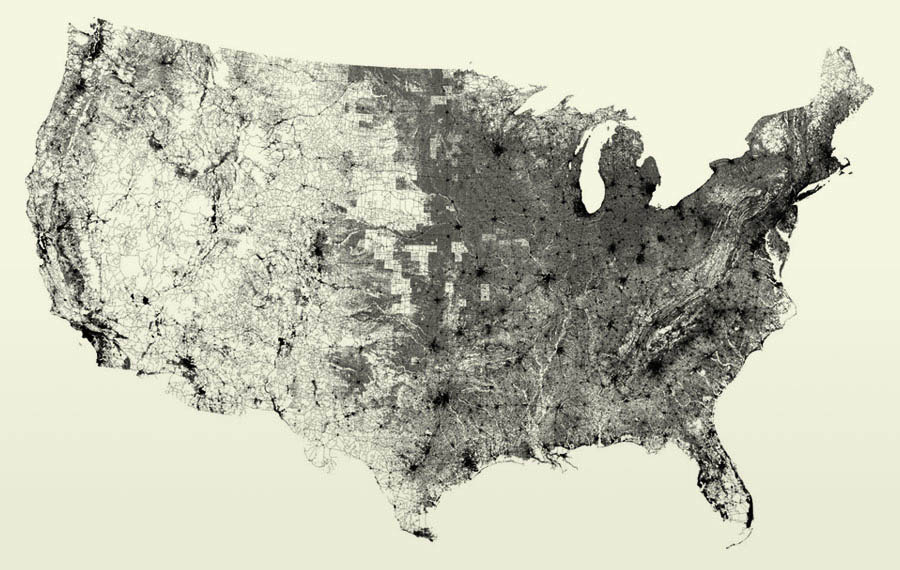 That's it, just roads.
I wonder how much heat is retained by all that pavement?
I wonder how many reptiles get squashed basking in that warmth?

I now know why the chicken crossed the road, however, it had no choice.

LINK

---

amykins Sunday Nov 23 01:07 AM

Neato... Mmm...squashed reptiles, my fave. So should we be renaming this to something like the "Highest Likelihood of Finding Yummy Roadkill Map"?

---

ZenGum Sunday Nov 23 04:43 AM

I'd like to see the same done with railroads, and regular airline routes. I fear it would be very depressing in terms of inefficient transport.

---

xoxoxoBruce Sunday Nov 23 07:40 AM

I think you're missing the point. The same thing done with railroads and/or air routes wouldn't show anything but patterns without reference. They could be in Africa or Asia or on the Moon.

---

ZenGum Sunday Nov 23 07:51 AM

That was exactly the (well, my) point. Lots and lots of roads, very few railways.

---

xoxoxoBruce Sunday Nov 23 08:09 AM

You do realize this image shows nothing but roads, right? Other than I told you, how do you know this is the USA? Because the pattern of roads show the outline, the boundaries and physical features like large lakes and mountainous regions. Rail and air routes would not show you that. There would be no reference.

---

mrputter Sunday Nov 23 09:07 AM

Quote:

Originally Posted by xoxoxoBruce

Rail and air routes would not show you that.

I'm actually not so sure about that. You'd have a case for air routes, but only because of international routes, and the transcontinental routes (think: Boston ⇔ Seattle) that arc up over Canada; if you filter out the former, I think you'd be able to see something.

Now of course it wouldn't precisely match the US' political outline in the same striking manner as the road map above does. But I'd be rather surprised if some distorted phantom of the familiar american outline didn't appear, if for no other reason than because of all the large cities that dot the eastern and western coastlines.

I, too, would be interested in seeing such maps. If only to see how great the distortion was.

---

Gravdigr Sunday Nov 23 09:53 AM

---

BrianR Sunday Nov 23 06:51 PM

Looks like a track of my movements over the last few years...

---

xoxoxoBruce Sunday Nov 23 06:55 PM

---

TheMercenary Sunday Nov 23 09:32 PM

Very cool.

---

newtimer Sunday Nov 23 09:41 PM

---

sweetwater Sunday Nov 23 09:51 PM

Quote:

Originally Posted by

newtimer

What's causing those equal-sized white squares especially around Kansas/southern Nebraska? Are they square plots of land that have roads around their perimeters but no roads inside?

Quote:

Kansas City

The white blocks seem to be rural routes and unnamed roads, their alignment to lat/lon boundaries suggests differences in how adjacent counties identify streets.

(above is from the link) Interesting map, but quite depressing. I mean, all that asphalt and cement must weigh a lot and smoosh the ground down, right?

---

classicman Sunday Nov 23 10:27 PM

---

andy_t_roo Sunday Nov 23 10:54 PM

for airlines http://au.youtube.com/watch?v=ewrOyeTjoiI is probably what you are looking for, and you can see the outline of the US there. I havn't seen anything like that for railroads though.

---

classicman Sunday Nov 23 10:58 PM

That is very cool.

Oh and welcome to the cellar, andy.

---

xoxoxoBruce Monday Nov 24 12:29 AM

Thanks Andy, yes you do get a distorted general outline. Except the second part of the video that shows the flights over a map don't count.

---
Your reply here?

The Cellar Image of the Day is just a section of a larger web community: a bunch of interesting folks talking about everything. Add your two cents to IotD by joining the Cellar.