xoxoxoBruce Wednesday Nov 19 12:44 AM

November 19, 2008: Lucky Dog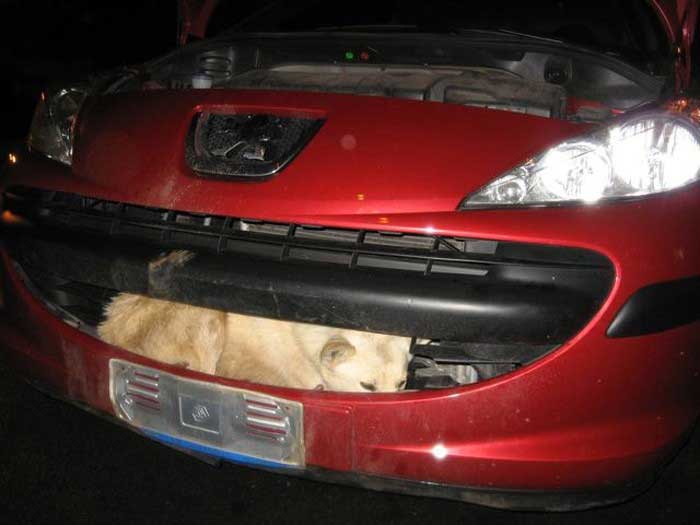 A very lucky dog, I hope he finds a good home... close enough to Marco Menozzi that he can go over and bite the bastard.

---

ZenGum Wednesday Nov 19 12:53 AM

Ok, but how did they get him OUT?

And yeah, I'd go and bite the sod who failed to stop after hitting an animal. Chomp chomp.

---

spudcon Wednesday Nov 19 01:17 AM

I'm surprised the Peugeot didn't die, or at least get a broken leg.

---

Aliantha Wednesday Nov 19 02:58 AM

What an arsehole. I just can't believe people don't stop when they hit animals, especially domestic ones.

---

SPUCK Wednesday Nov 19 05:56 AM

He didn't need to stop! Just brought the dog with him...

---

classicman Wednesday Nov 19 08:42 AM

They still make Peugeots? I haven't seen one of them in forever.

---

badcat Wednesday Nov 19 08:43 AM

I heard about this on the radio yesterday morning. I had a completely different picture in my head when they said the dog was "embedded in the grill".

---

sweetwater Wednesday Nov 19 09:07 AM

It looks like the car tried to bite the dog.

---

newtimer Wednesday Nov 19 02:30 PM
2) Stomp on the brake pedal.

---

Shawnee123 Wednesday Nov 19 02:50 PM

Awwww, he's so cute. (well you can't see much of him but he's still cute) I hope he finds a nice home.

---

Sundae Wednesday Nov 19 03:45 PM


Words + imagination = powerful images.

PS - welcome Badcat. Hang on, you're not Diz are you? I left my laptop in London unattended...

---

badcat Wednesday Nov 19 04:45 PM

---

classicman Wednesday Nov 19 04:47 PM

It's her cat.

---

monster Wednesday Nov 19 06:55 PM

---

ZenGum Wednesday Nov 19 07:15 PM

@ Monster!

And for comparison, this thread.

---

Diaphone Jim Wednesday Nov 19 08:05 PM

My first thought was that someone would remind us of the thoroughly macerated deer under the Beemer hood, one of my first IOTD's; thanks ZenGum.
It kind of looks like the pooch might suffer more from extrication than from ingestion.

---

Leah Wednesday Nov 19 09:55 PM

What a big dick head

that guy is, I only hope the dog does eventually track him down and bite him on his ass and pisses all over his car when he's better.

God I would be so distraught if I even hit a little mouse. Fingers crossed, I've never hit anything.

I hope that poor little doggie goes to a nice home. I would adopt him but I'm in Australia.

---

Kasszia Thursday Nov 20 01:07 AM

How do you remove said dog from grill?
Power tools! And grinning all the way.
Oops, sorry, did I 'accidentally' scratch the hood? What, you don't call that a scratch, more like a big jagged hole? Terribly sorry. Maybe you should have stopped. (evil grin)

---

Aliantha Thursday Nov 20 01:14 AM

I think they should just use a crobar and do as much damage to the car as possible.

I'll bet the dog doesn't have insurance.

---

newtimer Thursday Nov 20 01:23 AM

I haven't seen a dog on a grill since I went to that Chinese cookout.

---

SPUCK Thursday Nov 20 05:50 AM

Dog is my co-pilot.

---

ZenGum Thursday Nov 20 05:58 AM

Maybe the guy was an Atheist and he was driving backwards, and he just didn't believe he'd hit a doG.

---

Trilby Thursday Nov 20 07:46 AM

I've never met a Marco I liked.

---

Elspode Thursday Nov 20 09:55 PM

Regarding the thread title...I have a hard time imagining any living thing in the position which that pooch was in as being "lucky".

---

Gravdigr Friday Nov 21 08:36 AM

Of course it would be a stray. If it were associated with an owner, I'd sue the owner for any damage to my car. If I'm supposed to keep my car under my control, you gotta do the same w/your dog.

---

Sundae Friday Nov 21 10:39 AM

With no further data available I have to conclude that all Marcos are morally suspect.

---
Your reply here?

The Cellar Image of the Day is just a section of a larger web community: a bunch of interesting folks talking about everything. Add your two cents to IotD by joining the Cellar.