xoxoxoBruce Thursday Nov 13 12:05 AM

November 13, 2008: ROMEO

ROMEO, oh ROMEO, where in hell are you Romeo?


Quote:

A cable portrudes from the ice wall at Explorer's Cover, New Harbor, McMurdo Sound in this photo taken on November 12, 2005. The cable was used for the Remotely Operable Micro-Environmental Observatory (ROMEO), an underwater camera. Connected to onshore equipment and linked by radio to the Internet, ROMEO allowed scientists to study benthic fauna year-round.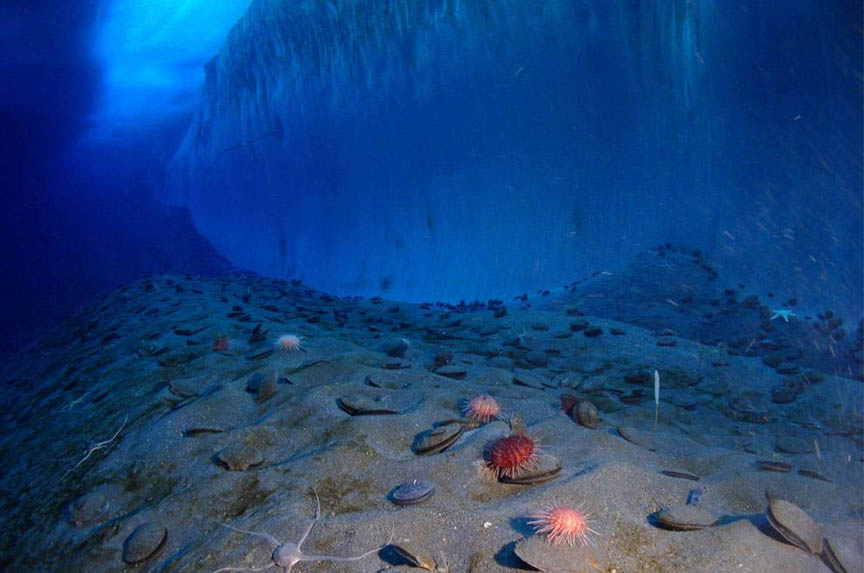 Benthic; adjective: of or relating to or happening on the bottom under a body of water.
I don't know about you, but my benthic gets all wrinkly, like a white prune, under a body of water.

link
---

HungLikeJesus Thursday Nov 13 12:50 AM

Cables shouldn't be portruding. That's just not right.

---

SPUCK Thursday Nov 13 05:28 AM

Some teenage seal has it tacked to his bedroom wall...

---

Coign Thursday Nov 13 12:18 PM

Hey now, don't knock sending high-speed porn to the sharks. Maybe it will keep them to occupied to attack us now.

---

kelso Thursday Nov 13 12:49 PM

What? No shellfish recipes yet?

---

Trilby Thursday Nov 13 01:09 PM

those critters in the foreground are purty. Purty, purty sea critters. Though, as is well known, I fear the sea. Gots monsters innit.

---

lumberjim Thursday Nov 13 01:13 PM

i don't see any cable....

---

glatt Thursday Nov 13 01:26 PMoriginal picture shows it more clearly.

---

chrisinhouston Thursday Nov 13 02:23 PM

Puts me in the mood for Scallop Sashimi and fresh Uni

---

Shawnee123 Thursday Nov 13 02:28 PM

---

lumberjim Thursday Nov 13 02:39 PM

uni is only for impressing your date. no one actually enjoys it.

plus.....it can kill you.

---

Sundae Thursday Nov 13 02:44 PM

I had to look up Uni - over here it's most commonly used as an abbreviation for University.

I'd try it (okay, not if it cost a fortune). I haven't met anything fishy I didn't like so far.

---

glatt Thursday Nov 13 02:58 PM

yuck-a-doo

---

amykins Thursday Nov 13 07:19 PM

I can't do Uni....I TRIED!

It's so slimy... no go. However I am in the mood for some sashimi!

---

hipshot Thursday Nov 13 10:50 PM

How clear and....

COLD!





On the food front...

---

Clodfobble Friday Nov 14 01:28 PM

I love all sushi--except uni. Meat should not have the texture of peanut butter, I don't care what kind of animal it is.

---

lumberjim Friday Nov 14 01:32 PM

yeah....i don't care for squid either for that same reason. slimy = bad.

---
Your reply here?

The Cellar Image of the Day is just a section of a larger web community: a bunch of interesting folks talking about everything. Add your two cents to IotD by joining the Cellar.