Clodfobble Sunday Nov 9 11:05 PM

November 10, 2008: Cellar Lamborghini

17 years ago, Wisconsin resident Ken Imhoff saw the movie Cannonball Run, and fell in love with the Lamborghini. So he began assembling one in his cellar. Maybe the problem never occurred to him, or maybe he figured he'd never finish it anyway (it did take him 17 years, after all,) but he eventually had to confront the critical issue: how does one get a fully-assembled car out of one's basement?

Well, you hire an excavator to dig up the lawn and rip out the foundation of your house, that's what you do. It is a Lamborghini, after all.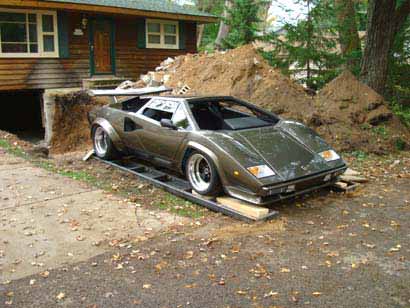 The effort was well worth it, Mr. Imhoff reported. "I was like an expectant father watching it come through the wall. I was literally shaking and running the supposed plan over and over in my head. 'Have I overlooked anything? Is some of the wall going to fall on my work of seventeen years?'

"The neighbours started gathering around as it emerged, waiting for me to remove the blankets. It was like an artist unwrapping his masterpiece. I had never seen it in the light of day either.

"As the last blanket and car cover were removed I knew at that moment I had accomplished what I had dreamed about so many years ago and to see it sitting there in front of me was surreal.

"The next day we filled the hole in the basement with new blocks. In no time it was good as new."

---

corydodt Monday Nov 10 12:55 AM

Missing critical info . . .

. . . does it GO????

I found a youtube video of the engine starting, and it sure does sound powerful, but I wanna see him drive this damn thing around.

---

Undertoad Monday Nov 10 01:03 AM

Good to see an IotD reference The Cellar itself.

---

ZenGum Monday Nov 10 01:47 AM

He's clever for building his own lamborghini.

He's a dope for building it in the cellar with no way to get it out.

He's a bigger dope for filling the hole in instead of reinforcing it and creating his own covered secret hideaway driveway ... ordinary-looking lawn splits open, palm trees lean back ... VROOM! Thunderbird 6 is GO!!!

---

xoxoxoBruce Monday Nov 10 02:24 AM

Quote:

Originally Posted by

ZenGum

He's a dope for building it in the cellar with no way to get it out.

Well, it's out ain't it?
Just a minor bump in the 17 year road.

---

ZenGum Monday Nov 10 03:03 AM

Good point. :p anyway.

---

SPUCK Monday Nov 10 05:43 AM

I don't get it... How do you just assemble a Lambo in your basement? I mean seriously! How'd he get each and every part? One at a time on Ebay? Someone down the street had an engine laying around? He mail ordered each part? "Yes I need 3 of those screws that hold the the thingamabob to the whatsit. Tomorrow I'll order the whatsit."

Maybe he had the original Lambo in the garage and disassembled it so he could reassemble it in the basement.

---

glatt Monday Nov 10 08:38 AM

Maybe it's one of those fiberglass kit cars you plop on top of a VW bug.

---

xoxoxoBruce Monday Nov 10 09:02 AM

It's not a Lambo, it's a replica. He made the body himself, but I would guess he begged/borrowed/stole, the mechanicals.

---

Trilby Monday Nov 10 10:01 AM

Quote:

Originally Posted by

xoxoxoBruce

... but I would guess he begged/borrowed/stole, the mechanicals.

ONE PIECE AT A TIME

Well I left Kentucky back in 49.

And I went to Detroit workin on an assembly line
The first year they had me puttin wheels on Caddillacs
Every day I'd watch them beauties roll by
and sometimes id hang my head and cry
Cause i always wanted me one that was long and black.

One day I devised myself a plan that should be the envy of most any man
Id sneak it out of there in a lunch box in my hand
Now, gettin caught meant gettin fired
But I figured I'd have it all by the time I retired
And I'd have me a car worth at least a hundered grand

(CHORUS)
I'd get it one piece at a time
And it wouldnt cost me a dime
You'll know it's me whe I come throught your town
I'm gonna ride around in style
I'm gonna drive everybody wild
Cause I'll have the only one ther is around

So the very next day when I punched in
With my big lunch box and with help from my friends
I left that day with a lunch box full of gears
I've never considered myself a thief
But GM wouldn't miss just one little piece
Especially if I strung it out over several years
The first day I got me a fuel pump
And the next day I got me an engine and a trunk
Then i got me a transmission and all the chrome

The little things I could get in my big lunch box
Like nuts and bolts and all 4 shocks
But the big stuff we snuck out in my buddies mobile home

Now, up to now, my plan went all right
Till we tried to put it all together one night
And thats when we noticed that somethin was definitely wrong
The transmission was a 53
And the motor turned out to be a 73
And when we tried to put in the bolts all the holes were gone
So we drilled it out so that it would fit
And with a little bit of help from an adapter kit
We had that engine runnin just like a song

Now the headlights they was another sight
We had 2 on the left and one on the right
But when we pulled out the switch all three of em come on

The back end looked kinda funny too
But we put it together and when we got through
Well thats when we noticed that we only had one tail fin
About that time my wife walked out
And I could see in her eyes that she had her doubts
But she opened the door and said "Honey, take me for a spin."

So we drove up town just to get the tags
And I headed right on down main drag
And I could hear everybody laughing for blocks around
But up there at the court house they didn't laugh
Cause to type it up it took the whole staff
And when they got through the title weighed 60 pounds

(CHORUS)

Uh,yeah,Red-rider,this is the Cottonmouth in the sycho-billy-Cadillac,come on
This is the Cottonmouth and negatory on the cost on this machine here
Red-rider
You might say I right up to the factory and picked it up, it was chaper
that way
What model is it?
It's a 49,50,51,52,53,54,55,56,57,58,59 automobile
It's a 60,61,62,63,64,65,66,67,68,69,70 automobile

---

Sheldonrs Monday Nov 10 01:35 PM

I wonder what the total cost was, incl. the digging, etc.

---

newtimer Monday Nov 10 02:06 PM

Quote:

Originally Posted by

ZenGum

...instead of reinforcing it and creating his own covered secret hideaway driveway...

That's what I was thinking. For obvious reasons, let's assume this guy doesn't have a garage. Now what's he going to do? Park his custom-built Lamborghini out on the street, where it's at the mercy of scratches, dings, bird turds, tree sap, sunlight, and thieves?

'Twill be a sad day in his household when he walks out one morning and finds that the car he spent 17 years building has been stolen after 1 night.

---

lumberjim Monday Nov 10 02:27 PM

They say that if you buy all of the parts to assemble a car piece by piece, you'll pay 7X the retail value of the car as a whole.

---

Undertoad Monday Nov 10 02:37 PM

But is that true now in the Internet day? Parts I've found on the net are like 1/7ths the price at dealer parts departments.

---

sweetwater Monday Nov 10 02:39 PM

If he had skipped the Lamborghini and built a bulldozer instead, he would have had no trouble getting it out of the basement.

---

lumberjim Monday Nov 10 02:39 PM

maybe you could break even then?

---

WillieO Monday Nov 10 04:49 PM

Thanks you Brianna. Long Live Johnny Cash

---

twilliams1797 Monday Nov 10 08:10 PM

a replica, with a Ford 351 engine, this was posted on Jalopnik last month or so, and the guy had his website overrun, costing him almost a grand in extra bandwidth fees.
the car runs and handles very similar to the Pantera, from what I hear.

---

xoxoxoBruce Monday Nov 10 11:03 PM

Welcome to the Cellar, twilliams1797.


Yeah, that's where I saw it.

---
Your reply here?

The Cellar Image of the Day is just a section of a larger web community: a bunch of interesting folks talking about everything. Add your two cents to IotD by joining the Cellar.