SPUCK Saturday Nov 8 06:17 AM

November 8, 2008: T-Bone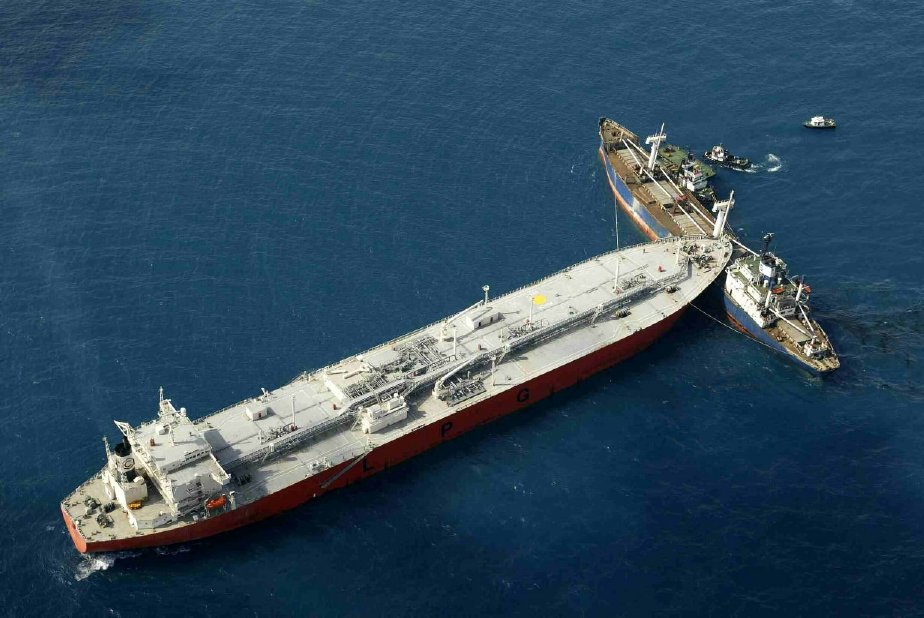 At the mega port of Singapore on Feb 27,2003 just after midnight the Gas Roman loaded with 44,000 cubic meters of natural gas T-boned the Springbo loaded with 4,000 cubic meters of sawn timber. The Gas Roman cut fully halfway thru the Springbo. The two ship were so tightly joined that they weren't in emanate danger of sinking. If the Gas Roman were to back out, the Springbo would rapidly fill with water and capsize in moments.

What to do?

The crews were evacuated and salvage was contracted. The ships were tethered to prevent accidental separation. Stevedores removed all accessible lumber from the Springbo via a barge. Steel was brought in and a sea wall was constructed around the gaping wound inside the Springbo. Internal fuel leaks that were leaking into the hole were repaired by divers.

On the afternoon of March 2nd the two ships were separated successfully with no sea contamination.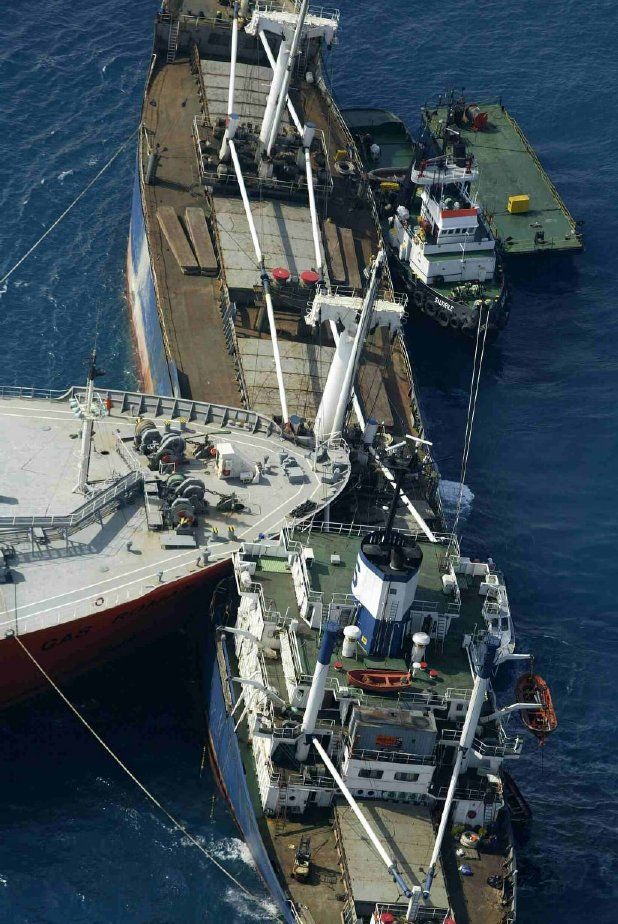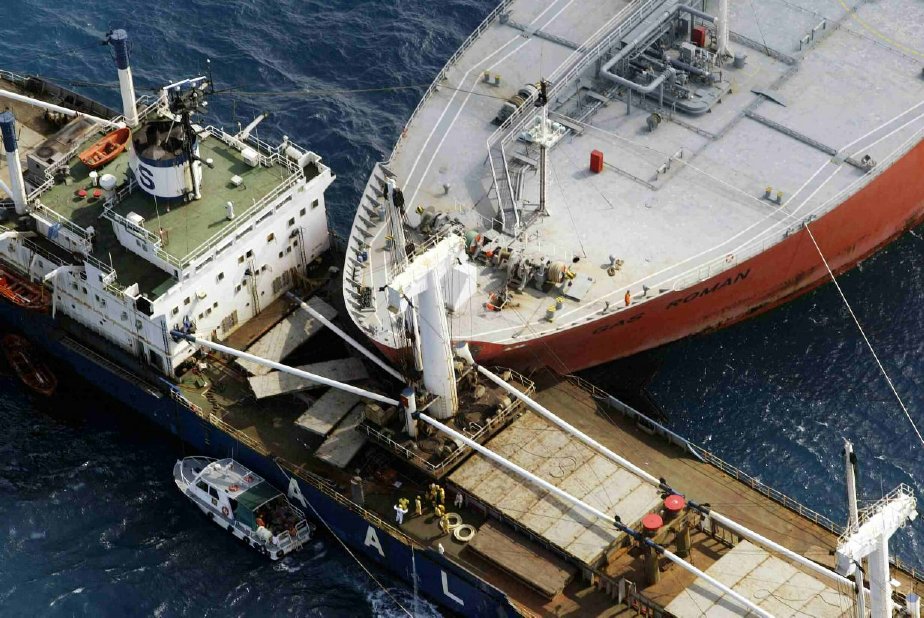 ---

Pie Saturday Nov 8 10:08 AM

Damn!
Marine accidents are always so... complicated.

---

Cloud Saturday Nov 8 11:18 AM

and sex is always so messy!

---

tulzscha Saturday Nov 8 11:22 AM

Um, ship on the left is supposed to give way. Unless the one's larger than the other, then the smaller one gives way.

Betcha he thought he could make it past in front... (or he was sleeping, one of the two)

---

Sheldonrs Saturday Nov 8 11:25 AM

"Today's show brought to you by the letters "T" and "S" "O" and "S".

---

Phage0070 Saturday Nov 8 12:26 PM

---

hipshot Saturday Nov 8 01:53 PM

Excuse me!



EXCUUUSE MEEE!



Quick, honk the horn!! Step on the brakes!!! Do SOMETHING!!!!!

---

skysidhe Saturday Nov 8 03:00 PM

good story

---

HungLikeJesus Saturday Nov 8 03:18 PM

---

Elspode Saturday Nov 8 03:22 PM

Yes. For one thing, meaningful salvage is usually not a consideration.

---

Gravdigr Saturday Nov 8 05:31 PM

Whoopsy-daisy.

---

monster Saturday Nov 8 08:50 PM
seamen everywhere

---

SquidGirl Saturday Nov 8 09:20 PM

I guess what I don't understand is with all that open ocean...wouldn't it be pretty tough to actually hit the only other boat out there? You'd almost have to aim for it.

---

xoxoxoBruce Saturday Nov 8 10:33 PM

Around ports, especially one as busy as Singapore, ship traffic gets pretty heavy. Add fog, nighttime, and long stopping/turning distances, it's even more dangerous.

Then of course there's always the idiots driving those little sports models, carrying lumber or rubber duckies, or some such, passing on the shoulder, weaving in and out, and running lights, just to show off.

Damn whippersnappers!

---
Your reply here?

The Cellar Image of the Day is just a section of a larger web community: a bunch of interesting folks talking about everything. Add your two cents to IotD by joining the Cellar.