xoxoxoBruce Wednesday Nov 5 02:12 AM

November 5, 2008: Stuffing Teddy

100 years ago, 1908 in NYC, this demure young lady is working diligently, stuffing a Teddy Bear.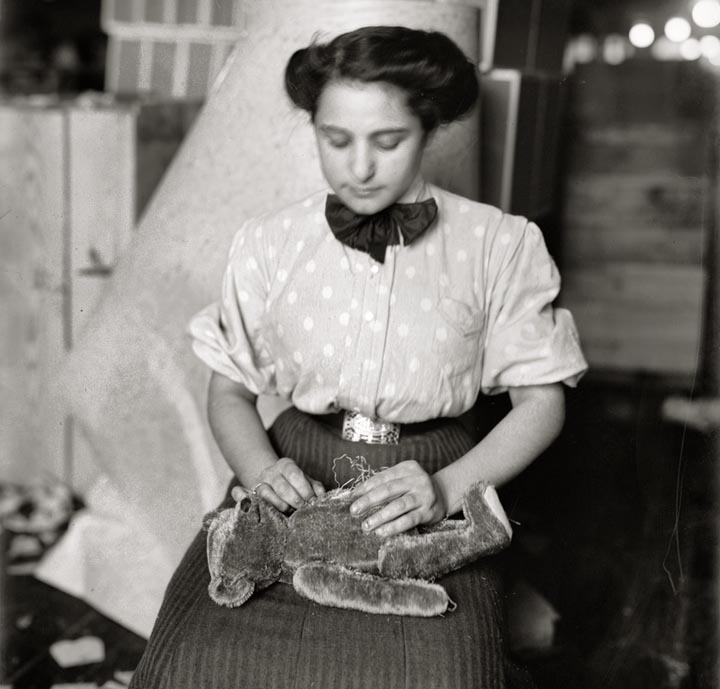 But look at her hands... they look 50 years older than she does.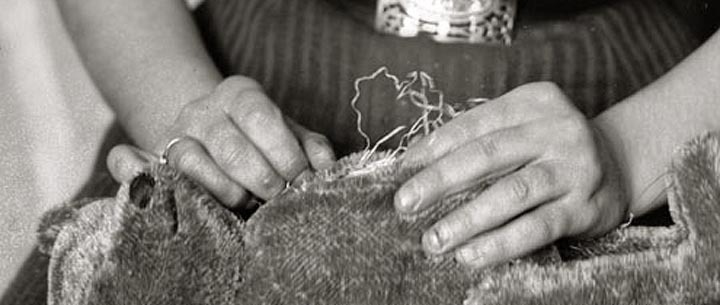 Life was tough, much more so than today. Remember that next time you bitch about how tough your life is. Appreciate how tough it was when we walked up hill to school, both ways.

Now get the hell off my lawn.



link

---

elSicomoro Wednesday Nov 5 02:15 AM

And gas was just a penny a gallon, right Grandpa?

---

SPUCK Wednesday Nov 5 03:29 AM

That's my teddy she's working on!! Hey wait a minute.. Is there where teddies came from?

---

stevecrm Wednesday Nov 5 06:29 AM

she was actually a bloke called Dave, that explains the big hands

---

bluecuracao Wednesday Nov 5 06:45 AM

Don't kids pay to stuff teddy bears now? Who was the genius who thought of that?

---

Trilby Wednesday Nov 5 08:28 AM

the fingernail of her left index finger looks weird; maybe a vitamin deficiency?

the Pre-Manicure days: Not Pretty.

---

Sheldonrs Wednesday Nov 5 08:39 AM

I've seen lots of guys stuffing teddys. It's not a pretty sight. Especially if the teddy is crotchless.

---

birdclaw Wednesday Nov 5 09:19 AM

She may be cute but keep your distance. She's got the dreaded MAN HANDS!!

---

sweetwater Wednesday Nov 5 09:29 AM

She and the bear have the same mouth, and neither has eyes. ::cue Twilight Zone music::

---

toranokaze Wednesday Nov 5 11:19 AM

---

Scriveyn Wednesday Nov 5 11:31 AM

The inventor of the teddy bear, Margarete Steiff, lived and worked in a village not far from my hometown and was confined to a wheelchar all her life due to polio. See alo this biography.

---

SteveDallas Wednesday Nov 5 11:49 AM

---

sweetwater Wednesday Nov 5 01:07 PM

I never stuffed a teddy bear. I resisted! Never, not ever, no!



Mine is a black and white cow.

---

footfootfoot Wednesday Nov 5 01:23 PM"Hello Dave? Is that Dave? OK, is Dave there? Dave? My wife would like to use your toilet..."

---

wolf Wednesday Nov 5 01:34 PM

---

gozar Wednesday Nov 5 02:30 PM

Her life is still hard - only now she lives in China.

---

Sundae Wednesday Nov 5 03:14 PM


I thought I was the only person who thought that!

She might indeed have a vitamin deficiency - look at her tiny waist! This woman didn't go out for pizza every other night. And that's one of the five food groups isn't it?

---

WillieO Wednesday Nov 5 03:25 PM

hmmmmm...stuffing. Can't wait for turkey day!

---

footfootfoot Wednesday Nov 5 08:06 PM

That old stuffing was probably something like excelsior, basically pine shavings. dries your skin right up.

http://en.wikipedia.org/wiki/Excelsior_(wood_wool)

Aspen, not pine.

---

ZenGum Wednesday Nov 5 08:40 PM

That bear is evil. She made it with hate.

---

newtimer Thursday Nov 6 03:06 AM

Curious what keeps the stuffing contained in the bear. Notice that both of her hands are empty - no needle, no thread.
And there's no workbench in front of her to rest the bear on during surgery; a workbench which would also have stuffing on it.

It seems this photo was staged. Maybe it was some kind of racy voyeur picture 100 years ago.

---

ZenGum Thursday Nov 6 03:14 AM
Welcome back Gozar!

That's some serious lurking there!



"Oh, did you say bear naked ladies? Oh, I'm sorry, I thought you said bear-makin' ladies."

---

Aliantha Thursday Nov 6 03:20 AM

Nice one Zen, although do you think our overseas friends will get it?

---

ZenGum Thursday Nov 6 03:28 AM

I just realised I meant to say "bare naked ladies" not "bear naked ladies" but since Ali has posted, I won't edit (again).

---

Aliantha Thursday Nov 6 03:31 AM

lol....don't let me stop you.

I was actually wondering if BNL had made it in the US at all...cause it might not mean that much if not...anyway, I'm just blathering and bored. Don't mind me.

---

Scriveyn Thursday Nov 6 04:29 AM

---

spudcon Thursday Nov 6 07:58 AM

She's not stuffing that bear, she's molesting it.

---

Sundae Thursday Nov 6 08:06 AM
has rolled her sleeves up. Gentlemen, you can see her elbows! She's the Paris Hilton of her day. Except attractive.

---

barefoot serpent Thursday Nov 6 11:32 AM

My great grandmother died in the Triangle Shirtwaist factory fire you insensitive bastards.

---

Shawnee123 Thursday Nov 6 02:03 PM

I saw them in concert a few years ago. They do the theme song to a newer sitcom The Big Bang Theory. They are so clever and funny and talented.

I do hope you're talking about the band and not some Australian cereal or tv show, otherwise now I really feel stupid.

---

Shawnee123 Thursday Nov 6 02:08 PM
Ewwww

---

Aliantha Thursday Nov 6 05:06 PM

I know BNL are from Canada, but I don't know if all the bands that make it big here from outside Oz actually make it big in the US, even if they are from Canada if that makes any sense. It's a lot easier to become mainstream over here. You only need a million people to hear your record.

---

lumberjim Thursday Nov 6 07:52 PM

stuffing a teddy?




ok, so there were some realllllly nasty results to my search. you should all thank me for this attractive plus gal.

---

Sundae Thursday Nov 6 08:07 PM

Wooot! Go girl!

---

DanaC Thursday Nov 6 08:33 PM

She looks brilliant.

---

Shawnee123 Friday Nov 7 08:39 AM

---
Your reply here?

The Cellar Image of the Day is just a section of a larger web community: a bunch of interesting folks talking about everything. Add your two cents to IotD by joining the Cellar.