xoxoxoBruce Saturday Nov 1 12:16 PM

November 1, 2008: My Son, Spud

Quote:

As a father of three daughters, Andrew Stewart has always wanted a son.
So, when his mother handed him a inch-long potato taken from a bag of Maris Pipers with an uncanny likeness to his nephew, he thought his prayers had been answered.

The carpet fitter, of Higher Bank Road, Fulwood, could not believe the likeness the vegetable he has dubbed 'Spuddy' bears to his young six-year-old relative.

The 46-year-old said: "He is only tiny but you can see a little face and even got the hair which looks like it is blowing in the wind; all the neighbours have been over and they cannot believe the likeness.

"My mum, Evelyn, gave it to me and said to give it to my youngest daughter Olivia, 9, and she will not leave him alone now.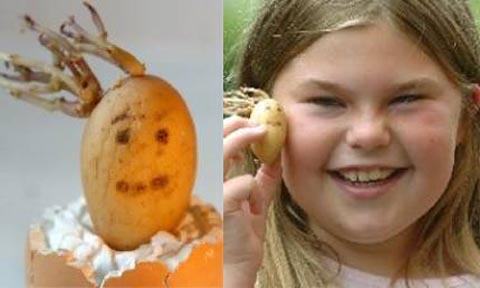 Must be something in the genes, the whole family is daft. Or maybe the water, as the reporter seems to be afflicted too.

I predict Progeria in this lad's future.

link
---

spudcon Saturday Nov 1 12:44 PM

I fear the Great Potato Conspiracy has affected the reporter's and the family's mind.
I say, as always, BEWARE OF POTATOES!

---

findpolitics Saturday Nov 1 01:52 PM

Perogy-a!

Progeria .... Perogy ... spud ... ha!

---

Gravdigr Saturday Nov 1 05:27 PM

That tater is staring at me...

---

footfootfoot Saturday Nov 1 05:30 PM

"...He's going to survive, but he'll be a vegetable for the rest of his life..."
[/shaggydogstory]

---

DanaC Saturday Nov 1 06:09 PM

Quote:

all the neighbours have been over and they cannot believe the likeness.

......that's either cute or scary.

---

elSicomoro Saturday Nov 1 09:47 PM

Maybe they're just really fucking bored and/or easily amused in Fulwood.

---

ZenGum Saturday Nov 1 10:00 PM

What, no recipes?

How long until that thing is on ebay?

---

Sundae Sunday Nov 2 09:22 AM

Is it me, or is Spud in a boiled egg in the picture on the left?

---

Sheldonrs Sunday Nov 2 09:28 AM

"They call me...Tater Salad."

---

richlevy Sunday Nov 2 09:33 AM

What is it with the English and potatoes?

If anyone has read Terry Pratchett's Discworld, there is an interesting potatoe plot element in it.

All in all, I like the occasional British oddball story. Indian oddballs are jumping off roofs and growing 10 foot moustaches. American oddballs are usually good old boys trying out for the Darwin awards or finding religious meaning in toast. British oddballs have that cheery, low-key madness for which people try to find more pleasant synonyms - eccentric, fey, barmy, touched.

---

elSicomoro Sunday Nov 2 02:27 PM

---

Trilby Sunday Nov 2 03:30 PM

If I had my spud-gun, I"d shoot ya!

---

elSicomoro Sunday Nov 2 03:37 PM

Look, Sheldon doesn't seem like the "Deliverance" type, OK?

---

xoxoxoBruce Sunday Nov 2 06:12 PM

Deliverance has nothing to do with Gay. Deliverance was about humiliation and dominance, like all rapes.

---

Sheldonrs Sunday Nov 2 06:15 PM

---

xoxoxoBruce Sunday Nov 2 06:19 PM

As long as you don't sleep with her after.

---

elSicomoro Sunday Nov 2 06:19 PM

You're still a big Rosie O'Donnell fan too, right?

---

Sheldonrs Sunday Nov 2 06:22 PM

---

Gravdigr Monday Nov 3 05:52 PM

Do ya think it's possible to hire Rosie to beat the shit out Bill O'Reilly? Really. At the end, there would be Bill O'Reilly, lying dead in the street, beside a pile of his own feces. Then, there would be Rosie, lying on a prison bunk, doing life. We would have to make a Lite beer commercial, because, "It just doesn't get any better than this."

---

TheMercenary Monday Nov 3 06:27 PM

Check out Rosie and what she said when Bill O interviewed her. She said she was so nervous that she had the shits for a week before hand and couldn't eat. Maybe she should go on more often, it would be a great weight loss program for her. She is an idiot. But hey I like O'Reilly.

---

Sundae Monday Nov 3 06:42 PM

Quote:

Originally Posted by

Sheldonrs

If it makes you feel better, I'm going to see Kathy Griffin this Thursday. Do I get to keep my gay card?

No. I don't know who she is.
So she isn't sufficiently gay of sufficiently famous.
No more cock for you.

Bet you wish you hadn't asked now.

---

Shawnee123 Tuesday Nov 4 08:27 AM

Now getcher ass out there and see some Liza. Git 'er done!



---
Your reply here?

The Cellar Image of the Day is just a section of a larger web community: a bunch of interesting folks talking about everything. Add your two cents to IotD by joining the Cellar.