Undertoad Friday Oct 31 10:38 AM

October 31, 2008: Horse versus Dog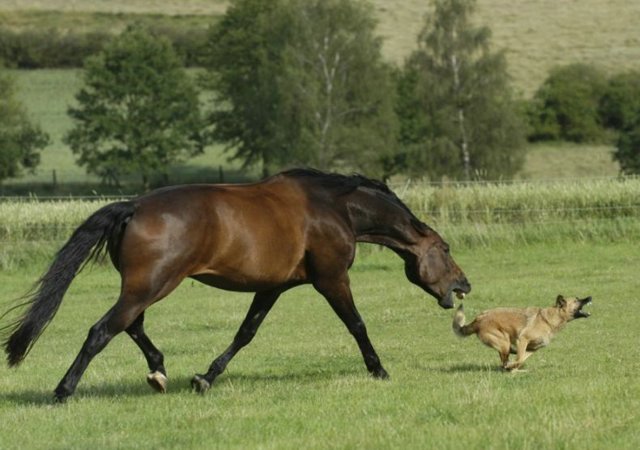 This one comes along without any attribution or story, but it's not hard to believe.

I myself saw a horse and a dog fight in my youth.

It started out with the dog wanting a bit of fun - playing like he would with any other dog, repeatedly nipping at the horse's heels. Giving him the business.

The horse, who was generally very good-natured, didn't enjoy the game; and after a few minutes of it, was getting tired. Eventually he kind of fell over on his side. The dog took the opportunity to take one more nip at the horse's heels -- except that the heels were now free to kick out, which the horse did, catching the dog's midsection.

The dog wasn't seriously injured, but it did run across the yard making the traditional "yipe-yipe-yipe" sound that a hurt dog will make.

---

Sundae Friday Oct 31 10:45 AM

Ah now I've read that this is a horse & dog that play together and enjoy their "fights" with no damage coming to either.
I'll try to track down where I read it and post it as a source.

---

Sundae Friday Oct 31 10:50 AM

From The Sun (the shame, the shame)





---

Flint Friday Oct 31 10:54 AM

After all, what is a horse? It's just a very big dog. /Jack Handey

---

lumberjim Friday Oct 31 11:15 AM

reminds one of the donkey vs. mountain lion series of photos that we've had on here a couple times.

---

lumberjim Friday Oct 31 11:16 AMmy mind anyway.

---

Flint Friday Oct 31 11:42 AM

Bears don't have hooves.

---

amykins Friday Oct 31 11:50 AM

It's okay...they're just horsing around. That's all...

---

HungLikeJesus Friday Oct 31 11:51 AM

Good point.

---

lumberjim Friday Oct 31 12:37 PM

---

Clodfobble Friday Oct 31 12:42 PM

Jim, this is Flint you're talking to here...

---

birdclaw Friday Oct 31 12:47 PM

Flicka vs Rin Tin Tin. This Christmas there will be no peace on earth.

---

glatt Friday Oct 31 12:48 PM

After all, what is hamburger? It's ground horse.

---

Gravdigr Friday Oct 31 02:31 PM


---

Kasszia Saturday Nov 1 12:30 AM

My two horses love chasing dogs. In fact, a few weeks ago, the neighbor's great dane got into the horse pasture, and my younger mustang went after the dog... Yeah, I laughed. I was very tired of the dog coming over constantly. I don't know what would have happened if the dog hadn't been able to get through the fence.

---

lumberjim Saturday Nov 1 01:04 AM

well, a great dane is damn near horse sized.... maybe the mustang was ..ya know.....hubba hubba...?

---

TheMercenary Saturday Nov 1 01:44 AM

---

richlevy Saturday Nov 1 11:38 AM

---

Aliantha Sunday Nov 2 12:08 AM

I've seen horses attack a dog. My dad was helping my grandad saw using a big bandsaw which made a heap of noise which always stirred the horses up, but it happened to also be a very windy blustery day which tended to stir them up too.

My grandads dog Molly happened to be out in the paddock sniffing around as per usual when the horses came running past, startled her so she barked,and they swung round and one of the horse basically jumped completely off the ground and down on top of her with his four feet. Somehow he missed her completely and she bolted into the house yard.

It scared the crap out of me. I thought she was dead for sure.

---

manuelw Monday Nov 17 01:44 AM

http://drugoi.livejournal.com/1468288.html

---
Your reply here?

The Cellar Image of the Day is just a section of a larger web community: a bunch of interesting folks talking about everything. Add your two cents to IotD by joining the Cellar.