xoxoxoBruce Saturday Oct 18 05:24 PM

October 18, 2008: Fake Coins

From About.com, comes this story about Chinese factories specializing in fake coins of various nations.
They make fake, uh, cough "replica" cough, bills and ancient artifacts, too, but coins are the big item.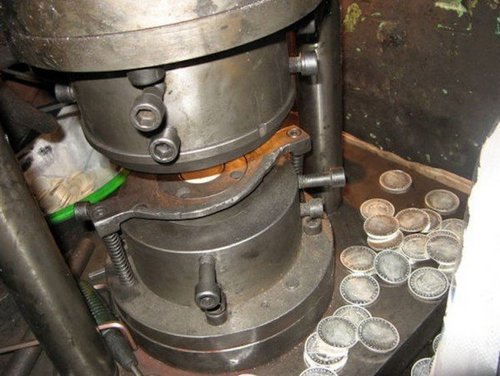 Quote:
This is a closer photo of the coin press in the previous image. Several freshly struck fake Morgan Dollars lie to the right of the machine. They look like they might even be Proof Morgans, which would almost certainly be struck on a machine that uses hand-fed coin blanks, but some of the machinery in this operation looks pretty old so maybe they're just normal Morgans after all. Whatever quality of striking they have, whether it be Proof or normal, one thing is certain: they're FAKE!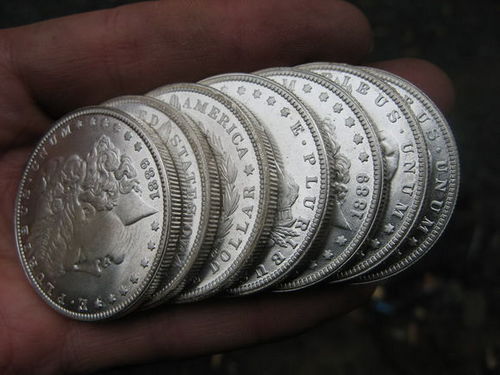 Quote:
Here's a close-up image of a few freshly-minted fake Morgan Dollars struck in China. I don't know if they were struck by the coin press on the previous page, or one of the several other coin presses this counterfeiting ring has, but those fake Morgans sure look to be pretty high-quality counterfeits. Of course, this counterfeiting ring will process them so that each one appears to have a different amount of wear, toning, contact marks, and other minor imperfections so that they don't all look too much alike. Some of these fake Morgan Dollars will also find their way into counterfeit PCGS and NGC slabs, but my sources tell me that most of the fakes these counterfeiters sell are sold "raw" (rather than slabbed.)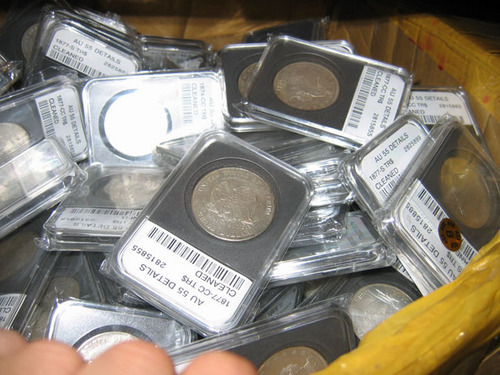 Quote:
This photo, provided to me by the Chinese coin counterfeiting ring, shows coins that have been put in slabs, or coin holders that have a grade on them. It's kind of amusing to see notations like "AU 55 Details - Cleaned," as if the coin is a genuine About Uncirculated 55-graded coin that has been damaged by cleaning, rather than the outright fake that it is! Unfortunately, such dissembling really fools people because I have argued many times with people who refuse to believe that counterfeiters would go to the trouble to make a fake coin and then degrade its value by damaging it. The counterfeiters know that the damage makes the coins more acceptable to many people because it allays suspicion about the authenticity of the coin in these people's minds.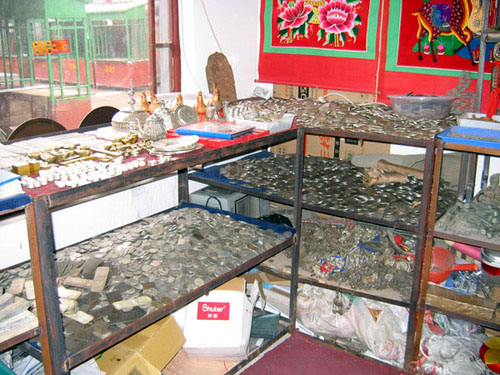 Quote:

This photo shows one of the showrooms for the counterfeiting ring. This is a little like a store, where customers can come in and buy smaller bulk quantities of the fake coins and other items made by this operation.

There are 24 captioned pictures at the link.
If the deal sounds to good to be true... it is.

---

footfootfoot Saturday Oct 18 08:58 PM

There is a great video by BBC called "the dinosaur that fooled the world" about a very good fake which came out of, are you sitting down?, China, of all places!

There is a brisk market in fossils and a lot of "marrying" of unrelated artifacts. Great video I downloaded from google of youtube.

The same is true of American "antique" furniture. As Michael Dunbar points out, if all the early American antiques available today were authentic, our forebears would have been working 24/7/365 making furniture.

I have a friend who started out doing legit restoration at a large shop. Initially they'd bring in a Queen Ann Highboy that was missing a drawer and they'd say to him: "Make the drawer." By the time he left ten yers later they'd hand him a drawer and say "Make the highboy."

I've seen so much of his stuff at Sotheby's and Christie's it isn't funny. Once, I accompanied him to Christies to deliver a piece and I stood around while the "experts" authenticated it. He merely said "Here is a piece that I found at auction, what's it worth?" They pored over it discussing this and that occasionally condescending to us "hicks" as if the subtleties of oak versus ash were lost on us. They were highly suspicious of a piece of oak claiming that that wood wasn't used in Philadelphia in March of 1775, so must have been added later. All the while my buddy was writhing in agony. We finally left and when we were several blocks away he exploded with "Those fucking idiots! It took all my will power not to say THE OAK IS THE ONLY AUTHENTIC PART ON THE PIECE." He bought some mangy crap at auction, did a "Stephen King a la Christine" restoration on it, adding just about everything except the undercarriage. The piece brought $21,000.

I think the same veracity can be expected of the label "organic" Unless you personally know the farmer who brought you your food...

---

Cloud Saturday Oct 18 10:02 PM

the only kind of fake coins I like are chocolate.

---

Treasenuak Monday Oct 20 01:06 PM

Ditto what Cloud said. One of the reasons I love Halloween... chocolate in BULK!

---

Coign Monday Oct 20 02:19 PM

My next door neighbor used to "make" antique wood furniture all the time. He would create rocking chairs, wooden sculptures, and other furniture and then age the wood. He said he also would get experts to "verify" his "found" antiques and sell it for large amounts of money.

http://www.repair-home.com/how_to_distress_wood.html

---

cfpax Tuesday Oct 21 02:08 PM

footfootfoot (coign, too), you might want to tell your friend that knowingly presenting a fake item as authentic is fraud. It's one thing to keep a non-expert opinion or suspicion to yourself, but if you have sure knowledge then keeping silent to intentionally mislead a customer (or the 'experts') is against the law - especially if it results in personal gain. A reproduction of that quality may be worth $21000 - but it also might look like participating in a scam to a court of law.

I have a friend who makes reproduction items, and is very careful to sign them in such a way to make it clear to an expert that the items are fakes. This kept her out of jail on at least one occasion, when her reproduction was offered at auction as an original. She was not the one who brought it to the auction house -- he was arrested -- but she was initially investigated as possibly being in collusion with him. She ended up being a witness for the prosecution instead.

---

Shawnee123 Tuesday Oct 21 04:09 PM

It's easy to tell the fakes, the packaging reads: Please to not put coin from plastic.

Oh, hai!

---
Your reply here?

The Cellar Image of the Day is just a section of a larger web community: a bunch of interesting folks talking about everything. Add your two cents to IotD by joining the Cellar.