xoxoxoBruce Wednesday Oct 15 04:46 AM

October 15, 2008: Lace Fence

Fences are a necessary evil.
Sometimes they work as intended, good on one side and bad on the other, and sometimes they don't. Even high end, expensive fences are not all that pleasant to look at, and the kind most of us are exposed to are definitely not.

The ubiquitous chain link fence, while keeping your flora, kids, pets, and special three legged pig, from harms way, are boring and to many of us, ugly.

Demakersvan, a Dutch design firm, has a solution... Lace Fence, a chain link fence with patterns or pictures woven in.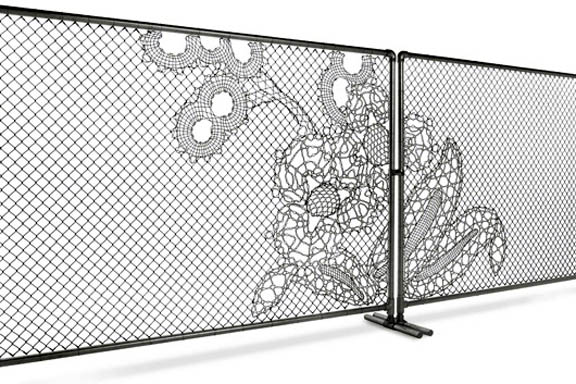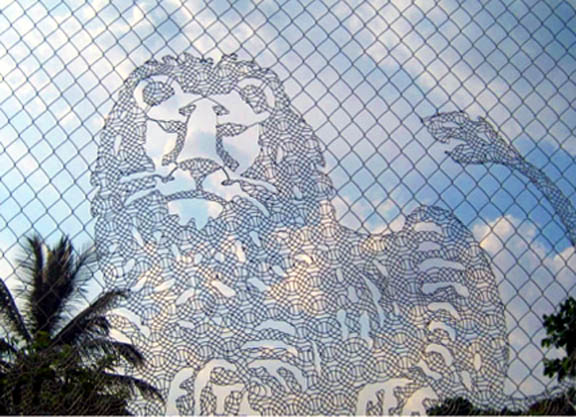 Unfortunately, many of the cool things we see from design firms never make it to market, or at least markets most of us can afford. Demakersvan has set up a plant in India to make this fencing, so initially they will probably be making custom designs for high end markets, but maybe later they (or a Chinese knockoff company), will make a few standard designs for the masses.

---

Babs Wednesday Oct 15 05:04 AM

Interesting concept, but I think they are still ugly... And perhaps even tackier.

---

Aliantha Wednesday Oct 15 05:07 AM

I think they look very cool.

---

SPUCK Wednesday Oct 15 05:15 AM

Perhaps they can weave some threats into the fence.

---

Sundae Wednesday Oct 15 06:06 AM

The flowers are cool, certainly.
The lion is a bit naff, but I suppose in the right place even that would be cool. Like in a zoo or safari park.

When I win the lottery I will have cats on mine. Trotting round the periphery, a slightly different movement on each panel, like a zoetrope.

---

ZenGum Wednesday Oct 15 06:07 AM

Pic one:

I see dead people.

---

birdclaw Wednesday Oct 15 09:35 AM

I don't know...I'm still on the fence about the whole idea.

---

footfootfoot Wednesday Oct 15 09:57 AM
"Would do you keep showing me sexy fence pictures?"

---

Scriveyn Wednesday Oct 15 12:50 PM

Wire doilies?

---

Sheldonrs Wednesday Oct 15 12:59 PM

---

Shawnee123 Wednesday Oct 15 01:00 PM

They think, therefore they am?

---

barefoot serpent Wednesday Oct 15 01:23 PM

mmmmm... NYC skyline in razorwire

---

Cicero Wednesday Oct 15 01:31 PM

I could see how that lion would be a deterrent for burglars. If they could make a mean looking dog that said "Beware of man eating hell hound", I'd be into it.




Awesome!

---

Wormfood Wednesday Oct 15 02:15 PM

---

Scriveyn Wednesday Oct 15 04:21 PM

---

Cicero Wednesday Oct 15 04:58 PM



---

TheMercenary Wednesday Oct 15 08:13 PM

I want one where the lion actually bites anyone who comes near the fence.

---

Treasenuak Wednesday Oct 15 11:07 PM

I'd get the flower one. Too cool.

---

monster Wednesday Oct 15 11:43 PM

1) nasty
2) SG -why? It's not like they're an obstacle for cats...more like a challenge
3) If i had to have one, I'd go with a cock and balls design. the first pic made me think of this.

---

Sundae Thursday Oct 16 05:39 AM

It would just be as boundary fencing, not to keep cats in or out.
I just like the idea of a running, pouncing cat design

---

Shawnee123 Thursday Oct 16 09:48 AM

---

Gravdigr Friday Oct 17 04:18 PM

---

Scriveyn Tuesday Oct 21 04:52 AM

---

SPUCK Tuesday Oct 21 06:01 AM

Now this is the more conventional Lace Fencing..
.
.
.

---
Your reply here?

The Cellar Image of the Day is just a section of a larger web community: a bunch of interesting folks talking about everything. Add your two cents to IotD by joining the Cellar.