xoxoxoBruce Monday Oct 13 01:57 AM

October 13, 2008: Guitar Boat

In fourteen hundred and ninety two,
Columbus sailed the ocean blue.
But his three boats, looked nothing like,
this crazy craft, of Aussie Josh Pyke.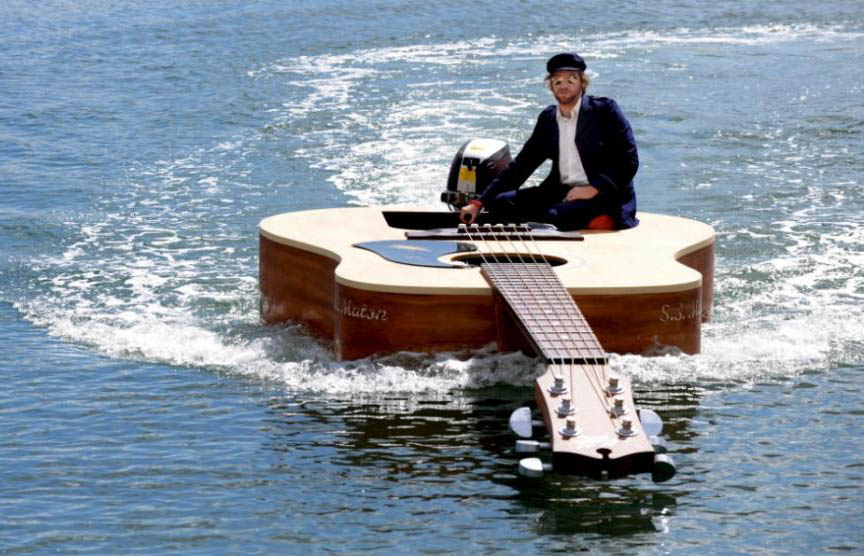 Good thing this was made to look like a Pyke's guitar, 'cause if he played bass,
you wouldn't know if it was a bass

boat, or a bass

boat.

---

Agent-G Monday Oct 13 02:36 AM

I wonder if he can play it while he floats...

---

xoxoxoBruce Monday Oct 13 02:37 AM

No, it doesn't play.

---

newtimer Monday Oct 13 02:47 AM

"When I told the travel agent that I wanted my vacation to involve boats, sun, and a G-string, this isn't what I had in mind!"

---

ZenGum Monday Oct 13 03:34 AM

If I was in that boat, I'd be fretting about making it under the bridge.

---

spudcon Monday Oct 13 06:30 AM

Anyone have a recipe for cooking guitar boats?

---

sweetwater Monday Oct 13 09:03 AM

Let's see, you have your acoustic guitars, electric guitars, and...gasoline guitars... Huh?

---

footfootfoot Monday Oct 13 09:17 AM

Listen to the sustain!

---

Cloud Monday Oct 13 09:30 AM

is that Ringo?

---

Sheldonrs Monday Oct 13 09:54 AM

Josh Pyke's body was recovered today, 6 days after his ill-conceived "Josh Pyke-Un-Plugged" concert.

---

Coign Monday Oct 13 10:17 AM

My guitar amp goes to 11!

---

Cicero Monday Oct 13 10:23 AM

lol! I think it's great!! Now I want to see him do a stand-up bass.

---

dar512 Monday Oct 13 10:26 AM

---

dar512 Monday Oct 13 10:27 AM

I guess this guy plays table.

---

BigV Monday Oct 13 10:40 AM

or runs the table, depending...

---

sweetwater Monday Oct 13 10:50 AM

I have heard of table rapping but not table playing until now!

---

Gravdigr Monday Oct 13 04:45 PM

---

Treasenuak Monday Oct 13 05:46 PM

okay, while it might be watertight, it certainly isn't STREAMLINED...

---

barefoot serpent Monday Oct 13 06:02 PM

50hp whammy bar

---

Sundae Monday Oct 13 07:12 PM
All I could hear in my head was, "Ya can play droms? Ya can play bayse?" from Street Tough by the Rebel MC.

Classic.

---

classicman Monday Oct 13 09:57 PM

You called?

---

Elspode Monday Oct 13 11:02 PM

When he does his Transatlantic solo, I hope its Purple Haze.

---

HungLikeJesus Monday Oct 13 11:03 PM

I think it should have been a banjo boat, just for the alliteration.

---

monster Monday Oct 13 11:20 PM

---

Shawnee123 Tuesday Oct 14 09:27 AM

He's plucky, that's for sure.

---

Nirvana Tuesday Oct 14 12:31 PM

http://www.counton2.com/cbd/news/nat...at_race/15543/

Pumpkin boats! How do they float???



http://www.flickr.com/photos/feastoffools/2941025996/

---

dar512 Tuesday Oct 14 12:39 PM

Flickr picture looks shopped.

---

Gravdigr Tuesday Oct 14 04:17 PM

Yep. Ol' Pykey sure can pick 'em.

---

bobman Wednesday Oct 22 07:52 PM

Here's the original:
http://www.bbc.co.uk/hampshire/conte...llery.shtml?36

---

Sundae Friday Oct 24 11:52 AM

Ooh that reminds me, Children in Need is coming around again.
I must see what I can do here (not much probably, we already exist in a state of anarchy). Still, I can probably manage something like a cake sale.

---
Your reply here?

The Cellar Image of the Day is just a section of a larger web community: a bunch of interesting folks talking about everything. Add your two cents to IotD by joining the Cellar.