xoxoxoBruce Wednesday Oct 8 12:02 AM

October 8, 2008: Big Bang

No, not the original Big Bang, this one was in Appomattox County, Virginia, last month.
Buster sent me these pictures of the devastation, from a natural gas pipeline exploding early Sunday morning... 5 people were hurt, but thankfully no one died.

There are three parallel lines, the A line built in 1949, the B line in 1955, and the C line in the early 1960s, running from the Gulf of Mexico to New York. The three lines carry 1.6 billion cubic feet of natural gas per day, at 800 psi. By comparison, the gas lines that distribute natural gas in the city, I believe operate at about 3 psi.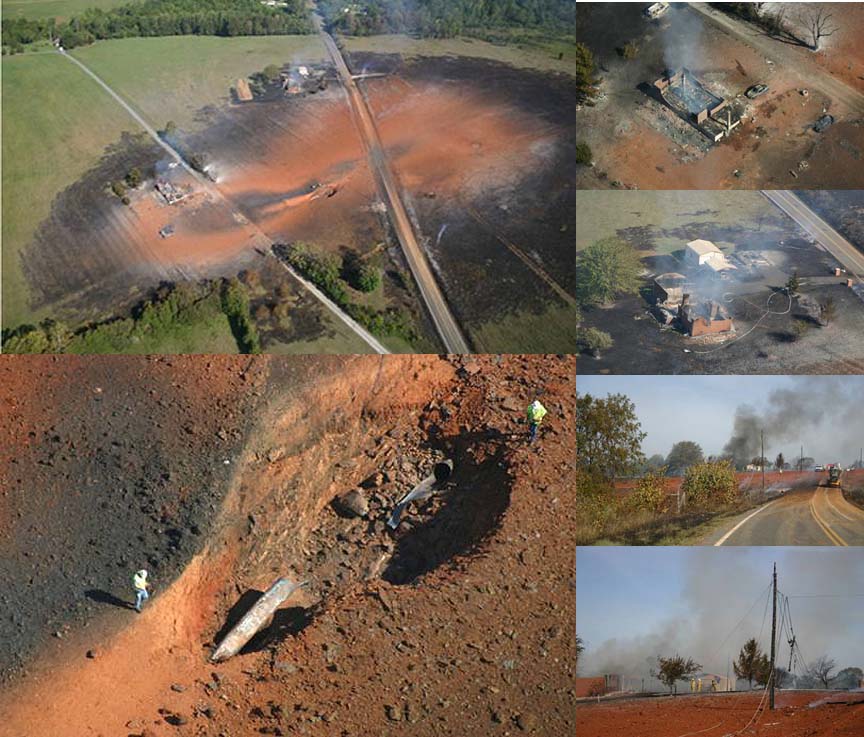 The pipeline owner, Williams, says the A line was inspected for problems in 2000. The C line was inspected early this year and repaired. The B line, the one that failed, had just been inspected, but Williamsí officials had not been able to analyze the results when the blast happened.

Has anyone seen Jumpin' Jack Flash in Virginia?



Link
Link

---

Treasenuak Wednesday Oct 8 12:20 AM

Holy. Crow. Impressive, what happens when one of those high-pressure lines blows. SO glad no one was killed; wonder what happened with B line that caused it to fail, if it had just been repaired?

---

xoxoxoBruce Wednesday Oct 8 12:28 AM

It has just been inspected, not repaired.

---

janet Wednesday Oct 8 12:58 AM

At least that pit it left would be great for BBQing whatever animal whose pic gets posted Friday.

After 3 explosions in the Northwest a few years ago, Williams pipeline here was cut back to a few PSI on an older line. That motivated them to rebuild it.

Two lines run right through our development, about 500 feet from my house. But it'll never happen to me, right? Right?

---

lumberjim Wednesday Oct 8 01:10 AM

what could possiblie go wrong?

---

SPUCK Wednesday Oct 8 04:52 AM

I leetle corrosion.. Add some dirt settling. Get a crack. Bingo! Crispy critters.

The favorite is sod rippers on big Cats. Kills'em everytime.

Pretty amazing when a D9 is thrown 100ft and lands upside down.

One took off in the Midwest a few years back. The ground was so hot they had to wait days to prevent their truck tires from melting.

Oh and xoxoxoBruce; Distribution in towns is about 90psi. Once thru your house regulator it is used in your house at less than a psi.

---

Griff Wednesday Oct 8 06:36 AM

We have uncounted miles of pipe going in the ground around here. Sooner or later...

---

sweetwater Wednesday Oct 8 09:15 AM

All those big pipes down there creep me out. What if I make too much noise and they come and attack and then... no wait, that was Tremors.

---

spudcon Wednesday Oct 8 11:38 AM

OK, let's be honest here. Who lit a fart near the pipeline?

---

Shawnee123 Wednesday Oct 8 11:39 AM

I like Sheldon.

---

Sheldonrs Wednesday Oct 8 11:55 AM

Sheldon: You have about as much chance of going out with Penny as the Hubble Telescope has of finding that at the center of each black hole there's a little man with a flashlight trying to find the circuit breaker.

--------------------------------------------------------------------------------
Sheldon: Oh Gravity, thou art a heartless bitch

--------------------------------------------------------------------------------
Leonard: I just know that moving all day can be stressful and I just thought that good neighbors and some Indian food might be just what you need... plus, curry is a natural laxative and I don't need to tell you that a clean colon is one less thing to worry about.

--------------------------------------------------------------------------------
Sheldon: Oh, well, this would be one of those circumstances that people unfamiliar with the law of large numbers would call a coincidence.

--------------------------------------------------------------------------------
Leonard: [discussing Sheldon's work] At least I didn't have to invent 26 dimensions to get the math to work.
Sheldon: I didn't invent them. They're there.
Leonard: Yeah? In what universe?
Sheldon: In all of them, that's the point!

--------------------------------------------------------------------------------
Leonard: Why did you just flash freeze a banana?
Leslie: I'm having it with my cereal and I couldn't find a knife.

--------------------------------------------------------------------------------
Howard Wolowitz: [interpreting Raj's whisper] Oh, Raj was just comparing Sheldon to a hygiene product used by women who are not feeling fresh on a summer's eve.
Penny: And the bag it came in.

--------------------------------------------------------------------------------
Leonard: [after getting kissed by Penny in his Hobbit costume] Yeah, you saw that. That's how we roll in the shire!

---

Shawnee123 Wednesday Oct 8 12:19 PM

Heehee, I'm a sitcom ho anyway, but there are some hilarious lines in that show, and some good ensemble acting. I think the girl who plays Penny is perfect!



---

badcat Wednesday Oct 8 01:47 PM

The Williams pipeline company blew up my neighborhood in 1986*. Interesting to see that their business hasn't changed much at all (thankfully no one got killed this time!).

I've heard of assholes with gas being a fire hazard, but this is a little ridiculous...

*Seriously: Mounds View pipeline explosion

---

sweetwater Wednesday Oct 8 01:55 PM

Welcome, badcat. Were there any repercussions (I assume there were plenty of concussions) from the explosions - did the company make promises or ?

---

badcat Wednesday Oct 8 02:12 PM

Details are a little hazy (I was 11 at the time), but I was able to find more info once I discovered the internet...

At about 3am, some Williams pipeline techs notice a significant pressure drop in one of their lines. They say something brilliant, along the lines of "Huh, that's weird. We'll check into it after a coffee break" and do [i]nothing.[i]
A woman delivering papers ignites the fire after driving over the gas spill with a dragging muffler.
Big giant explosion, lots of people wake up to see a huge fireball, and after crapping their pajamas, run out their doors to run away. The Spano family's house was next to the flames - the dad took the oldest daughter out the back door, but the mom panicked and took the youngest daughter out the front door, directly into the flames. They died a few days later.
The city of Mounds View tried to take Williams to court, saying they couldn't turn the gas lines back on until they were inspected and proven to be safe. Williams Pipeline gathers lawyers and sues the city of Mounds View to turn the lines back on without inspection or addressing safety concerns.

For some reason, I tend to be a bit pessimistic about Williams Pipeline company and their ability to run their business without blowing up on a regular basis.

---

Gravdigr Wednesday Oct 8 03:59 PM

Don't know whose line it is, but about 15 years ago a 36" gas main blew out about three miles from my house. Luckily, (and incredibly) there was no fiery explosion, just the force of the psi blowing out of the pipe. Even so, we could hear the roar easily inside our house 3 mi. away. We had to shout to hear each other outside. It left a hole with a surface area of about a half acre.



(P.S. Can a hole have "surface" area?)

---

HungLikeJesus Wednesday Oct 8 04:22 PM

Sorry, thought this was the orgy thread. Excuse me.

---

Shawnee123 Wednesday Oct 8 04:22 PM

When you're around, every thread is the orgy thread.

---

Cicero Wednesday Oct 8 04:31 PM

Ha! HLJ's saying yes?

He's not like that.......Fie! fie!!!

---

tombstone Wednesday Oct 8 06:17 PM

I wonder if they damaged the line inspecting it?

---

SPUCK Thursday Oct 9 05:48 AM

Quote:

Originally Posted by

badcat

At about 3am, some Williams pipeline techs notice a significant pressure drop in one of their lines. They say something brilliant, along the lines of "Huh, that's weird. We'll check into it after a coffee break" and do [i]nothing.[i]

Nothing? They did a better job than the Russians a few years ago. They saw the pressure drop and dialed it back up to normal!! It was out in a remote valley. It filled the valley with a nice fuel air ratio. A big passenger train went into the valley. It never came out again. The train people wondered why the train never showed up. Someone went to investigate. OHMYGAWD!!!

---

ZenGum Thursday Oct 9 10:15 AM

That's not far off the incompetence at the Piper Alpha oil rig fire of Britain.
IIRC, there were two rigs feeding into the same pipe. P.A. blew and the other rig should have been shut down immediately, but managers were under pressure to keep production up, so they kept it pumping ... with the flow going the wrong way up the pipe to Piper Alpha and force feeding fuel onto the already huge fire for hours.

---

Treasenuak Monday Oct 13 05:49 PM

oh, now that's in-fucking-telligent

---

Sundae Monday Oct 13 07:42 PM

I seem to remember a joke about Piper Alpha, Kings Cross and Bradford City FC... (all huge fires in the UK within a couple of years of eachother).

The only positive is they were all used as the basis for new regulations to ensure it didn't happen again.

---

richlevy Monday Oct 13 10:34 PM

Did I mention that we have a buried pipeline in the hill behind my house, about 50 feet from the back?

---

HungLikeJesus Monday Oct 13 10:56 PM

Be careful if you're out shooting for some food.

---

richlevy Monday Oct 13 11:04 PM

---

SPUCK Tuesday Oct 14 04:56 AM

"and up comes the bubbling goo" tra la

---
Your reply here?

The Cellar Image of the Day is just a section of a larger web community: a bunch of interesting folks talking about everything. Add your two cents to IotD by joining the Cellar.