spudcon Saturday Sep 27 11:42 PM

September 28, 2008: Killer Burger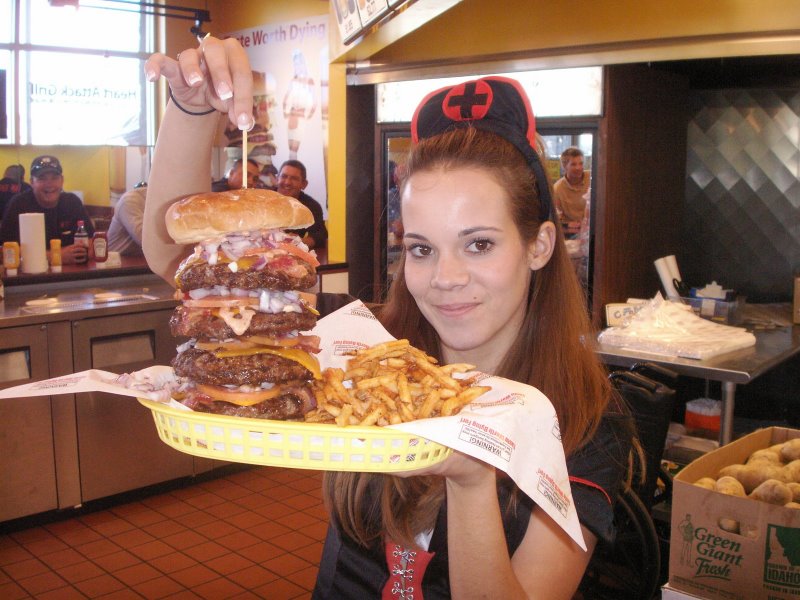 This burger place in Arizona is called the Heart Attack Grill.
Waitresses apparently dress in skimpy nurses uniforms to assist those who can't handle the burgers.

---

spudcon Saturday Sep 27 11:45 PM

Here's the staff.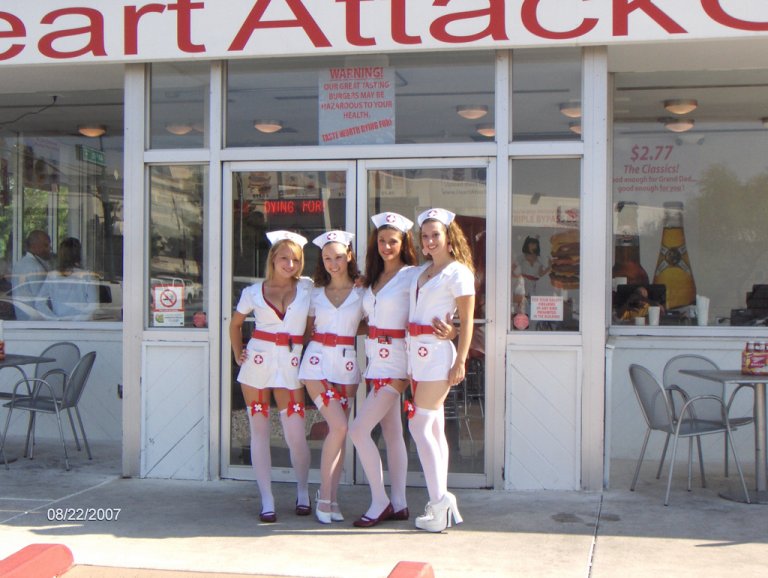 ---

newtimer Sunday Sep 28 01:09 AM

Check out them buns.

---

lumberjim Sunday Sep 28 01:18 AM
---

lookout123 Sunday Sep 28 01:49 AM

It really isn't that great. Food and service (not to mention the view) is better at The Tilted Kilt. Again - it's all about the short skirt.

---

xoxoxoBruce Sunday Sep 28 02:22 AM

We discussed this place, somewhere around the Cellar?

---

Gravdigr Sunday Sep 28 06:54 AM

Ca thumwun hep meh puh mah tung bahk eh ma mout?











---

Griff Sunday Sep 28 07:08 AM

---

spudcon Sunday Sep 28 09:11 AM

I don't smoke, and don't agree with the philosophy there, but it's so politically incorrect, I'd eat there for the attitude.

---

Trilby Sunday Sep 28 09:45 AM

Men will buy anything.

---

ZenGum Sunday Sep 28 09:52 AM

---

richlevy Sunday Sep 28 09:58 AM

---

sweetwater Sunday Sep 28 10:03 AM

Has the "fresh meat" card been played yet?

---

Clodfobble Sunday Sep 28 11:03 AM

There's a restaurant here called "Twin Peaks." Mr. Clod and I were looking for a place to stop for lunch, and were this close to going in there (with two young kids, no less) before we finally picked up on the subtle innuendo on the marquee.

---

Trilby Sunday Sep 28 01:23 PM

Clod---how do you know it wasn't the kind of place where you drank coffee, ate pie and had psychic visions of old murders?

---

Sundae Sunday Sep 28 02:17 PM

How come the lady in the burger picture is in a black uniform?
Does this denote seniority?

---

Trilby Sunday Sep 28 02:19 PM

---

Treasenuak Sunday Sep 28 02:48 PM

it denotes she's the one who clears your arteries out with the roto-rooter after you eat the burger. Holy heart-attack-on-a-plate!! ~drools~

---

spudcon Sunday Sep 28 06:06 PM

I think she delivers burgers to the families of dead customers.

---

WillieO Sunday Sep 28 06:30 PM

If those skirts got any shorter, the waitresses' would have to wear hair nets!

---

xoxoxoBruce Sunday Sep 28 06:43 PM

WillieO, you say that like it's a bad thing.

---

Shawnee123 Monday Sep 29 01:57 PM

I love the 4th girl's shoes!

---

Trilby Monday Sep 29 02:15 PM

I like the first and the third girl's shoes----more Alice In Wonderland-y.

---

Cicero Monday Sep 29 05:49 PM

Oh I thought they were dressed like that to help cause the heart attack. Hmm... back to the drawing board.

---

TheMercenary Monday Sep 29 07:01 PM

Well that is still less than one cow worth. Where's the rest of the steak?

---

xoxoxoBruce Monday Sep 29 11:22 PM

They're saving it for your eye, if you get fresh with the ladies. :p

---

Sundae Tuesday Sep 30 04:15 AM
But the first girl has the best buns.

---

ZenGum Tuesday Sep 30 08:09 AM

Shoes? There were shoes in that picture?


:checks back:

well so there were...

Seriously did any guys here notice the shoes before they were pointed out?


If you did, PM Sheldon.

---
Your reply here?

The Cellar Image of the Day is just a section of a larger web community: a bunch of interesting folks talking about everything. Add your two cents to IotD by joining the Cellar.