xoxoxoBruce Sunday Sep 21 01:55 AM

September 21, 2008: Brooklyn

Brooklyn... need I say New York?
I know there are other places called Brooklyn, but none compare with THE Brooklyn.

Anyway, the face of Brooklyn is changing and the Brooklyn Historical Society is mounting an exhibition of photographs by James and Karla Murray.
They wanted to show the way it was/is, before it's gone entirely.
They're not glitzy, in fact not even pretty anymore... they are close to death.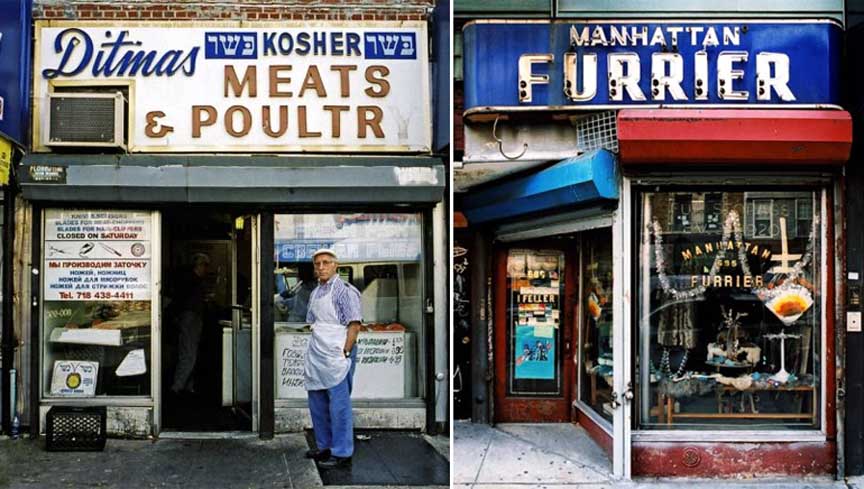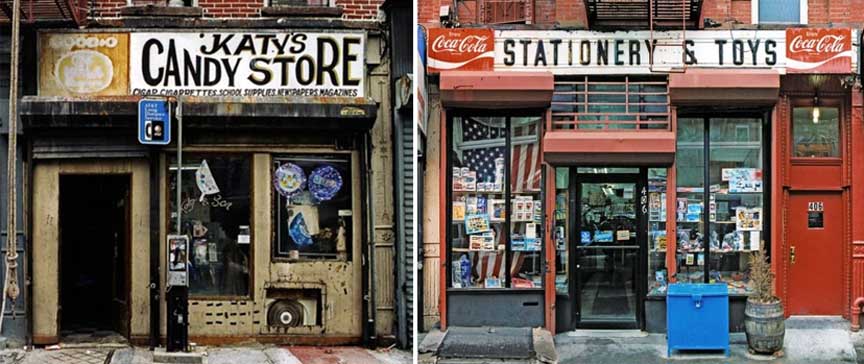 Notice the rope block & tackle on the left.

---

classicman Sunday Sep 21 02:00 AM

Notice the pay phone - that's something else that's disappearing.

---

SPUCK Sunday Sep 21 05:19 AM

Notice the roaches the size of small dogs..

---

Trilby Sunday Sep 21 09:52 AM

Does it worry anyone that the kosher meats and poultr(y) place is right next door to the furrier?

---

birdclaw Sunday Sep 21 10:18 AM

I like that Katy's Candy Store sells cigars, cigarettes, and school supplies. Nothing like a pack of camel's to get that first day of school started right!

---

xoxoxoBruce Sunday Sep 21 12:23 PM



---

Gravdigr Sunday Sep 21 07:35 PM

Katy's Candy Store looks JUST LIKE one of the places I used to buy, uh, party supplies. Yeah, that's the ticket...party supplies.


---

Trilby Sunday Sep 21 07:54 PMDammit!

---

spudcon Monday Sep 22 10:27 AM

[quote=xoxoxoBruce;485697]It's not, they're two of six separate pictures.

Of course, just because it's a separate picture, doesn't mean they're not next door. Mmmm. Kosher ermine.

---

dar512 Monday Sep 22 11:48 AM

Neither one remembers ever seeing a phone booth.

---

Clodfobble Monday Sep 22 02:59 PM

They made reference to it in Superman IV. Christopher Reeves stops and gives a baleful glance to the more modern style of payphone stand before ducking into a store to change into his Superman clothes.

---

xoxoxoBruce Monday Sep 22 11:30 PM

I always wondered if he left his Clark Kent clothes in the phone booth?

---

Sundae Tuesday Sep 23 07:11 AM

---

xoxoxoBruce Thursday Oct 2 10:27 AM

One more that shows why Brooklyn is special.


---

Treasenuak Sunday Oct 5 08:21 AM

xoB, now THAT is just too cool. Atlanta needs to have one of those!

---

Sundae Sunday Oct 5 08:29 AM

"We can help you with your nemesis problem" (far right) DAMN! We need one of those in London too! I don't have a nemesis at the moment, but I have had in the past and no doubt will again.

---

xoxoxoBruce Sunday Oct 5 09:47 AM

If they make the claim, "We can help you with your nemesis problem", then if you don't have one, I guess they'll find you one.

---

BigV Monday Oct 6 04:52 AMhere.

---

BigV Monday Oct 6 05:06 AMClick here to peek behind the curtain.

---

Sundae Monday Oct 6 05:12 AM

---

Treasenuak Monday Oct 6 10:33 AM

Hmm. Superheroes, space travel... wonder if they'll devote one to fairies or something like that? -ponders-

---
Your reply here?

The Cellar Image of the Day is just a section of a larger web community: a bunch of interesting folks talking about everything. Add your two cents to IotD by joining the Cellar.