xoxoxoBruce Saturday Sep 20 02:42 AM

September 20, 2008: Socotra

Socotra Island, is where Dr Seuss spent his vacations, I think.

It's loaded with strange flora & fauna, a third of which are found nowhere else. A birder's paradise with 140 different species of birds; 10 of which are unique to the island. The Socotra warbler, sunbird, starling, bunting, sparrow, Socotra Cormorants and cisticola are among the birds found here.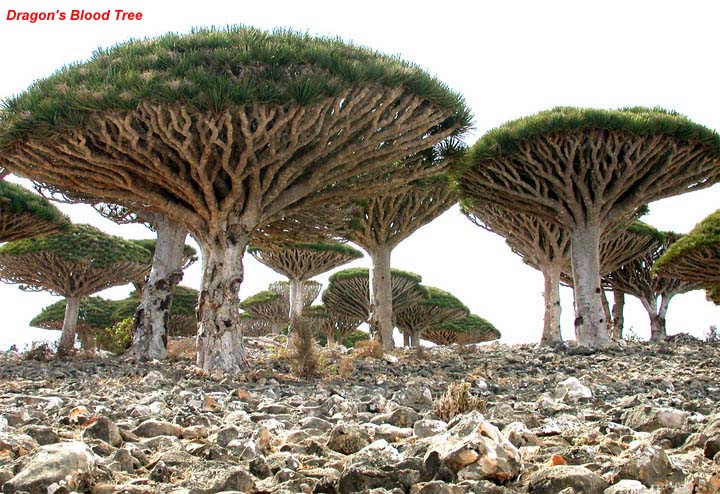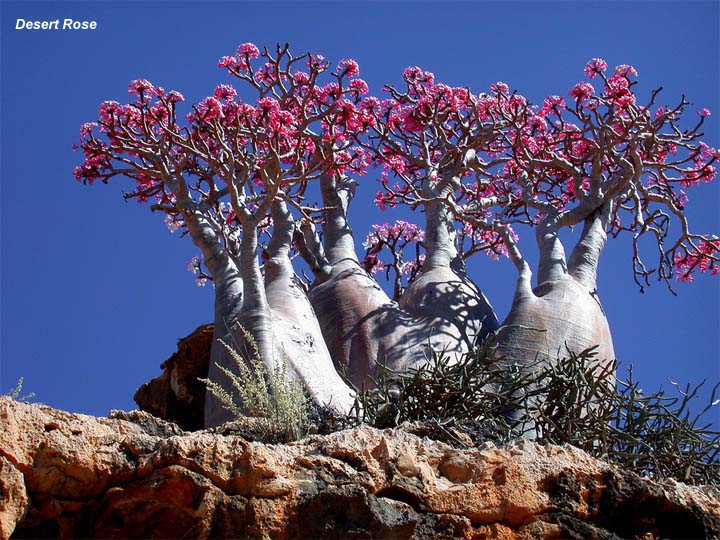 I just know there's something evil living in those mountains.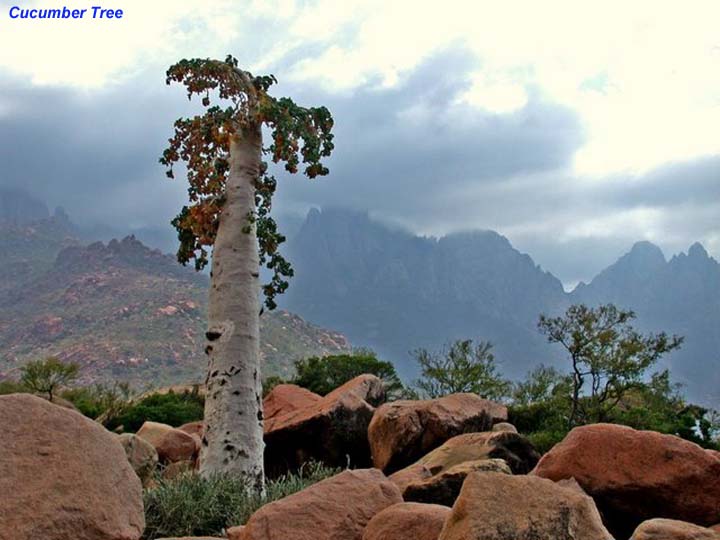 btw, there's also 40,000 people living in this UNESCO, World Natural Heritage Site.

---

Scriveyn Saturday Sep 20 07:08 AM

Nucular aircraft carriers in the Middle East - 'at's what's causin' it.



And if you think that's scary, you should see their dolphins :p

---

Elspode Saturday Sep 20 11:08 AM

Yeah...they're sharks.

---

birdclaw Saturday Sep 20 12:30 PM

Other than the nice pic with the mountains in the background it looks like pretty unforgiving territory. And that one tree doesn't look like a cucumber at all.

---

tombstone Saturday Sep 20 01:19 PM

Any Anne McCaffrey fans out there? The Dragon's Blood Tree is the closest tree I've seen to Pern's "Sky Broom" trees. I'm thinking of the cover of "The Renegades of Pern". But they were a lot taller--sort of like our Sequoias.

---

Lurker Saturday Sep 20 02:11 PM

The cucumber tree

Looks like a Boojum!
http://www.boojums.org/

---

Trilby Saturday Sep 20 05:33 PM

Man, that's some wrecked shit there. I LOVE it!

Now I want a desert rose tree (bush? hedge?) in my yard.

---

skysidhe Saturday Sep 20 07:33 PM

I know I've seen those names on bottles of perfume.

Dragons blood is a really nice scent btw.

---

Tree Fae Saturday Sep 20 08:34 PM

The first one looks almost like a overgrown mushroom, they are all very neat. I would love to see them.

---

spudcon Saturday Sep 20 08:53 PM

I'll bet we could get some great 2x4s from that cucumber tree. And the base of the desert rose would probably keep a fireplace burning all night.

---

narcuul Saturday Sep 20 09:43 PM

Oh..

There's yet one more to add to my list of places to see before I'm too senile to appreciate it..

So much to see. So.. not still making even a decent living.

---

onetrack Sunday Sep 21 10:55 AM

I love those mushroom-shaped trees. They look just like the scenery in my last LSD trip. If I'd only known of this place before, I could've saved thousands on drug purchases .....

---

biorogue Tuesday Sep 23 03:57 PM

those trees are cool

---

wolf Wednesday Sep 24 01:47 AM

Is that island technically downwind of Bikini Atoll? That could expain a lot.

---

ZenGum Wednesday Sep 24 02:40 AM

Quote:

Originally Posted by

spudcon

I'll bet we could get some great 2x4s from that cucumber tree. And the base of the desert rose would probably keep a fireplace burning all night.

I know you're stirring, but ... C'm'ere!!!!




---

spudcon Wednesday Sep 24 06:32 AM

Sorry, but couldn't find a recipe for those trees.

---

Treasenuak Wednesday Sep 24 02:39 PM

Well, the cucumber tree works well in a light vinagrette...

---

xoxoxoBruce Wednesday Sep 24 11:50 PM

Actually, those trees are biologically related to cukes.

---

spudcon Thursday Sep 25 07:36 AM

---

xoxoxoBruce Thursday Sep 25 09:33 AM

You're thinking of eggs.

---

Treasenuak Thursday Sep 25 12:26 PM

okay, after the massive drinking party last night, and the hangover I've got this morning, y'all are making me nauseated... :P

---
Your reply here?

The Cellar Image of the Day is just a section of a larger web community: a bunch of interesting folks talking about everything. Add your two cents to IotD by joining the Cellar.