xoxoxoBruce Sunday Sep 14 02:21 AM

September 14, 2008: Men's Fashion

I admit fashion is not my strong point... or on my list of points at all.
To me a fashion statement would be a different color tee shirt.

But that said, I've having a hard time imagining any man, wearing these things in public.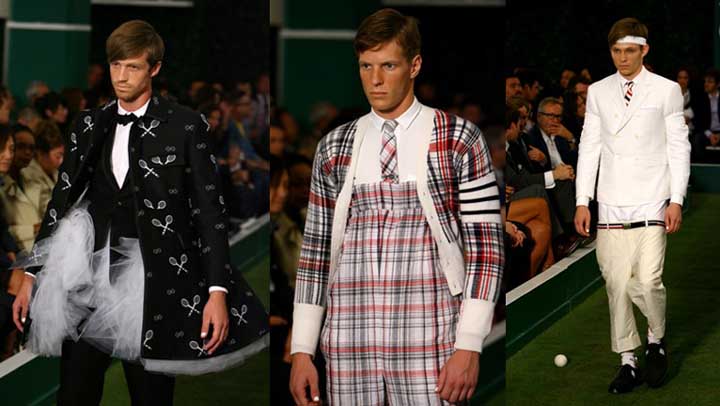 These guys don't look happy.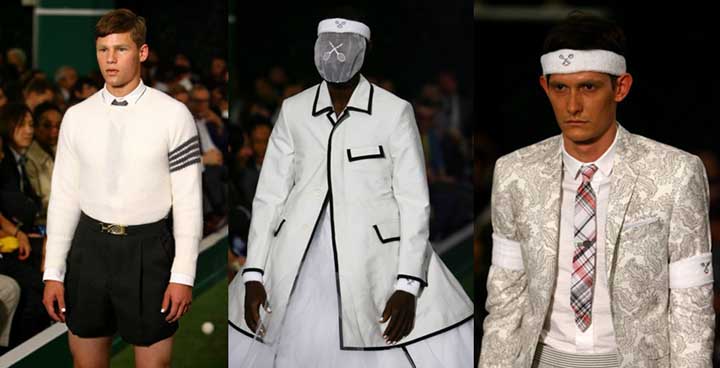 Can you picture the Target or Sears agents, rushing knockoffs to their stores?

---

Crimson Ghost Sunday Sep 14 02:52 AM

Good God!

Is that a plaid zoot suit?

And what could the designer have said to the black guy to get him in that dress?

---

SPUCK Sunday Sep 14 05:10 AM

Stunning... Just frikken stunning.

And not in a good way.

---

Sundae Sunday Sep 14 07:35 AM

---

Trilby Sunday Sep 14 09:06 AM

I'm laughing my ass off.

---

spudcon Sunday Sep 14 09:20 AM

Ha ha ha ha ha ha ha ha ha ha ha ha ha ha ha ha etc.

---

xoxoxoBruce Sunday Sep 14 10:31 AM

I just noticed they're all wearing white nail polish.

---

monster Sunday Sep 14 12:10 PM

Would Godwin's law apply if I mention the Hitler Youth on the left in the second pic?

---

Skylight Sunday Sep 14 12:13 PM

i usually appreciate the thought process that goes on to create beautiful clothing.

these designers had to be on acid at the time to think they hit a brilliant idea.

---

ajaccio Sunday Sep 14 12:24 PM

Friggin' ridiculous. And just look how thrilled the models are....



---

bluecuracao Sunday Sep 14 12:38 PM

The designers have revived The Dorcus. And they've kicked it up a few notches!

---

birdclaw Sunday Sep 14 12:38 PM

What's the obsession with tennis rackets? They really bring the outfit together...?

---

ZenGum Monday Sep 15 04:24 AMof course they are, darling, white goes with practically everything! What would you have them in, chartruse?

---

Laurie Henderson Monday Sep 15 09:26 AM

---

classicman Monday Sep 15 09:26 AM

---

Sheldonrs Monday Sep 15 09:45 AM

At last, something to fulfill all those schoolboy AND schoolgirl fantasies all at the same time.

---

Pico and ME Monday Sep 15 10:14 AM

Knees are the new fashion item for men nowadays

http://www.nytimes.com/2008/07/31/fa...em&oref=slogin

---

Cloud Monday Sep 15 11:40 AM

such things are not meant to be worn--it's art and inspiration.

inspiration for what, exactly, will be left to the imagination. if you dare.

---

Sundae Monday Sep 15 12:41 PM

---

Sheldonrs Monday Sep 15 12:55 PM

---

ferret88 Monday Sep 15 01:52 PM

---

Aliantha Monday Sep 15 06:51 PM

I think Dazza would like that outfit in the middle of the first pic.

---

footfootfoot Tuesday Sep 16 12:05 AM

While they are all too stupid to know what a eugoogooly is, it's important to remember that a male model's life is a precious, precious commodity. Just because they have chiseled abs and stunning features, it doesn't mean that they too can't not die in a freak gasoline fight accident.

---

Crimson Ghost Tuesday Sep 16 04:28 AM

Although, you have to admit, the matching bandoleers and sumo-thong just wouldn't work without the thigh-high pirate boots.
The pony-tail is a nice touch.
And the revolver pulls the whole ensemble together.

---

DanaC Tuesday Sep 16 04:36 AM
That made me chuckle:P

---

Gravdigr Tuesday Sep 16 10:09 PM

---

Sundae Wednesday Sep 17 07:30 AM

At least the male models look healthy.
Question - if this girl worked in your office, wouldn't you worry about her?

(Credit Joel Ryan, from London Fashion Week)

---

spudcon Wednesday Sep 17 07:44 AM

I'd worry about my employees. She looks contagious.

---

BrianR Wednesday Sep 17 12:00 PM

What's wrong with wearing dresses?

---

footfootfoot Wednesday Sep 17 01:20 PM

---

Crimson Ghost Thursday Sep 18 01:33 AM
Nuke it from space. It's the only way to be sure...

---

spudcon Thursday Sep 18 08:59 AM

---
Your reply here?

The Cellar Image of the Day is just a section of a larger web community: a bunch of interesting folks talking about everything. Add your two cents to IotD by joining the Cellar.