xoxoxoBruce Friday Sep 12 10:23 AM

September 12, 2008: Smart Horse

Did you ever notice, some horses just look more intelligent than others?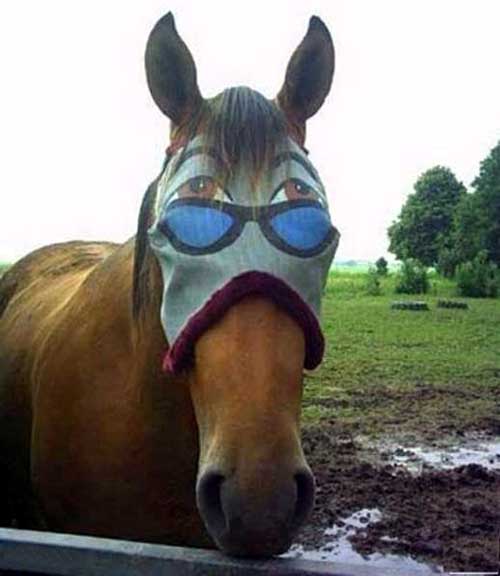 ---

Flint Friday Sep 12 10:24 AM

Let's eat the horse.

---

Shawnee123 Friday Sep 12 10:25 AM

lmao @ Flint.

Hey, where has hoofhearted been?

---

Sundae Friday Sep 12 10:35 AM

---

el fantastico Friday Sep 12 12:59 PM

does this horse look a little emo to anyone else?


heh, heh, emo... whiny little bastards

---

limey Friday Sep 12 02:28 PM

So why do they do that with horses though? There's one I pass in a field on my way home from work sometimes who has that bag-over-the-head blinker thang goin' on now and then.
Please explain, why?
And yes, where is Hoof-Hearted?

---

Shawnee123 Friday Sep 12 02:31 PM

I think so they can't see anything except right in front of them so nothing spooks them?

---

SPUCK Friday Sep 12 02:34 PM

Since the horses aren't free to roam, (away from flies), the flies can drive them actually crazy. Plus the flies can cause medically serious issues with their eyes - so the bags, which the horses can easily see thru.

---

Shawnee123 Friday Sep 12 02:48 PM

So, apparently, time ISN'T fun when you're having flies?

---

footfootfoot Saturday Sep 13 04:20 PM

---

Gravdigr Saturday Sep 13 06:19 PM

---

Cloud Saturday Sep 13 09:53 PM

but they can still feel the flies, right? so how does that stop them from going crazy?

---

xoxoxoBruce Saturday Sep 13 10:13 PM

No, they can't feel the flies. More importantly, the flies can't bite them, or get in their eyes seeking moisture.

---

limey Sunday Sep 14 06:17 AM

Thanks guys - I'll go with the see-through eye-fly protection explanation ...

---

CEO2008GAME Sunday Sep 28 09:48 PM

Cheap to buy gold coins of the game

Welcome to item4u.com. Cheap to buy gold coins of the game.Warhammer CD Key $46.90Warhammer Online CD Key $46.90World of Warcraft CD Key EU $14.40 WoW CD Key US $18.25 Age of Conan CD Key $28.50 10 Million Rohan Crone $7.97 20 Million Rohan gold $15.94 5 Age of Conan Gold $3.00 30 AoC Gold $17.64 Warhammer PowerLeveling us Level 1 - 10 Package $14.95 Warhammer Online PowerLeveling us Level 1 - 20 Package $49.95 War PowerLeveling us Level 1 - 40 Package $229.95

---
Your reply here?

The Cellar Image of the Day is just a section of a larger web community: a bunch of interesting folks talking about everything. Add your two cents to IotD by joining the Cellar.