newtimer Friday Sep 5 01:14 PM

September 5, 2008: ...and the Russians used a pencil.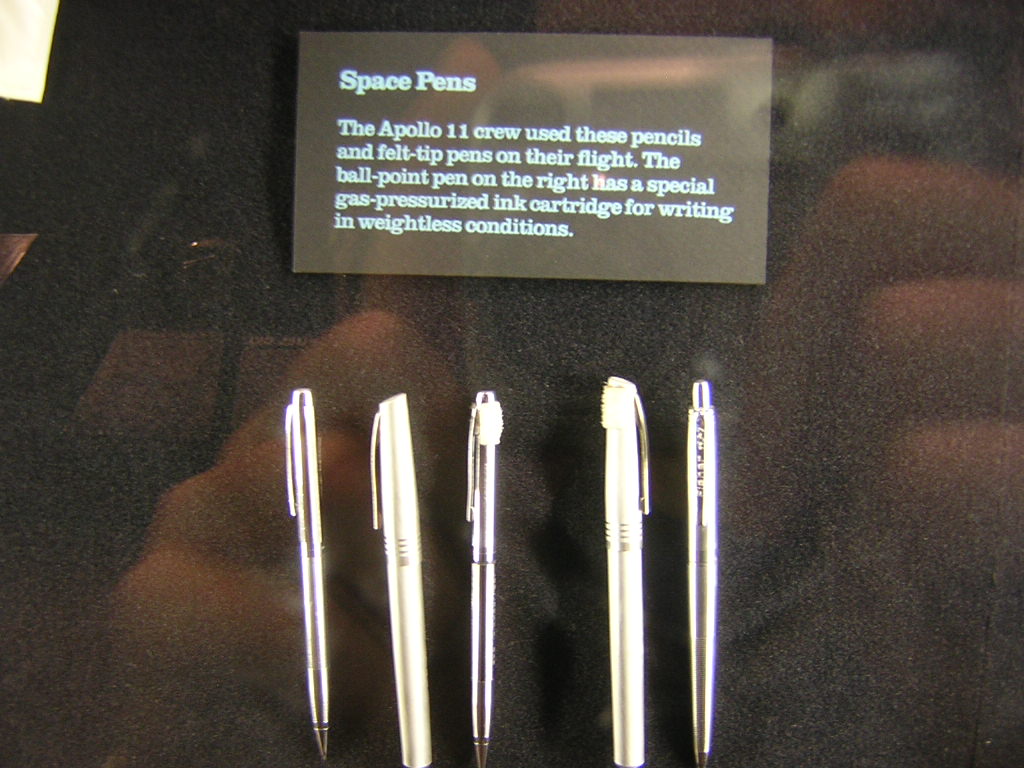 Here they are. Those specially-researched, tax-payer-costing, anti-gravity, gas-pressurized writing pens which allowed American astronauts to be able to write in space. They're display at the Air n' Space Museum. in Washington DC.

---

HungLikeJesus Friday Sep 5 01:22 PM

I have a space pen around here somewhere. I don't like the way it writes.

---

Griff Friday Sep 5 01:24 PM

The Russians don't have the cinematic capability for a trip to "space."

---

Shawnee123 Friday Sep 5 01:24 PM

I gave my astronaut pen to Jack Klompus.

---

SteveDallas Friday Sep 5 01:28 PM

Didn't the Russkies have trouble with shavings when they had to sharpen the pencils?

---

Flint Friday Sep 5 01:38 PM

I Googled "snopes space pen" and it said FALSE.

---

Sheldonrs Friday Sep 5 01:45 PM

Bic deal.

---

Sundae Friday Sep 5 01:47 PM

The IoTD isn't false if you take out tax-payer-costing.

---

Flint Friday Sep 5 01:51 PM

IT SAID FALSE. [/thread]

---

Shawnee123 Friday Sep 5 01:53 PM

Your face is false.

---

Clodfobble Friday Sep 5 02:11 PM

It said the anecdote about the Russians using a pencil was false. The pressurized pens were real.

And furthermore, who Googles "snopes [anything]?" Just go directly to snopes and search from there. Unless you have the google toolbar--in which case it still only saves you, oh, a half dozen keystrokes.

---

Flint Friday Sep 5 02:17 PM

It's the same number of steps.

A. Goto Google, search for snopes space pen, click, read.

B. Goto Snopes, search for space pen, click, read.

I prefer using a common search interface over website-based internal searches. Google is often better at finding something within a site than the site's own internal search. And I just don't want to have to go to the page (which isn't in my favorites, Google is, btw) and look for their search function. I go directly to Google and it works the same way every time.

---

Flint Friday Sep 5 02:28 PM

btw, this is coming from Clodfobble, who still manually dials phone numbers. [/Flint never forgets]

---

glatt Friday Sep 5 02:43 PM

---

Trilby Friday Sep 5 02:47 PM

I have one of those old, gas-powered dildos around here somewhere...

---

Pie Friday Sep 5 02:50 PM

A Harley?

---

Flint Friday Sep 5 02:51 PM

Edited for clarity.

G0DDAMN1T NOW THE PAGE ROLLED OVER

---

HungLikeJesus Friday Sep 5 03:07 PM

I thought Fischer invented the Space Penis.

---

lookout123 Friday Sep 5 03:24 PM

---

kerosene Friday Sep 5 04:02 PM

I knew there had to be a reason why those were so expensive.

---

TheMercenary Friday Sep 5 06:16 PM



The one attached to a gas powered reciprocating saw?

---

Bullitt Friday Sep 5 06:46 PM

No a table saw.. thwapthwapthwapthwapthwap

---

Elspode Friday Sep 5 09:28 PM

---

Gravdigr Sunday Sep 7 05:01 PMproducing dildo.

---

Sheldonrs Sunday Sep 7 06:49 PM

---
Your reply here?

The Cellar Image of the Day is just a section of a larger web community: a bunch of interesting folks talking about everything. Add your two cents to IotD by joining the Cellar.