Undertoad Monday Sep 1 03:22 PM

September 1, 2008: Tomatina 2008

All images used here with the permission of the photographers. The links lead to their Flickr photostreams, where you can find more Tomatina shots from all of them, many better than the ones I've chosen! It's hard to do this you know.

If you haven't read any of the previous IotD Tomatina threads, this is a festival in a little town in Spain, where they take all of the overripe tomatoes, truck them into the middle of town, and then they begin the largest food fight in the world.

Lergik finds the crowd waiting for the delivery of the tomatoes.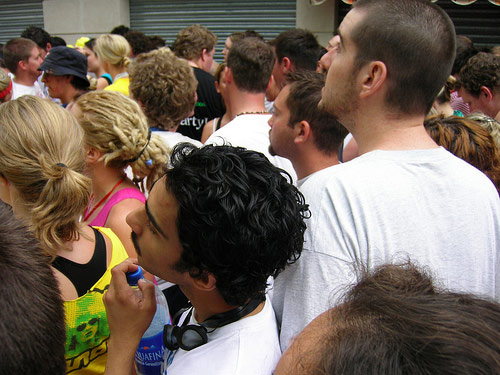 Paul.McGee captures the first arrival of the tomatoes, fresh off the delivery truck. The crowd first gets hit, and first gets something to throw.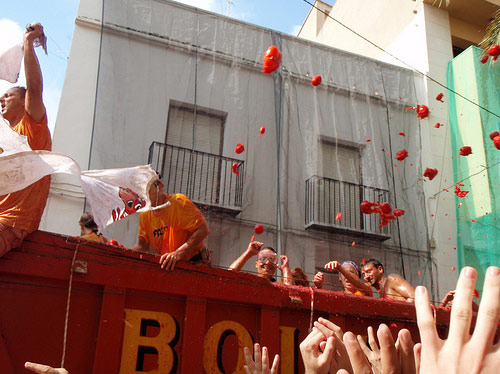 And it's mayhem.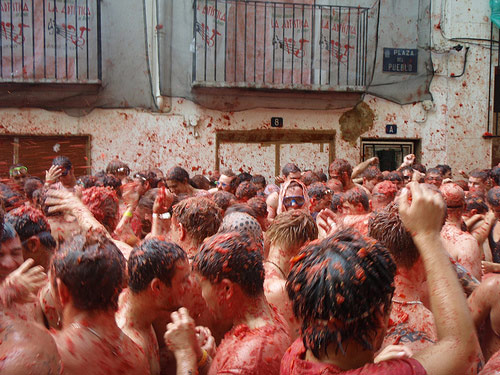 Dave Dove captures what looks like the end of round one: the people have gotten hit, but they aren't covered and they aren't exhausted.




And this might be Dave Dove's round two: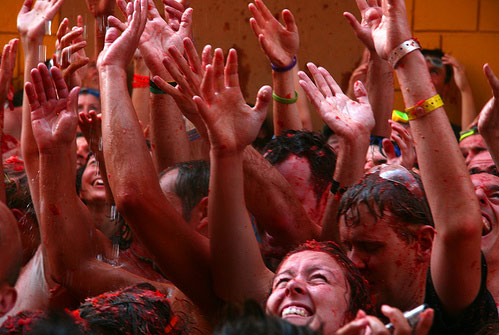 Opalrosa shoots from a balcony, apparently. Here's what the people on the street are getting hit with, and how: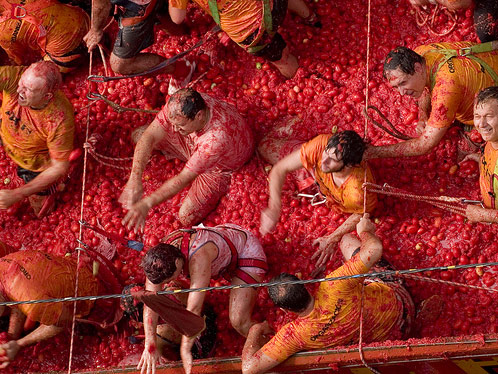 Opelrosa again, stopping time right as this crowd gets hit. I imagine that even a really ripe mater would sting pretty hard if it hit you in the face -- everybody momentarily looks away.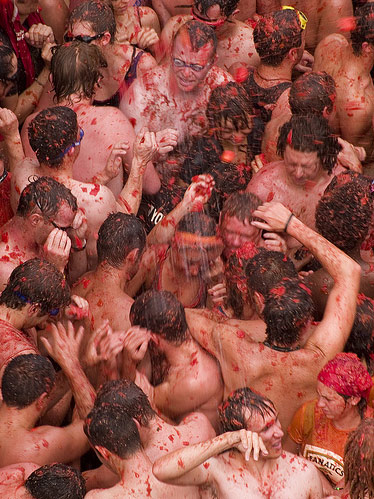 Paul.McGee labels this "A poor position", or how to look like a really obvious target: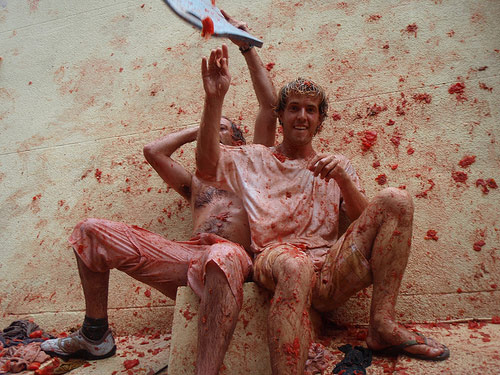 Magogar labels this "Mister y Miss Tomatina", but we don't know if there was an actual competition, or if these excellent specimens were right next to each other and earned the title upon mere sight.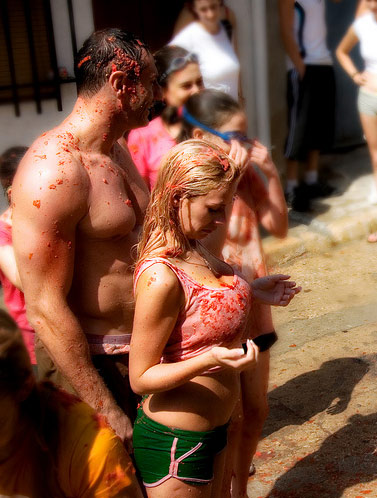 Lergik himself, in the usual post-Tomatina glow: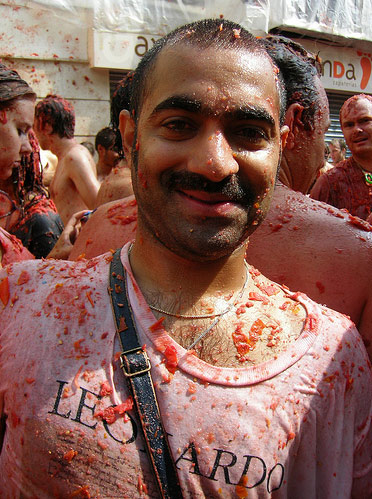 And this is the first time we've seen this: after the fight, locals may help the participants wash off.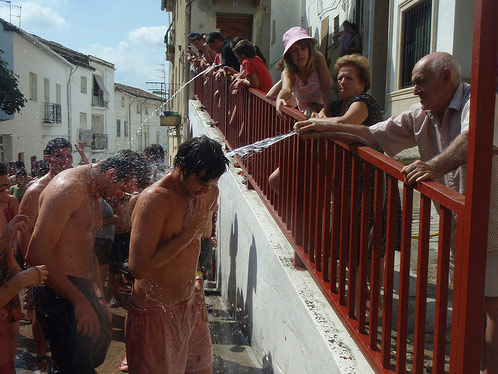 Thanks to all the Flickr folks who braved the event to capture it, and allowed us to see the collection as posted here!

---

richlevy Monday Sep 1 03:59 PM

Looking at 'Miss Tomatina', I refuse to make any obvious 'tomato', 'saucy wench', or other vegetable or fruit jokes.

BTW, I appreciate harvest festivals, but I still think that wasting tons of food while there is famine in the world is sad.

---

Undertoad Monday Sep 1 05:25 PM

Not to worry, it isn't for lack of capacity to create food that there is hunger.

---

Nirvana Monday Sep 1 05:39 PM

I love tomatoes! I am not sure I wold love wearing them but it was nice seeing others have fun!
If the world is starving people should make them tomato sauce? I wonder what they did with all the suspect salmonella tomatoes in Florida? Send them to Spain?

---

JuancoRocks Monday Sep 1 06:17 PM

Basil, oregano, fresh garlic a little water, simmer slowly then add freshly diced onions...............Feeds a whole town.......

---

SteveDallas Monday Sep 1 06:34 PM

---

ZenGum Monday Sep 1 09:13 PM

: Confirms Tomatina on must-do-before-dying list:

---

HungLikeJesus Monday Sep 1 09:31 PM

---

ZenGum Monday Sep 1 11:14 PM

If I move really fast, do you think I could ketchup?


(And HLJ's comment is going to really confuse all those occasional visitors who only drop by for the IotD!)

---

xoxoxoBruce Tuesday Sep 2 12:22 AM

---

SPUCK Tuesday Sep 2 05:36 AM

I don't get it.. Around here a tomato is about a buck.. And I live in the tomato state!

---

birdclaw Tuesday Sep 2 12:10 PM

AHHH! Attack of the killer tomatoes!


Also the tomatoes are overripe. Not so good for eating.

---

Shawnee123 Tuesday Sep 2 02:21 PM

This is great! Back when my parents had a pretty substantial backyard garden, my brothers and I would set up forts towards the end of the summer (made out of whatever we could find...the cage thingys that hold tomato plants up, old boards, etc) and have tomato fights with the last of the tomatoes that didn't get eaten or rotten or whatever.

One year my grandma called the local paper and dude came out and took pics and there was a small human-interest write-up. That year my older brother had donned a bunch of camouflage clothes, hat and everything...and the picture is of him in the middle of a throw, arm back. He told the reporter that in the off-season we threw around cans of Prego to keep in shape.

When I heard of this tradition in Spain I was thrilled; I just thought we were being all redneck.

---

Gravdigr Tuesday Sep 2 06:31 PM

I wonder if there is a run on plumbers' services after the 'mater flingin'. Seems there would be a heap o' clogged shower drains during personal clean up time. Which might be fun with "Miss 'Mater Flingin' 08".

---

Coign Tuesday Sep 2 06:42 PM

---
Your reply here?

The Cellar Image of the Day is just a section of a larger web community: a bunch of interesting folks talking about everything. Add your two cents to IotD by joining the Cellar.