xoxoxoBruce Saturday Aug 23 09:05 AM

August 23, 2008: Oklahoma Bull

ooooOKlahoma, where the bull comes riding down the road....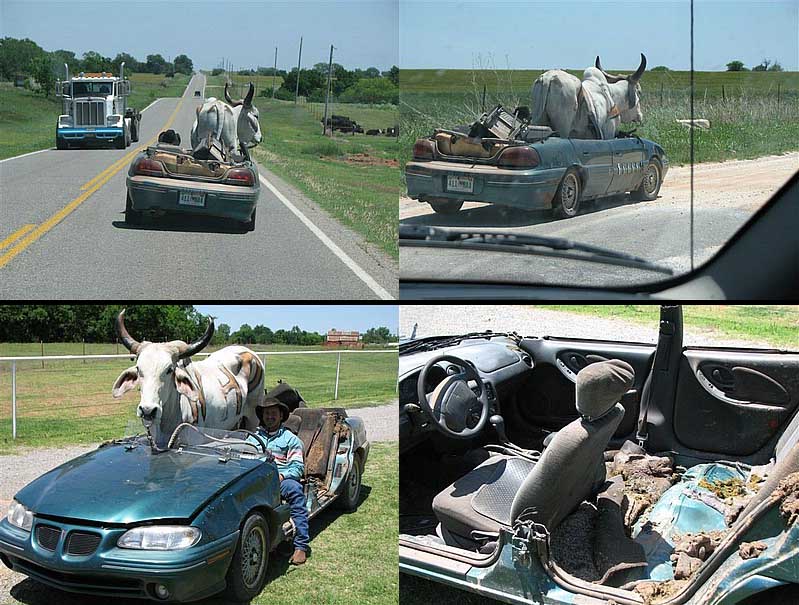 Let the inter-species, homosexual, dating jokes begin.



Or maybe he was bringing the bull home for dinner?

---

spudcon Saturday Aug 23 10:42 AM

Dinner and a movie.

---

Cicero Saturday Aug 23 10:47 AM

Reminds me of yesterday- I couldn't get my camera out of my bag fast enough. This guy had a blow up doll riding on the back of his bike with him. And what's more?!?

She had no helmet on! Not even sunglasses! No gloves...in fact she didn't have anything on at all!

I don't think he respects her.....He should have been pulled over. His passenger was completely unprepared to ride on a motorcycle.

Safety folks! Saaaafety first!

---

HungLikeJesus Saturday Aug 23 10:53 AM

---

sweetwater Saturday Aug 23 11:35 AM

Wait a minute, that car appears to have sustained quite a bit of damage. While he was repairing it I think the guy decided to replace his standard-issue horn with a bullhorn. Two of them, in fact!

---

HungLikeJesus Saturday Aug 23 11:48 AM

The car doesn't go very fast because he has to push it with his foot, like the Flintstones.

---

tulzscha Saturday Aug 23 11:59 AM

What's the bull say? It appears to have letters painted on its sides, but the angle is such to make it unreadable.

It's more likely he's pimping the bull out than planning on eating it. Which is pretty sweet from the bull's perspective.

---

xoxoxoBruce Saturday Aug 23 02:11 PM

Sure, stud bulls make big bucks.
That's why he can afford custom wheels and a chauffeur.

---

Sheldonrs Saturday Aug 23 06:38 PM

Maybe it his new power STEERing.

---

birdclaw Saturday Aug 23 06:55 PM

A very moooving image.

---

jinx Saturday Aug 23 07:45 PM

I think its a cow. Or a dolphin. Looks too small and lean to be a bull.

---

Elspode Saturday Aug 23 10:46 PM

Isn't anyone else to going to comment about the fact that the bull has something written on it in large gold and black letters?

Somebody's advertising budget is getting pretty damn thin.

---

spudcon Saturday Aug 23 11:11 PM

Writing says "Pontiac is a shitty car."

---

xoxoxoBruce Sunday Aug 24 12:36 AM

---

SPUCK Sunday Aug 24 05:17 AM

What a bunch of crap! (all over the seats)

---

newtimer Sunday Aug 24 10:08 AM

See? With the right tools, ANY car can be made into a convertible. Ah, Oklahoma engineering.

---

bigw00dy Sunday Aug 24 12:18 PM

wtf?
On a more serious not, what if you had to make a sudden stop and the bull had to re-adjust himself. I would be afraid of being smooshed.

---

Elspode Sunday Aug 24 05:09 PM

---

JuancoRocks Monday Aug 25 01:51 AM


I know it's old, but it's still funny....

---
Your reply here?

The Cellar Image of the Day is just a section of a larger web community: a bunch of interesting folks talking about everything. Add your two cents to IotD by joining the Cellar.