xoxoxoBruce Friday Aug 22 02:22 AM

August 22, 2008: Guinea Pig Festival

Every time a picture of a cute critter is posted, you sickos turn the thread into a recipe swap.

Hah! The Telegraph has pictures of the ladies of Huacho, Peru, that are way ahead of you pikers.

At their annual Guinea Pig Festival, the ladies have Guinea Pigs....

dressed up....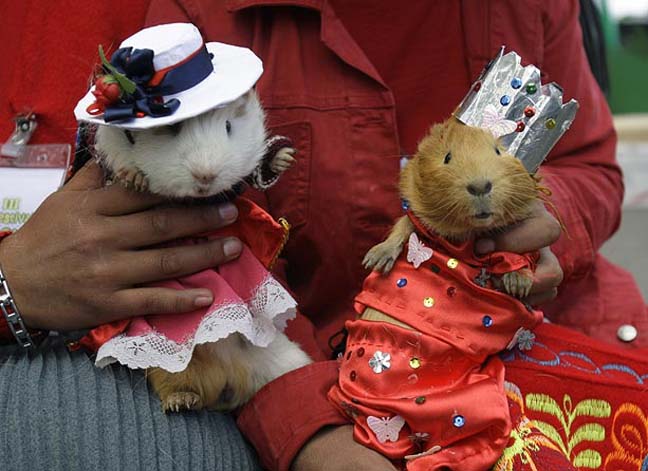 ....and with dressing.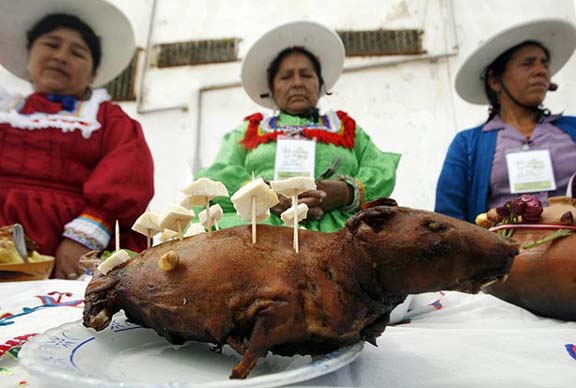 ---

ZenGum Friday Aug 22 02:57 AM

Damn, they look so much like that weiner dog/sweet potato we just had!

---

spudcon Friday Aug 22 07:10 AM

They're not dressing much different, just wider brimmed hats

---

Bibliomaniac Friday Aug 22 08:45 AM

Is that what happened to Dramatic Groundhog?!?!



---

Shawnee123 Friday Aug 22 09:14 AM

Man, is this the first IotD where all the food jokes are already illustrated and documented?

---

el fantastico Friday Aug 22 10:50 AM

but for some reason it has made me hungrier than most i have read.

now, are those chunks of cheese or butter on top? (just helps me know what kind of chile sauce to pour over the top.)

---

birdclaw Friday Aug 22 12:18 PM

I have to say that I usually find the recipe swap rather humorous. But with pictures it's just not the same.

---

Gravdigr Friday Aug 22 01:22 PM

Eh...Rats is rats.

---

lawman Friday Aug 22 02:22 PM

While in Otavalo, Ecuador a number of years ago, I ordered up the national delicacy of guinea pig. Can't say I would order it again.. there's not much meat on them, and it was kinda greasy.

Also a little creepy considering I used to have one as a pet as a child.

---

newtimer Friday Aug 22 05:40 PM

Dang! Is that what happens to the loser of the beauty contest? If so, it would explain the worried expressions on those two guinea pigs in the first photo.

---

Aliantha Saturday Aug 23 08:06 AM

They had these guinea pig eating people on a travel show here recently.

I don't think I could eat a guinea pig. It just seems too much like rat to me.

---

richlevy Saturday Aug 23 10:51 AM

.

Miss Texas - BBQ sauce
Miss Hawaii - Pineapple Glaze
Miss California - vegetarians get a free pass. It's karma.

---

sweetwater Saturday Aug 23 11:38 AM

I can hear my mommy even now: Quit playing with your food!

---

TheMercenary Saturday Aug 23 01:31 PM

that first pic would make some great LOL or ORLY pics.

---

el fantastico Monday Aug 25 11:12 AM

---

Agent-G Tuesday Aug 26 02:13 AM

sweet..so they dress them up, then eat them.

---

Gravdigr Wednesday Sep 3 04:10 PM

Come on people!!! Not one Richard Gere/guinea pig up his ass joke?? Not one? Really?

---

lookout123 Wednesday Sep 3 04:13 PM

how immature.

---

dar512 Thursday Sep 4 10:35 AM

Guinea pigs are quite a bit larger.

---

Cloud Thursday Sep 4 08:32 PM

I find dressing up your food in cute lil' costumes before you eat it quite disturbing.

---

wolf Thursday Sep 4 11:06 PM
No, because it was Jerry Penacoli, with a hamster.

---

xoxoxoBruce Friday Sep 5 12:39 AM
That's why I invented the "Gerbil Jerk", to avoid tragic endings.

---

BrianR Friday Sep 5 12:54 AM

I thought it was a gerbil also...

---

dar512 Friday Sep 5 10:29 AM

There are about 39,000 google entries for gere and gerbil. About 72,000 for gere and hamster. You could probably plot a US map of who heard what story - like the map of what people call carbonated drinks.

There's probably a graduate project in social science in there somewhere.

---

HungLikeJesus Friday Sep 5 10:47 AM

I thought it was a pineapple.

---

Sundae Friday Sep 5 11:07 AM

No, that's Mau Mau

---

xoxoxoBruce Friday Sep 5 11:20 AM

Pamplemousse!!

---

BrianR Friday Sep 5 08:16 PM

<snicker> the pineapple comment reminded me of a joke I played on some gay guys at a vending fair...

They had very large, er, sex toys for sale and the size amazed almost everyone. At one point, I slipped off to the supermarket, bought a pineapple and brought it back to our table, which was close to theirs. I sneaked one of their price tags off, put it on the fruit, and secreted the pineapple on their shelf. The looks on people's faces were priceless, as well as the fact that it took them two hours to spot the plant.

---
Your reply here?

The Cellar Image of the Day is just a section of a larger web community: a bunch of interesting folks talking about everything. Add your two cents to IotD by joining the Cellar.