What's IotD?

The interesting, amazing, or mind-boggling images of our days.
xoxoxoBruce Thursday Aug 21 02:52 AM

August 21, 2008: Cholita Wrestling

Neatorama points to this National Geographic article about women wrestling in Bolivia.


Quote:

At the largest public gymnasium in El Alto, Bolivia, daylight is fading from the windows, and hundreds of people along the bleachers are growing impatient. They have been sitting for more than two hours now, jeering and whistling and yelling encouragement at the succession of artistas who have faced off in the center of the gym to match wits and perform dazzling feats of strength and skill. But it is growing late, and over the blaring disco music, foot-stomping and impatient whistles can be heard in crescendo: "Bring them on!" The music grows louder, the whistling too; there is a sense that rebellion may be about to erupt, but at last the houselights flash and dim, and the music shifts to the chunka-chunka beat of a modern Bolivian huayno. An announcer emotes into the microphone, the curtains leading to the locker rooms part, and "Amorous Yolanda" and "Evil Claudina," this evening's stars, make their longed-for appearance to ecstatic applause.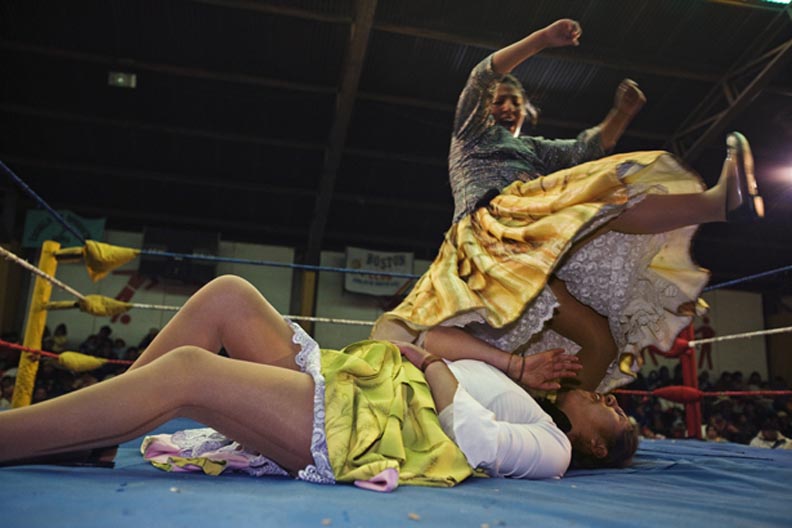 The photo gallery show them fighting the male wrestlers also.
Of course it's phony, but it is entertaining.

---

Bibliomaniac Thursday Aug 21 04:01 AM

Love the costumes. Makes me think of the quote:
Remember, Ginger Rogers did everything Fred Astaire did, but backwards and in high heels. ~Faith Whittlesey


---

sweetwater Thursday Aug 21 08:22 AM

Soon to be our newest Olympic sport!

---

Cloud Thursday Aug 21 09:45 AM

in petticoats, no less. wow.

---

newtimer Thursday Aug 21 03:49 PM

---

SteveDallas Thursday Aug 21 04:07 PM

I had no idea what "cholita" meant. My first guess was some kind of food that I hadn't heard of. That led to a brief image of a wrestling match in a vat of chimichangas.

---

newtimer Thursday Aug 21 11:31 PM

---

Scriveyn Friday Aug 22 03:02 AM

Quote:

Originally Posted by cloud

in petticoats, no less. wow.

... and seamed stockings



I remember a TV feature about the women from the Andes villages gathering for their annual football championships, also playing in their traditional garb.

see also th NY times article: http://www.nytimes.com/2005/07/21/in...=1&oref=slogin on the wrestling story.

---
Your reply here?

The Cellar Image of the Day is just a section of a larger web community: a bunch of interesting folks talking about everything. Add your two cents to IotD by joining the Cellar.