xoxoxoBruce Thursday Aug 14 05:35 AM

August 14, 2008: Recovery & Renewal

Fire is one of our best friends... and worst enemies.
Mother nature uses lightning fires to renew grasslands and forests, recycling deadwood, opening seeds, and making room for new growth. However, people cause an awful lot of fires through carelessness, also.
I've driven through burned areas in Canada and the US, sometimes just months after the fires had blacked the landscape, and was amazed how quickly greenery was sprouting.

As these pictures show, the forest will come back.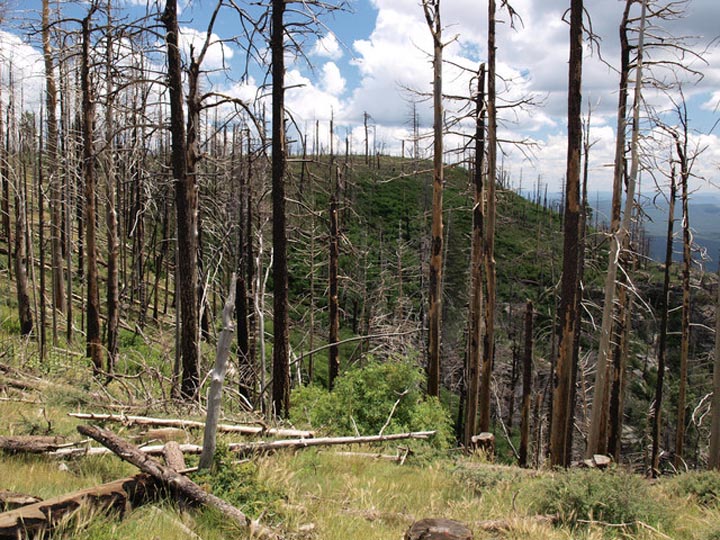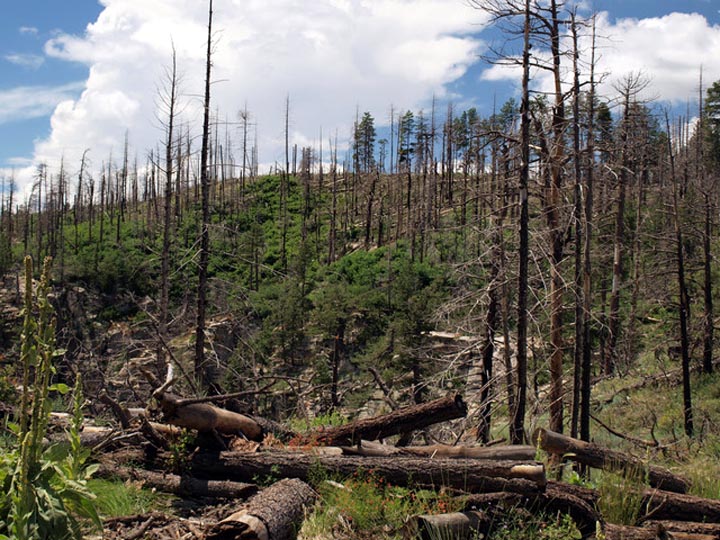 But this fire in AZ, happened in June of 1990. After 18 years, it's got a long way to go. Be careful.

---

rupip Thursday Aug 14 07:27 AM

amazing how SLOWLY greenery is sprouting.
after almost 20 years I´d expect a young but decent forest...

---

Ibby Thursday Aug 14 07:38 AM

yeah, but that's arizona. The whole state's dead anyway, all desert. I'm surprised anything grew back.

---

el fantastico Thursday Aug 14 08:11 AM

i grew up in oregon and heard the timber industry talk about how forests are just really big crops, like corn or alfalfa. but i don't know of any corn that takes decades to ripen. forests ecosystems live on a much longer continuum than nearly anything else humans "harvest." they take so much longer to recover & restabalize.

---

Undertoad Thursday Aug 14 09:16 AM

Apparently that also means they are a "carbon sink" for that much longer, making agricultural farming a way to fight global warming.

---

Sheldonrs Thursday Aug 14 09:38 AM

Oh CRAP!!!!!! I'm in a fucking DESERT!!! And I'm JEWISH!!! I have to stay here for 40 YEARS!!! CRAAAAAAAAAAAAAPPPPPPPPPP!!!




---

xoxoxoBruce Thursday Aug 14 11:37 AM

The hell you will... build me a pyramid.

---

Sheldonrs Thursday Aug 14 11:39 AM
He's the one over there with the big stick.

---

xoxoxoBruce Thursday Aug 14 11:53 AM

Sure, Ill just walk this path through the water... HEY, what the... blub blub

---

Gravdigr Thursday Aug 14 03:09 PM

Let her people go.

---

Flint Thursday Aug 14 04:44 PM
---

Easy Thursday Aug 14 08:20 PM

The bush in Australia is well adapted to recovering from bushfire as its so damn hot and dry here they happen all the time. Actually several species of plant such as the banksia require fire to germinate new seeds.

Here are some photos of regrowth after a bushfire in NE Victoria around 3 months after the actual fire:

http://www.pbase.com/greytails/bushf...06_ne_victoria

---

Kingswood Friday Aug 15 02:19 AM

These photos showed that the bush had already started its recovery with new green growth by the time the fire itself was extinguished.

---

SPUCK Friday Aug 15 05:29 AM

We drove up the Al-Can highway in 1985. About the time we came to the Yukon Territory we came around a bend and were greeted by an obviously burned forest. We mused that it looked like the fire had happened recently in the last year or perhaps two at most. Continuing a ways farther we came to a huge bill board on an overlook. It described the "x Fire" (forget the name) occurred in 1956, about 30 years earlier!!! Bummer.

---

xoxoxoBruce Friday Aug 15 09:19 AM

Did you notice a partially burned Dodge Van at the burned out service station? I made a metal note of it, as a possible emergency parts source for the one I was driving, about 10 years before you went.

---

Griff Friday Aug 15 09:35 AM

In January of 1991 we honeymooned in Yellowstone. This was after the fires of 1988 which were huge news because they came after the forest service realized fire suppresion was counter productive. Unfortunately many years of suppresion let the fuel accumulate and the fires were much bigger than they anticipated. I don't think we've digitized any of those pictures. It'll be neat to see how the landscape has recovered when we go out there.

---

SPUCK Saturday Aug 16 06:47 AM
Negatory saw no burnt vehicles. Course we went in October... Lots of white stuff.

---

TheMercenary Saturday Aug 16 12:06 PM

---
Your reply here?

The Cellar Image of the Day is just a section of a larger web community: a bunch of interesting folks talking about everything. Add your two cents to IotD by joining the Cellar.