xoxoxoBruce Monday Aug 11 08:00 AM

August 11, 2008: Booger Clones

Oh look Dear, puppies!
But not just any old cute puppies, clone puppies.

Probably a rational discussion of this story should not include a picture of five heart melting puppies. But it's IOtD, so it must.

Quote:
Bernann McKinney says her beloved pit bull "Booger" saved her life when another dog attacked her, then learned to push her wheelchair while she recovered from a severe hand injury and nerve damage.
He died in 2006, but now he's back - at least in clone form, after the birth last week of puppies replicated by a South Korean company. "Yes, I know you! You know me too!" McKinney cried joyfully Tuesday, hugging the puppy clones as they slept with one of their two surrogate mothers, both Korean mixed breed dogs, in a Seoul laboratory. "It's a miracle."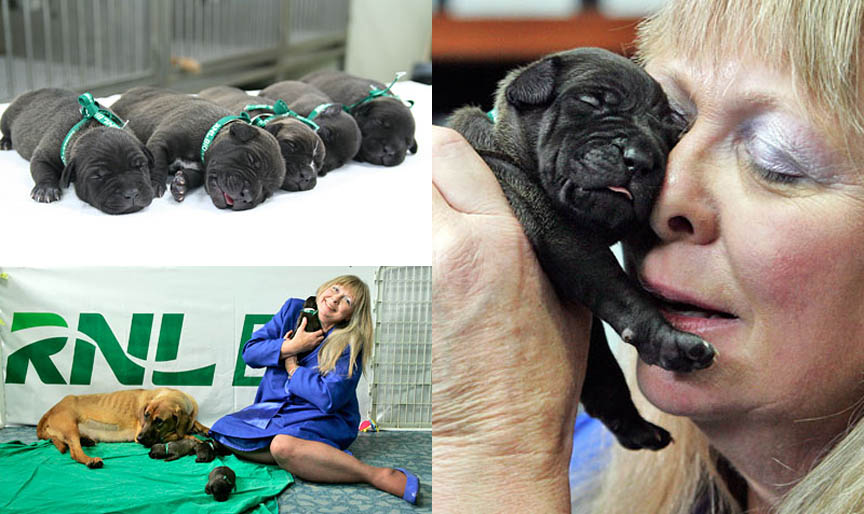 Cute puppies and heart warming story, for a Monday morning... would I spoil that?
You bet your bippy.


Quote:

The procedure, which costs up to $150,000, is drawing criticism from animal rights groups which oppose cloning pets. They say it can lead to malformed offspring and exploitation of surrogates and egg donors, as well as unfounded claims that the new animal is an exact copy of the original.

Now before you start cursing PETA, this objection is from reputable sources.



Quote:

"It's fraught with animal welfare concerns and it does not bring back a loved one," said Martin Stephens, vice president for animal research issues at The Humane Society of The United States, based in Washington. "A dead animal's DNA does not guarantee the offspring will be identical to the deceased. It takes more than just genes to create an animal," said Stephens, who is a biologist. He said the cloning process also subjects hundreds of dogs and cats to invasive procedures as egg donors and surrogates. According to a report released by The Humane Society in May, 3,656 cloned embryos, 319 egg donors and 214 surrogates were used to produce just five cloned dogs and 11 cloned cats who were able to survive 30 days past birth. There are millions of homeless dogs and cats in the U.S., Stephens said, and "we don't need new sources to compete with animal shelters and reputable breeders."

So maybe it's not a good idea, but they sure are cute.

link

---

sweetwater Monday Aug 11 08:27 AM

Think she will copy George Foreman and name them Booger Jr., Booger III, Booger IV, etc.?

---

Griff Monday Aug 11 08:29 AM

If you think she's nuts here's the rest of the story.

---

classicman Monday Aug 11 08:57 AM

I think she is nuts, but that has nothing to do with the fact that there are so many animals being put down every day because there are too many. I don't think we should be cloning them at all.

---

Griff Monday Aug 11 09:12 AM

PS. My link has nothing to do with animals.

---

Sundae Monday Aug 11 09:14 AM

Oh my word. She's a fruitloop of epic proportions.
What a shame for the poor dogs.

---

birdclaw Monday Aug 11 10:19 AM

Umm kind of going off track here but it has been speculated that Bernann McKinney is actually Joyce Mckinney. She was Miss Wyoming and got accused of raping a Mormon missionary. And now they are letting her have puppies? Seems wrong.

---

Sundae Monday Aug 11 10:22 AM

Bird, follow Griff's links (includes pictures which make a pretty good case for it being her)
The reason I said the dogs have my pity is that she has been accused of animal cruelty in the past.

---

DanaC Monday Aug 11 10:23 AM

Fruit loop she may be, but in truth, given the ordeal which nearly killed her and from which the dog had saved her, I think she can be forgiven for being unusually attached.



[eta]

Quote:

The reason I said the dogs have my pity is that she has been accused of animal cruelty in the past.

I did not know that.

---

Antimatter Monday Aug 11 12:07 PM

"Yes, I know you! You know me too!" - Umm... No you don't. "You" is, as the article points out, defined by much more than mere genes, and relations between her and the original dog does in no way transfer automatically to any of the clones. This might seem obvious to most people here but apparently Ms. McKinney suffers from the delusion that it is not so.

Also, I wonder, if her (maybe hypothetical) husband died and cloning of humans were available, would she have him cloned?

---

classicman Monday Aug 11 10:16 PM
.

---

Aliantha Tuesday Aug 12 03:59 AM

Awww...look at the fruitloop with the cute puppies!

Yes I know. Even pitbull puppies are cute. All puppies are cute.

I want a puppy...

---

SPUCK Tuesday Aug 12 05:36 AM

This is choice!!

"To flee on bail, she donned a red wig and disguised herself as a member of a mime troupe"

You can't make this stuff up..

---

morethanpretty Tuesday Aug 12 02:08 PM

All I see is the potential evil of those puppies. They'll just keep getting themselves cloned until they take over the world.

---

Coign Wednesday Aug 13 02:13 PM

Oh her story is awesome and does deserve a movie.



Quote:

Miss McKinney's own lawyer, Stuart Elgrod, has been bombarded over the years by calls from his former client. Mr Elgrod is ill but his wife, Natalie, said: "Not again! She always was a nutter. Every so often she finds us and drives us mad. Last time she wanted to know what material Stuart had because they wanted to make a film about her. Anthony Hopkins was going to play the part of Stuart."

After fleeing Britain in 1978, Miss McKinney spent five weeks in hiding then resurfaced at the Hilton Hotel in Atlanta, Georgia, dressed as a nun. In the 1980s, she was arrested near Salt Lake City airport, where Mr Anderson worked, for allegedly harassing him. A rope and handcuffs were in her car.



---

spudcon Wednesday Aug 13 02:58 PM

I thought all boogers were clones.

---

Aliantha Wednesday Aug 13 09:10 PM

Something I just noticed.

If they're all clones, why does the one in the middle have a white stripe down it's face?

---

Sundae Wednesday Aug 13 09:19 PM

My understanding of cloning is that it simply (!) uses DNA from one animal as if it were both mother and father. I welcome correction if that's not the case.
So there is less variation than between natural siblings, but it can still throw up many many differences.

---

Aliantha Wednesday Aug 13 09:23 PM

Interesting. I didn't know that.

---

Undertoad Wednesday Aug 13 09:44 PM

This was first noted in the IotD January 24, 2003: Cloned cat not copied, which documented how the first cloned pet did not turn out to be the same cat as its original. I remember researchers saying that even the in-utero experience would lead to different outcomes.

---

xoxoxoBruce Saturday Aug 16 01:31 AM

More trouble

From Neatorama...


Quote:

Now, a lawyer has identified McKinney as a fugitive from a criminal case in Tennessee.

The Tennessee charges stem from McKinney's arrest in November 2004 after being found in a van with the teenager. According to prosecutors in Carter County, an area in north eastern Tennessee, she instructed the boy to burgle a house and was charged with criminal conspiracy to commit aggravated burglary and contributing to the delinquency of a minor.

McKinney had allegedly told the teenager she needed money to help her three-legged horse. A representative of the South Korean biotech company said she had left for the US last week, but does not know where she is.

I should think it would be hard to sneak into the country with 5 puppies.

---
Your reply here?

The Cellar Image of the Day is just a section of a larger web community: a bunch of interesting folks talking about everything. Add your two cents to IotD by joining the Cellar.