xoxoxoBruce Saturday Aug 9 03:25 AM

August 9, 2008: It's a Dolphin

Not only a Dolphin, but a new type of Dolphin, from far off, end of the Earth, exotic, Australia.

Quote:
A DIMINUTIVE dolphin called "Snubby" may make history in marine science if DNA samples taken this week from animals off the northwest Kimberley coast prove they are the world's newest dolphin species or sub-species.

The Australian snubfin dolphin, whose short dorsal fin and rounded snout differs radically from those in other dolphin species, was discovered in 2005 insmall populations across the Top End and north Queensland coasts.

The shy species was initially mistaken for an Irrawaddy dolphin, which is found in coastal areas and rivers in Southeast Asia. However, it was later confirmed as a new species unique to Australia, and the first new dolphin species found in the world for 50 years.

But the "snubbies" swimming a few hundred metres offshore from Broome's popular tourist beaches may reveal even more diversity if they are found to be a unique sub-species restricted to the Kimberley region.

Scientists from WWF Australia, led by cetacean ecologist Deborah Thiele, spent this week collecting dolphin skin samples using darts launched from a boat, to confirm whether Kimberley snubfins differ from the other northern Australian populations.

She said their long isolation from animals living further north and east along Australia's coastline could have caused evolutionary differences.
"There's been no genetic information from the Kimberley so they may be a separate species again," Dr Thiele said.
"We're doing work here and in the Northern Territory to clarify whether the dolphins we're seeing are an Australian snubfin or another new species."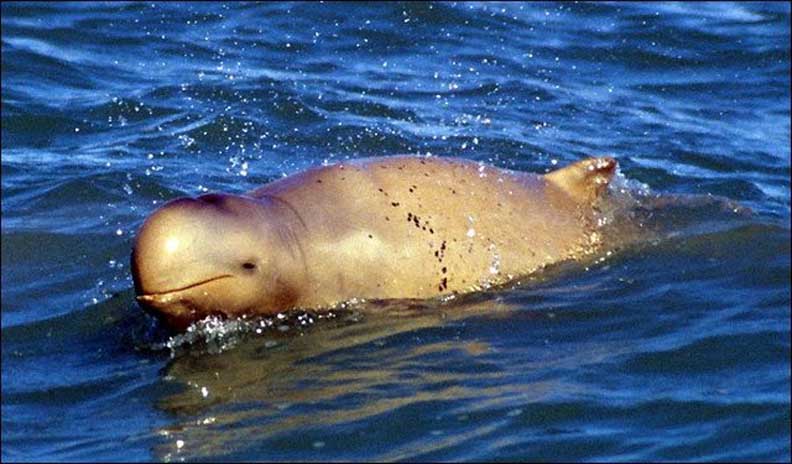 NO, it's not a freakin shark! :p
Link

---

Agent-G Saturday Aug 9 03:29 AM

not the best looking dolphin, thats for sure

---

Chocolatl Saturday Aug 9 04:04 AM

This kinda looks like a children's drawing come to life.

"Mommy, lookit what I made!"
"Oh! That's a very nice... um... Beluga whale? Shark? Dolphin?"

---

newtimer Saturday Aug 9 04:21 AM

Reminds me of that guitar-playing kid in Deliverance.

---

SPUCK Saturday Aug 9 05:39 AM

LOLOLOOLLLLLOLOLOOLOLLO

That's why it's still around. So ugly the sharks avoid it!

"You ate what??!"

---

spudcon Saturday Aug 9 07:51 AM

Looks like the elusive corn eyed butt snake.

---

HungLikeJesus Saturday Aug 9 09:42 AM

That's so obviously a man in a rubber suit. What are they trying to pull?

---

Shawnee123 Saturday Aug 9 11:01 AM

Looks kind of like a manatee. Oh, the huge manatee!

---

sweetwater Saturday Aug 9 11:52 AM

If only it was a shark then its initials would describe it face rather well. But as a dolphin - well, it looks like an example of neoteny gone wrong.

---

ajaccio Saturday Aug 9 09:25 PM

sure looks like a beluga to me...

http://tinyurl.com/5exq7z

---

Gravdigr Sunday Aug 10 06:51 PM

Some stand-up comedian (Maybe George Carlin or Denis Leary) had a bit that sorta goes: People say 'Don't eat tuna, boycott tuna.'
Why? 'Because dolphins get caught in the nets. Dolphins are cute and playful and we love them.' Well, what about the tuna? 'Fuck the tuna, they taste good!'

---

Sundae Monday Aug 11 01:27 PM

Came back to work and checked it out online. Whaddya know - it wasn't a promotional airship I saw - it was an actual fee-paying sightseeing one. The FEE in fee-paying is well out of my reach. But wonderful to know it's there (in my backyard!) should I ever win the lottery.


Quote:

A handful of paying passengers will be able to do just that over the coming six weeks - weather permitting - if their pockets are deep enough to pay £360 for the hour-long flight, rather more than the cost of a return fare to Florida, but apparently comparable to a helicopter trip ... and quieter.

From the article, photograph Graeme Robertson

---
Your reply here?

The Cellar Image of the Day is just a section of a larger web community: a bunch of interesting folks talking about everything. Add your two cents to IotD by joining the Cellar.