xoxoxoBruce Thursday Aug 7 02:34 AM

August 7, 2008: Russian Riches

Privatization of so many things formerly controlled by the Party/State, has made a few Russians wealthy. Some of them very (read billionaire) wealthy.

I suppose acquiring that much wealth in a short period of time, is bound to cause some of them, what I would call, Lottery Winners Syndrome.
You know, spending money by the bucket-load, buying everything they ever dreamed of when they didn't have money, no matter how crazy.

Supposedly, one of them had 40 lbs of gold, slapped on this Porsche. When I heard that I thought, "C'mon now, 40 lbs of gold leaf would do a fleet". But looking at the pictures, it doesn't look like gold leaf... it looks like little plates or something.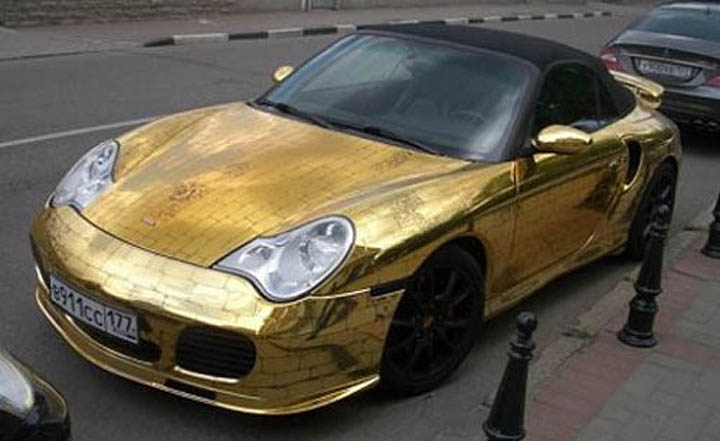 Even at $1,000 an ounce, it looks to me like the labor might even cost more than the gold.

And don't forget, that ain't no YUGO.
---

newtimer Thursday Aug 7 02:39 AM

I had to sell my gold-plated Porsche on craigslist because gas got too expensive for me. And the extra weight from that gold wasn't helping my fuel economy.

---

ZenGum Thursday Aug 7 02:45 AM

Tacky. But I suppose it would be rust-proof.

Imagine having a minor bingle in the car-park, scraping the car next to you .... ooooppppsssiiiieeeessss!

---

bcde862 Thursday Aug 7 04:46 AM

12sky

That's beautiful. Recently, I find a very good website which provide a lot of information about 12sky gold and 12sky power leveling.

---

Sundae Thursday Aug 7 06:10 AM

Grim.
It's not just the ostentation, it's the fact it looks cheap.

---

Hertzie Thursday Aug 7 07:03 AM

I would key that if I saw it lol, such a waste of money. Next time I say buy a car that actually looks good!

---

sweetwater Thursday Aug 7 07:13 AM

Many years ago in California I saw a black Porsche (?) with a license plate that read Pure Au. That plate should have been on this car. But I think the gold would be better on a Taurus - that being as close as a car could get to becoming a real golden calf.

---

Scriveyn Thursday Aug 7 07:17 AM

Naaaah, it wreaks havoc with the aerodynamics of the car.



But at least he's spreading the money around :p

Now, solid gold would be an altogether different thing

---

el fantastico Thursday Aug 7 08:11 AM

i would key the car every chance i got as well, but then keep the scrapings and sell them. i'm kind of surprised no one has been arrested trying to steal a fender. ("screw the hubcaps, i want that side mirror...")

---

Griff Thursday Aug 7 09:50 AM

National Geographics has a Russia article in this issue. It claims that Moscow has more Billionaires than any other city on the planet. It also describes what seems to be a very sick lawless society.

---

skysidhe Thursday Aug 7 09:58 AM

I think the spoiler is nicely done.

---

barefoot serpent Thursday Aug 7 10:37 AM

He's gonna get a ticket for parking in the wrong direction... that'll set him back plenty.

---

Sundae Thursday Aug 7 10:50 AM

They might not have them there - we don't.
Anyway, a car like that probably comes with a bodyguard. The sort that persuades people with a weapon, including traffic wardens.

---

Shawnee123 Thursday Aug 7 11:39 AM

I wouldn't kick it out of bed for eating crackers, but OMG! They better have a gold plated one of these suckers:

---

Shawnee123 Thursday Aug 7 11:40 AM

Anyway, how much for a plane ticket to Russia? I'm sick of working. Seriously.

---

HungLikeJesus Thursday Aug 7 11:54 AM

I wouldn't want to drive that thing on a bright day. Imagine the glare coming off the hood.

---

FStop Thursday Aug 7 02:16 PM

I could see this in Beverly Hills or something, but Russia? Figure even with the supposed billionaires, probably not the best place to be toting this around..

---

lumberjim Thursday Aug 7 05:37 PM

I WONDER IF IT'S FILLED WITH MILK CHOCOLATE!?!?!?

---

Cicero Thursday Aug 7 09:56 PM

---

Griff Friday Aug 8 08:05 AM

Russian what?

---

TheMercenary Friday Aug 8 08:48 AM

---

sweetwater Friday Aug 8 09:29 AM

---

Shawnee123 Friday Aug 8 09:29 AM

---

xoxoxoBruce Friday Aug 8 12:05 PM
http://www.videosift.com/video/Stupi...-A-Traffic-Jam


---

Griff Friday Aug 8 06:33 PM

---

aaaawow Thursday Sep 18 10:43 PM

cccc

world of warcraft power leveling wow power leveling power leveling runescape gold rs2 gold wow gold 直流电源 枕式包装机 纸巾机 oil painting 枕式包装机 湿巾包装机 纸巾包装机 湿巾机 纸巾机 枕包机


金属探测门 runescape money rs2 money dofus kamas thermoforming Equipment 印刷机械 bag making machine 产品设计 美标蝶阀 butterfly valve ball valve v-port ball valve 开关电源 储罐 中药提取设备 反应釜 酒精回收设备 乳化机 纸杯机 锥形纸杯机 paper cup machine paper cone machine paper cup machine paper cone machine


power leveling wow power leveling 包装机械 paper box making lines rigid paper box making lines paper box making machinery rigid paper box making machinery paper box forming machinery rigid paper box forming machinery rigid paper box equipment paper box equipment thermoforming machine thermoforming Equipment Plastic Machinery Plastic Thermoforming Machine Plastic Thermoforming Machinery Plastic Sheet Unit,Plastic Extruding Machine Plastic Machine prada shoes true religion jeans evisu jeans Ed hardy Gucci shoes Gucci Handbag adidas shoes Ugg Boots nike shoes LV handbags Jordan shoes new era caps

模切机 压痕机 切纸机 压纹机 上光机,过油上光机,开槽机,V槽机,折盒机 开槽机 V槽机 折盒机 覆膜机 覆面机 气动马达 气动搅拌机 叶片式气动马达 活塞式气动马达 滑片式气动马达 搅拌器 搅拌机 卧式气动马达 横切机

---
Your reply here?

The Cellar Image of the Day is just a section of a larger web community: a bunch of interesting folks talking about everything. Add your two cents to IotD by joining the Cellar.