Big Sarge Tuesday Aug 5 12:34 AM

August 5, 2008: Biking in San Francisco [NSFW]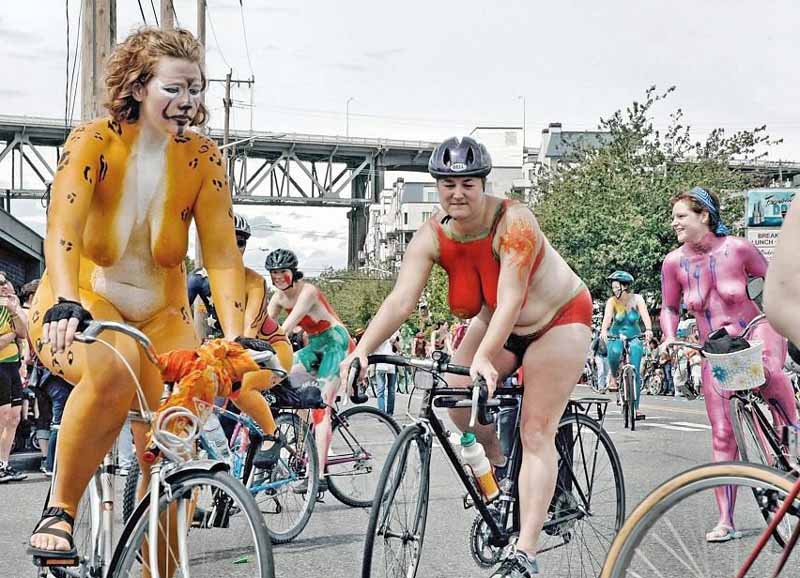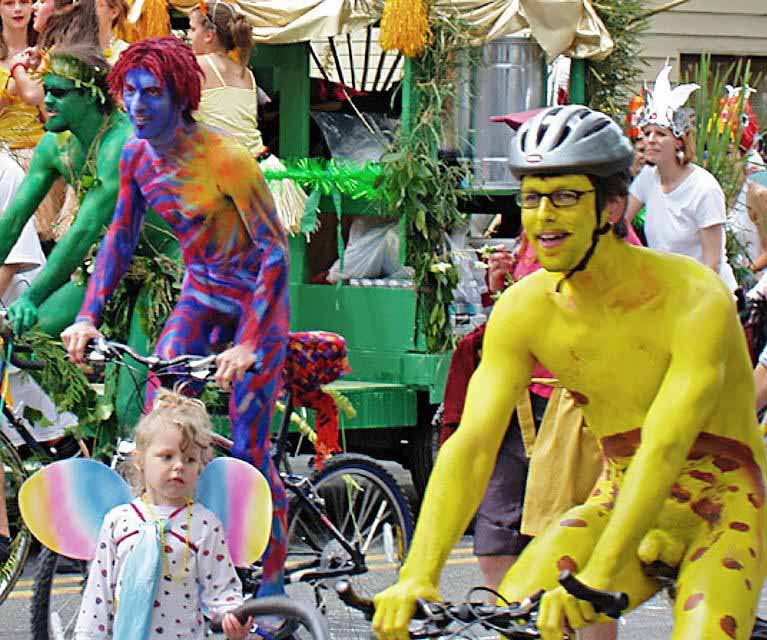 I had a friend email me several photos of folks with body paint riding bikes in San Francisco. I sure can't imagine anyone doing that in Mississippi!! Anyway, I found the 2nd pic with the child in it very disturbing. Why in the world would anyone take a child to such an event??

---

Big Sarge Tuesday Aug 5 12:39 AM

How do I edit the title to mark this NSFW??

---

Aliantha Tuesday Aug 5 12:49 AM

Maybe the parents are riding too?

I'm sure Bruce will fix up the title if he thinks it's necessary Sarge.

---

xoxoxoBruce Tuesday Aug 5 01:45 AM

I can't do that, only UT can.
IOtD is different from the rest of the board. It's a bad idea to put nsfw pictures in the IOtD, as many, if not most, of the IOtD viewers do so from work.

---

Big Sarge Tuesday Aug 5 03:08 AM

Sorry about this. I hope no one gets in trouble. BTW, does anybody know what in the heck is going on in these pictures?

---

feral555 Tuesday Aug 5 03:32 AM

If your work really gives a shit about this image you probably should look for a new job.

---

SPUCK Tuesday Aug 5 04:33 AM

NSFW??? Nude Saggy Fat Women?? What's it mean?

---

Sundae Tuesday Aug 5 06:03 AM

I'd take a child to see nude bikers.
Especially nude bikers in body paint.

I know it's not technically suitable for IoTD, but it's great to see cocks in this thread

We only usually get the PETA chicks.

It's World Naked Bike Ride apparently. And the Aussies seem into it in a big way too.

---

Shawnee123 Tuesday Aug 5 09:11 AM

I'm frightened for the bicycle seats. :shudder:

---

Sheldonrs Tuesday Aug 5 10:17 AM

---

el fantastico Tuesday Aug 5 10:26 AM

i especially like the bicycle helmets and riding gloves. even if some of these folks are nude, safety first!

---

sweetwater Tuesday Aug 5 10:30 AM

Finally, a good explanation for why boys' bikes should have the crossbar and girls' bikes don't.

---

birdclaw Tuesday Aug 5 10:36 AM

gives me the chills.

---

HungLikeJesus Tuesday Aug 5 11:20 AM

The risk of crashing is inversely proportional to velocity, but the severity of injury is a function of the cube of velocity times the square of nakidity.

---

birdclaw Tuesday Aug 5 11:56 AM

Kinda scared to ask but what is the square of nakidity?

---

HungLikeJesus Tuesday Aug 5 12:04 PM

Nakidity is nudity with intent.

---

Coign Tuesday Aug 5 01:10 PM

Now I like to see both violence and nudity. But I feel United States has become so 'puritan' that our sense of right and wrong has been skewed. I can honestly say if I was or do become a father, I will not shield my children from nudity. I will teach them about it and inform them what is right and wrong about naked people without that particular puritan mind-set being part of it.

And for my closing argument on my opinion, really I see this more as art then anything else. Saying these people should not be naked is akin to saying we need to clothe the statue of Venus de Milo.

---

lookout123 Tuesday Aug 5 01:19 PM

yet another reason not to visit san francisco.

---

Shawnee123 Tuesday Aug 5 01:41 PM

Some crazy demented little part of my brain thinks that it would be pretty funny and gross if these photos were scratch-n-sniff.

---

WillieO Tuesday Aug 5 01:53 PM

Well I think those riders are just a bit too cheeky for me.

---

Karenv Tuesday Aug 5 02:12 PM

Crossbars can hurt

Frankly, if I had my parts dangling down, I'd prefer a bike without the crossbars. And with cutaway seats.

---

barefoot serpent Tuesday Aug 5 02:12 PMor seattle also NSFW

them goldurned left coasters!

---

Hillrick Tuesday Aug 5 02:30 PM

Just not understanding why some folks need to put it all out there.

'specially the ones who look better with a little covering. Not a prude here, not by any means, but I am one who looks around and is VERY thankful for clothes and laws that make you put something on.

---

newtimer Tuesday Aug 5 05:28 PM

From this sample, we can extrapolate that the men (and I use that word very loosely) of San Francisco seem to take better care of their health than the flabby, high-fructose-corn-syrup-contaminated women of said city. And those are the healthy, bike-riding ones!

---

jinx Tuesday Aug 5 09:42 PM

I agree with Coign, it seems like most people are more concerned with children seeing nudity and love than violence and hate. I don't understand that.

---

SteveDallas Tuesday Aug 5 10:25 PM

---

Elspode Tuesday Aug 5 10:56 PM

I think I saw BigV in those Seattle pics.

---

spudcon Tuesday Aug 5 11:08 PM

Snip(I agree with Coign, it seems like most people are more concerned with children seeing nudity and love than violence and hate. I don't understand that.) When was the last time you saw painted up machine gun murderers getting together and riding through the streets committing violence?

---

xoxoxoBruce Tuesday Aug 5 11:11 PM

Oh, I haven't been to Chicago in years.

---

jinx Tuesday Aug 5 11:23 PM

---

Scriveyn Wednesday Aug 6 02:52 AM

... and like Sudan (Darfur), Birma, Zimbabwe or take your pick from the middle east countries, to mention just a few.

---

spudcon Wednesday Aug 6 09:02 AM

---

Shawnee123 Wednesday Aug 6 09:06 AM

---

Coign Wednesday Aug 6 10:21 AM

I would be a hypocrite if I didn't say I liked violence. I am a huge fan of movies like Shoot 'Em Up, Sin City, and 300. I own a number of the GTA games. One of my favorite shows on TV is Supernatural. And when Clair from Heroes had to push her ribs back when they were sticking out of her chest, or when Peter had to pry himself off of that car with the broken piece of metal sticking through his chest? Hell who isn't a fan of violence?

But raising children around these types of violence and then to say, oh a naked person is downright evil. Granted if my child saw a naked person who was chasing them down the street, I would teach them that is bad. Just as bad as if they saw the same event and the guy was holding a large machete. But seeing a machete wielding manic on TV or seeing a naked person on TV? Is either one going to destroy the psyche of our future?

---

Coign Wednesday Aug 6 10:24 AM

---

Shawnee123 Wednesday Aug 6 10:43 AM

I don't mind seeing nekkid people, but these bike peeps in the photo are not particularly attractive subjects, especially being bent over like that. Not that I would look any better, mind you, but I just wouldn't have my painted parts out there to show the world.

I'm ugly AND shy.

---

TheMercenary Wednesday Aug 6 11:32 AM

---

Gravdigr Wednesday Aug 6 05:28 PM

Thank God!!! After seeing the second pic, I don't feel as inadequate as I usually do after seeing things that resemble peni. And those do resemble peni, only smaller. Feels good to feel adequate, for once.:p

---

Gravdigr Wednesday Aug 6 05:33 PMpube' of velocity. Wouldn't that be more in line with a pubic measure?

---

ZenGum Thursday Aug 7 02:41 AM

On nudity Vs. violence:

Remember the boob-flash at the superbowl? I was quite amused to see many people go into a pink fit (sorry

) over a glimpse of a nipple but not be at all concerned by the organised personal violence that followed. To my point of view, that's some weird priorities.

I like to watch football (of many varieties - not so keen on the US kind but nevermind). I like to watch breasts too (pretty much any variety). Love the way they bounce.



I don't think young kids should be allowed to see football until they are old enough to grasp the point about there being appropriate times and places for certain behaviour. Anyone who has tried to prevent a four-year-old from crash-tackling his little sister should see my reasoning.

---

Shawnee123 Thursday Aug 7 12:34 PM

The only problem I had with FlashBreast is that it was so obviously set up to get exactly the reaction that ensued. People are gullible.

---

Armygrognard Saturday Aug 9 03:19 AM

Why?

Why is it that those that want to go naked are always ugly fat cows??? This does NOT fit into my fantasy world.

---

Tree Fae Wednesday Aug 13 12:23 AM

Going nude puts you in touch with your world more than anything else you can do. Comments like yours is what makes it hard for people to be who they can be.

---

SPUCK Wednesday Aug 13 05:44 AM

And what does it do for others?

Nuth Ing.

I'm with Armygrognard.

---

Undertoad Wednesday Aug 13 08:42 AM

Oh but unless you're assuming the answer for everybody, you meant to say "what does it do for me?" And I'm sure absolutely nobody cares about the answer, so there's no need to ask the question. Nobody has a duty to tickle your nutsack.

---

sweetwater Wednesday Aug 13 09:26 AM

I've been a member of a naturist resort - two of them, in fact. There are standards of behavior and a level of civility that is hard to find in clothed worlds. I don't know why that is so, but it's a consideration due others that is given to the person and not the costume. Try it, you may like it! Anyone going to naturist resorts to ogle is immediately made aware of the inappropriateness and consequences of such actions. The jokes and cartoons do not portray the custom accurately - big surprise! Except for the sunburns in unusual places, that one is spot on.

---

Coign Wednesday Aug 13 03:07 PM

That doesn't match my fantasy world.

---

TheMercenary Saturday Aug 16 12:08 PM

---
Your reply here?

The Cellar Image of the Day is just a section of a larger web community: a bunch of interesting folks talking about everything. Add your two cents to IotD by joining the Cellar.