xoxoxoBruce Tuesday Jul 29 01:44 AM

July 29, 2008: New Stained Glass

Quote:

Contemporary German artist Gerhard Richter designed the 65-foot-tall work to replace the original, destroyed by bombs in World War II. As a starting point, he used his own 1974 painting 4096 Colors. To create that piece — a 64-by-64 grid of squares — Richter devised a mathematical formula to systematically mix permutations of the three primary colors and gray. Funny coincidence: 4,096 is also the number of "Web-smart" colors that display consistently on older computer screens, a limitation some Web designers still take into account. (Today's monitors, of course, can handle pretty much any hue.) The Cologne window is made of 11,500 four-inch " pixels" cut from original antique glass in a total of 72 colors. Why not 4,096? Turns out there are stained glass-smart colors, too. Some hues in Richter's initial design were either historically inaccurate or too pale — they would have outshone the squares around them. So the artist modified his palette to include only colors with a suitably archaic cast. Because it's fine for a church window to look like it's been designed by a computer, as long as it's a computer with a gothic sensibility.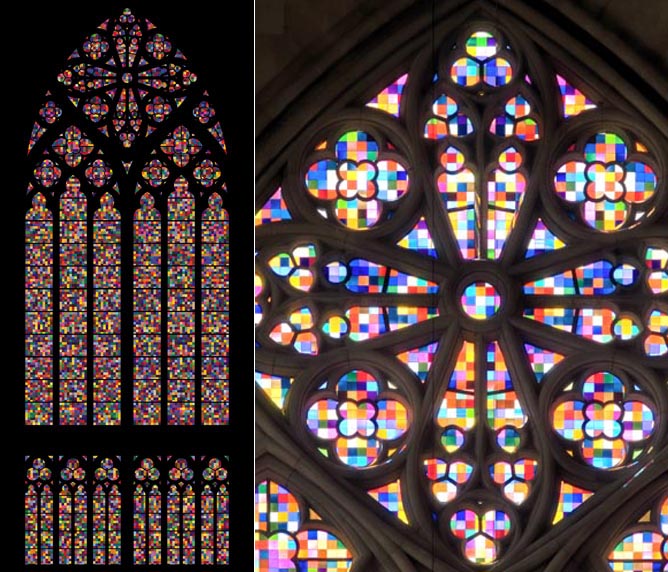 Gerhard Richter
Link
---

Scriveyn Tuesday Jul 29 03:37 AM

Open blank image - apply noise - resize

e walla!


---

ZenGum Tuesday Jul 29 07:40 AM

I don't think it's very good. It's just a random arrangement of coloured patches. As Scriveyn points out, that's visual noise. I want my stain glass windows to be visual music: rhythm, pattern, maybe even meaning, or at least some kind of freaky effect when you stand at the right distance and cross your eyes. Then again, maybe it has this, and our photographer has missed it.

Hey, how about one of those magic eye pictures? ... there you are in church, your eyes become fixated on the apparently abstract ceiling, and suddenly, there is the face of The Lord staring right back at you! Blink, and it's gone.

---

Sheldonrs Tuesday Jul 29 09:07 AM

If you stare at it long enough you can see Jesus riding a dolphin.

---

monster Tuesday Jul 29 09:34 AM

shark.

---

monster Tuesday Jul 29 09:37 AM

I thinks it's awful. I like the tradition of the windows being pictures telling bible stories and the like. But then it's none of my business seeing as I don't worship there. I hope the regular punters enjoy it and feel insipred/uplifted/spiritual/not migrainey.

---

Griff Tuesday Jul 29 09:47 AM

This is unfortunate. Migraine inducing is the right description.

---

Shawnee123 Tuesday Jul 29 09:55 AM

I see Waldo.

---

spudcon Tuesday Jul 29 10:56 AM

I see Jimmy Hoffa!

---

Sheldonrs Tuesday Jul 29 10:56 AM

---

Shawnee123 Tuesday Jul 29 11:36 AM

[obscure reference]He sees DEAD Waldos[/obscure reference]

---

Stormieweather Tuesday Jul 29 02:07 PM

The closeup shot shows that the colored squares on right and left side mirror each other. It's too far away for me to be sure, but there appears to be some mirroring on the lower sections as well.

---

classicman Tuesday Jul 29 02:48 PM

I concur with Stormie - a whole lotta inverse stuff going on there

---

SPUCK Thursday Jul 31 06:21 AM

Random is better than this..






---

xoxoxoBruce Saturday Aug 2 01:02 AM

I think this is the church, taken shortly after it lost it's original windows.

---

Griff Saturday Aug 2 09:02 AM

Ah, so it expresses man's inhumanity to man. :p

---
Your reply here?

The Cellar Image of the Day is just a section of a larger web community: a bunch of interesting folks talking about everything. Add your two cents to IotD by joining the Cellar.