xoxoxoBruce Saturday Jul 26 09:21 PM

July 26, 2008: Liberty Belle

Don't tell Sunday Girl, but I've got a new love.
Her name is Liberty Belle, and she is one of a dozen or so, B-17, "Flying Fortresses", out of 12,732 built between 1935 and 1945, that are still airworthy.

Hey, you're saying she's old. Yeah but, she was built near the end of the run, and flew the first of her 64 missions, only 18 days before I was born. Besides, I appreciate mature girls... they've been there, done that, and can teach you(me) things.

Anyway, last month she was touring Europe and her first stop back in the states was at Westchester, PA, Airport, which is where we met.
While I fawned, she told me her life story. You can read about it here.

Look at that figure. At 34,000 lbs she's pretty svelte for a 74 footer.




I mean look at that face, she's so cute with those Browning M-2 .50 calibers in her chin.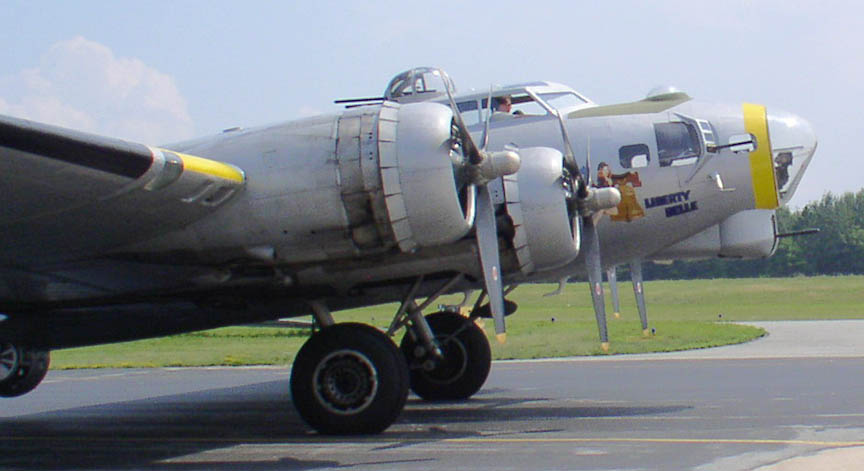 And a sweet little butt, with more M-2s. sigh




The only problem is, when she taxied up to the far end of the runway, twirling her three bladed tassels, before going for a flight, I spotted this interloper pussyfooting around our runway. Grrrrrr




Well tomorrow we have our first date. We plan to do a practice run against the dreaded Amish with their pointy pitchforks.
I'll let you know how it went.

---

BrianR Sunday Jul 27 12:11 PM

Do tell!

---

Sundae Sunday Jul 27 01:01 PM

I'm sure she's lovely.
Can't really see it myself, and that's not even jealousy talking



Last time I went home there were lots of old planes heading off in the same direction, and a while later the Red Arrows headed off the same way too. Obviously off to an airshow. I admitted to Dad that I never thought about how planes got there! It seemed so obvious but so odd to see them all flying overhead.

And Dad admitted it still gave him a slight chill, to see warplanes over England. He doesn't really remember the war - he was 5 when it ended - but of course he grew up among the bombsites. For me, seeing fighters over England is a cute anachronism, like going to a steam rally. Dad lived through a time (and the immediate aftermath) where bombs actually fell. It's creepy when I think about it.

---

Sheldonrs Sunday Jul 27 01:17 PM

I guess beauty is in the eye of the beholder. To me she looks kind of plane. lol!!!

---

nmckenzie02 Sunday Jul 27 03:58 PM

looking at the pics of liberty belle reminds me of being a little kid again. seems like i was more concerned with the feeling of flight than the actual mechanics and details of the apparatus. although it is a marvelous thing. oh, how much older i am now though...and how poetic the foreshadow has turned out....

Everybody's interested in making a few extra bucks, and this is a completely legal and instantly gratifying way to do it. Now if you want to make money you have to follow every step. I tried it without completing step one and I didn't make any money at all. But if you do it right it should all come back to you. I even called the post office (1*800*725*2161) to see if this was legal and it is just fine. It's a service and you are basically paying $1 for it. So here goes.

Things you will need:

6 envelopes

6 pieces of paper

6 one dollar bills

6 postage stamps

a mailbox

STEP 1: On each piece of paper print "Please add me to your mailing list." Then list the following addresses:


1. Alen Crjak
Podrvanj 3b
Cavle 51219
Croatia


2. Bill Zonios
8001 Castor Ave. PMB 332
Philadelphia PA 19152
USA


3. Matt Martin
6 Patricia Circle
Enfield CT 06082
USA


4. Kate Pearson
205 Barcladine Ct.
Cary NC 27511
USA

5. Nichole Delamontanye
1432 W James Lane
Kent, WA 98032

6. Nathan McKenzie
715 Post Oak St.
Austin, TX 78704
USA

STEP 2: Wrap each dollar bill in one of those sheets and put it in an envelope with some postage. Then send your six dollars on. (Kind of paying back the folks who sent this on to you) It comes back quick, so look out for those envelopes.

STEP 3: Copy this list of addresses, remove the first name, and add yours to the bottom. If you repost this as much as you can you boost the pyramid, and soon everyone is making money. Trust me I was a desperate single mom and this really helped when I heard about it. So give it a try. What do you have to lose but $6? And that's not much compared to what you recieve.

P.S. You might want to keep a running list of the addresses, it proves you have a legitimate mailing list compilation.

---

Clodfobble Sunday Jul 27 04:04 PM

Wow... over 2 years of registration and now you decide to hit us with an internet chain letter? That's some balls.

---

nmckenzie02 Sunday Jul 27 04:33 PM

Quote:

Originally Posted by

Clodfobble

Wow... over 2 years of registration and now you decide to hit us with an internet chain letter? That's some balls.

yeah, sorry about that

...it was "per instruction". the rabbit hole is going way deeper than i ever imagined. i think i'm feeling better though.

and now, followed by a poem i like by nicommp called Instructive booklet for both poets and lovers:

Tell me, brother; don't feel in the air
a certain nameless presence?
It is Poetry, in the form of a woman.
And who is she? Its better if you don't know.
The alchemy of words is nurtured
by silence, chance, and mystery.

But if you are stubborn, and want to understand,
think of all the cosmic coincidences
that had to happen so that
she could be here, in front of you.
In a universe that tends always to the void,
she exists.

And if you want to see her, it's very simple.
Just let your senses take you away;
perceive the world with bird's eyes.
Try to feel the atoms that you are made of;
realize that you contain whole galaxies.

But, most importantly, feel the perfume of the air;
and get drunk with it, get deeply drunk with it,
for all things are miracles.

and finally, for reflection:

if you keep up the appearance of being successful and secure then you'll fool most of the people most of the time.

listen with your heart, speak with your hands.

to represent our image, we have the power to show it our selves.

it's just one of the most amazing things i've ever seen with my pants on..

---

xoxoxoBruce Sunday Jul 27 08:20 PM

After waiting for several hours, the violent thunderstorms finally passed over, and we were able fly like the boidys.
The 4 engines were quieter than I expected, and the vibration wasn't bad, but there were still plenty of disconcerting snap/crackle/pops.



From the rear, where the rear landing gear retracts up in the center of the fuselage, looking forward. The ball turret and 2 wing guns, then the radio/navigator room, the bomb bay and the cockpit.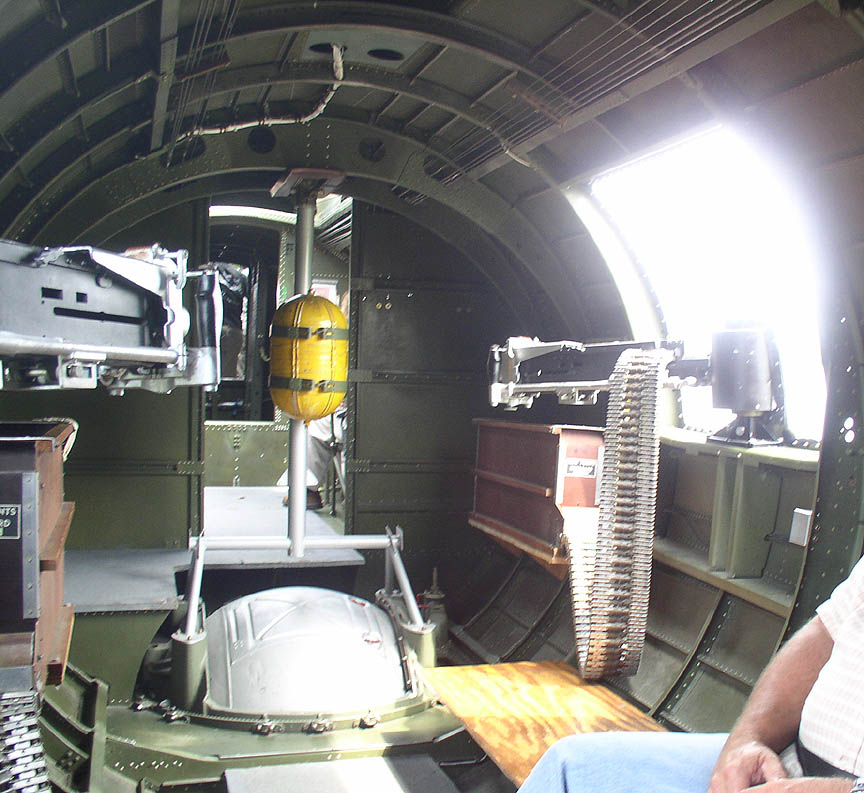 The catwalk through the bomb bay.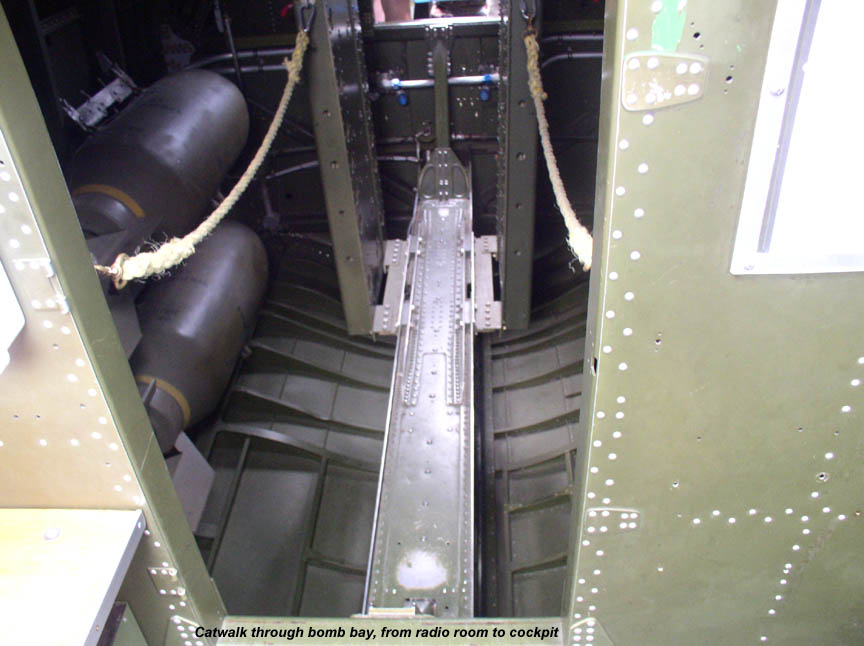 Flying over Lancaster County, at 2000 ft, I was reminded what a beautiful state PA is.

---

Bullitt Sunday Jul 27 08:26 PM

Very cool bruce, thanks.
What was the interloper.. a hellcat?

Nope.

---

xoxoxoBruce Sunday Jul 27 08:38 PM

There were a couple more elderly planes visiting today, but can't tell you what they were.

---

Sundae Monday Jul 28 06:12 AM

nmckenzie02 - I like.

Bruce - still creeps me out, sorry. Real men risking real lives and bodies in a shell of tin (okay, whatever metal it really is) with the odds against them staked higher with every flight.

I thank everything I don't believe in that no man I've ever loved has been called to war.

Anyway, I know you have a different take on it, and it looks like you had a great day. Damn noisy I imagine though?!

---

TheMercenary Monday Jul 28 08:52 AM

Very Cool Pics! If anyone ever gets down this way check out our local museum.

http://www.mightyeighth.org/word/index.php

---

xoxoxoBruce Monday Jul 28 10:07 AM

@ Merc, that looks like a good stop for anyone going through Georgia.

@ Sunday Girl, although war/death/destruction are intertwined with this plane's history, it's about the machine.
When the B-17 first flew in 1934, although it a was purpose built, no frills machine, this plane was state of the art. Commercial air travel was practically nonexistent, boats were wooden, the telephone was a novelty, and a whole lot of people in your country, and mine, didn't have electricity.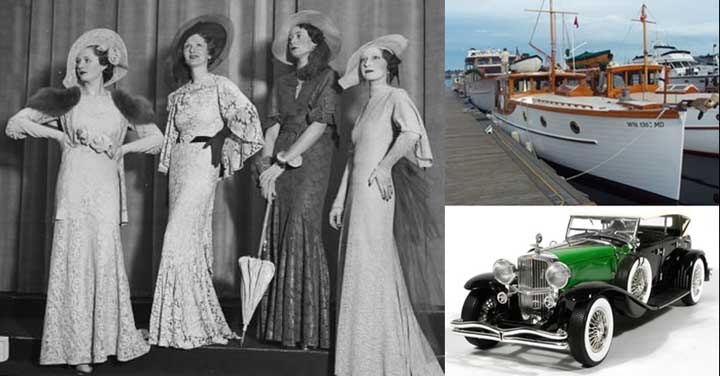 ---

BrianR Monday Jul 28 03:57 PMStopped my truck there once...had to park out by the F4 tho.

---

BrianR Monday Jul 28 04:20 PM

I believe your "interloper" was a T-6 Texan, a WW II training aircraft. It's tail is different so it may be an early model...I'm still researching to be sure.

---

SteveDallas Monday Jul 28 04:39 PM

I can't believe you didn't get a better shot of the nose art.

---

Gravdigr Monday Jul 28 06:29 PM

Nicely presented Bruce!

---

bobbin4pigsfeet Monday Jul 28 09:23 PM

The Yankee Air Force museum is near my home, and they have a flying B-17, along with a couple of other old warbirds. My home is in the approach path of our local airport, which is approx. 20 miles away from Willow Run, which is where YAF is based. Several times a year, their B-17 flies over my house while moving from one to the other for various air shows and other events. I've learned to recognize the unique sound of the engines as it's coming, and usually run outside just in time to see it gracefully drift overhead. I love it when that happens.

---

xoxoxoBruce Monday Jul 28 11:36 PM

Welcome to the Cellar, Bobbin.



@ SteveDallas, the nose art is pretty tame, although the rivets are in the right place.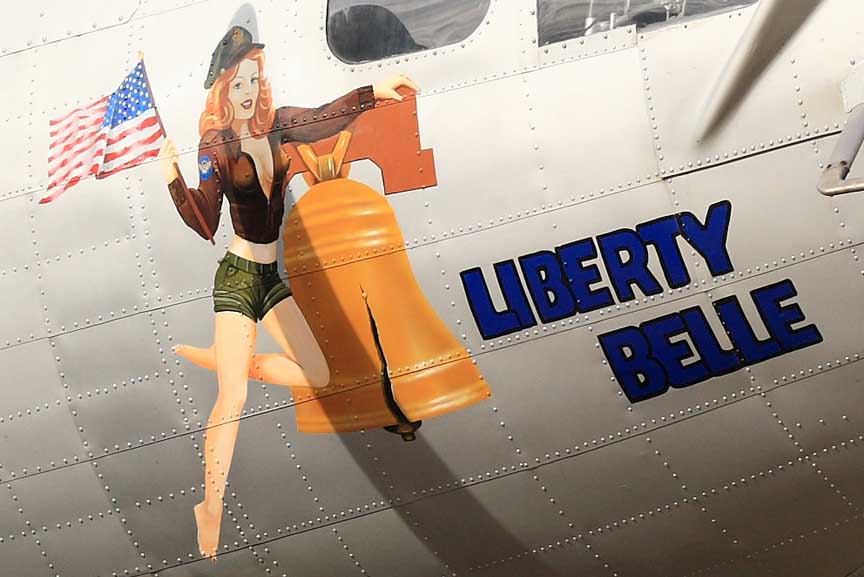 What I couldn't get a picture of was the pilots side which has the same art plus 64 bombs, one for each mission.
Prior to the flight the pointy top fence kept me from getting to the other side, and when we deplaned after the flight, they kept the left side engines running, so I wasn't allowed to go around there.

---

skysidhe Wednesday Jul 30 02:14 AM

It must be true love. At least you spelt Liberty Belle correctly.

---

Cyber Wolf Wednesday Jul 30 10:18 AM

The only time I've ever seen that plane before was in one of the segments of the Heavy Metal animated movie. I've always marveled at all the many points of offense/defense on that plane and though for the longest time that it had come out of the illustrator/animator's mind. I'm frankly thrilled to find out it's a real plane.

Thanx Bruce!

---

glatt Wednesday Jul 30 10:32 AM

A rare sighting of the elusive Cyber Wolf.

---

skysidhe Sunday Aug 3 09:59 AM

Quote:

Originally Posted by

skysidhe

It must be true love. At least you spelt Liberty Belle correctly.

As long as we are pointing out corrections. It's
Sundae Girl not Sunday Girl.

http://cellar.org/showpost.php?p=471684&postcount=1

http://cellar.org/showpost.php?p=471903&postcount=12

---

xoxoxoBruce Sunday Aug 3 04:49 PM

Consistency is better than accuracy.:p

---

skysidhe Sunday Aug 3 09:23 PM

why thank you! :P:

---

Sundae Sunday Aug 3 09:31 PM

Ah but I'm Bruce's Sunday Girl. I know my place.

---

xoxoxoBruce Sunday Aug 3 09:58 PM

And Monday and Tuesday and Thursday and Friday and Saturday, Girl, too.

---

skysidhe Monday Aug 4 12:11 PM

you smoothie

---
Your reply here?

The Cellar Image of the Day is just a section of a larger web community: a bunch of interesting folks talking about everything. Add your two cents to IotD by joining the Cellar.