xoxoxoBruce Monday Jul 21 06:29 AM

July 21, 2008: Super Sucker

No, not your old flame, vacuum cleaner for coral reefs.


Quote:

It sounds like a harebrained idea from some whacky movie: Seaweed overgrowing the reefs? Why not just suck it up with a vacuum?

But a team in Hawaii is using a device dubbed the Super Sucker to do just that, and new results presented at the International Coral Reef Symposium in Fort Lauderdale, Florida, suggest it might work.

Around the globe, the explosive growth of invasive and native seaweed species is wreaking economic and ecological damage. The Super Sucker was developed as a potential solution to the problem, which is blamed on overexploitation of algae-grazing fish and pollution from fertilisers.

To create the Super Sucker, biologists modified a system designed for gold dredging. Seaweed from reefs is sucked up and dumped onto mesh sorting tables on a barge. Native organisms inadvertently vacuumed are removed and returned to the reef and the seaweed is eventually used by farmers as fertiliser.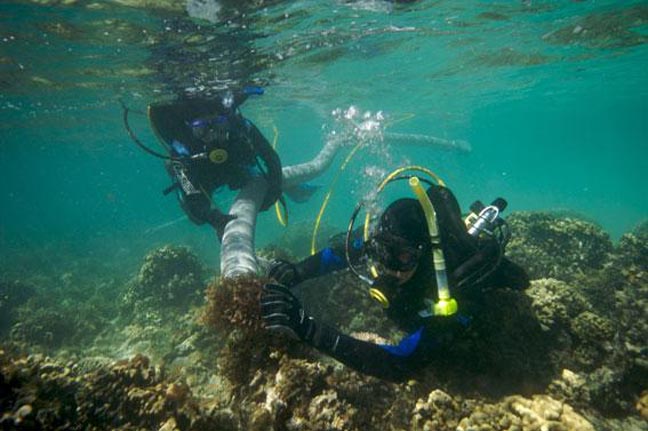 link
---

classicman Monday Jul 21 09:40 AM

Very cool idea. Hope it helps.

---

birdclaw Monday Jul 21 11:48 AM

Wow. While I think that vacuuming sucks, this would be a fun job. Getting to play in the water and help the coral reef? Sign me up!

---

sweetwater Monday Jul 21 06:32 PM

Pollution from fertilizers contributes to the overgrowth of seaweed, so they suck it up and use the seaweed to make more fertilizer? I guess as long as that guy on the bottom is not resting on the reef and the fish can keep the freshly vacuumed corals clean, it's good though.

---

Imigo Jones Tuesday Jul 22 12:05 AM

In a related story and related thread, just over the weekend the Chinese announced that they have successfully cleaned out all that algae from the rowing etc. venues. There it was algae mostly on the surface, and they scooped it out of the water from boats.

I'm surprised this thread has been up all day and nobody has claimed to be the Human Reefer Super Sucker. Of course, then you'd have to add the disclaimer that this was years ago, and it's actually a bad thing and all.

Weird, though: Last night I dreamt that I was jamming with Duane Allman back when he was scrapping around Florida before getting the Allman Brothers Band together. We had hardly played at all, when Duane told me, "You sound better than me." I started to disagree, but then again, (a) my guitar had better tone at that moment than his; and (b) it occurred to me that I am from the year 2008, whereas here's Duane in like 1966, when he wasn't close to sounding like he did in 1971.



I don't remember the name of the club, but I asked somebody what town we were in, and he said, "Marshall." There is no Marshall, Florida (I've just checked), but it was totally about the amp, you know. I recall more cool details about Duane and our guitars, even eyeballing the strings from practically one inch away, but to get to the point of this story:

Then I went out with somebody (not one of the musicians) to his truck. He wanted me to get high with him, but I was thinking (in the dream) about how I've long been strictly antidrug and haven't touched anything [/disclaimer]. Still, I felt pretty passive and watched my drugless "streak" end by letting this guy spray me with a fire extinguisher-like contraption full of foamy coke or something.

---

Gravdigr Tuesday Jul 22 04:51 PM

Imigo, I want some of whatever-the-hell you're smoking to have dreams like that!!

---

Imigo Jones Wednesday Jul 23 01:32 AM

Quote:

Originally Posted by

Gravdigr

Imigo, I want some of whatever-the-hell you're smoking to have dreams like that!!

Gravdigr, now this is more like it, bud!



I guess you saw this thread before the other one, and you liked this one so much, it made the other one even worse by comparison. That's life, I guess.

But to reply to your comment, GD: I occasionally buy a single cigarillo like at a gas station. (Not generally recommended [/disclaimer], but not the worst.) You would not believe how often I've been axed what I was going to put in it--more than several times by the gas station clerks themselves! Or did I need something to put in it.

But in every case, I'm like, "No, nothing. I smoke these straight."

Then they go, "Yeahhh, rriiiight." *Wink.

"No, I was a big pothead back in the day, but I haven't smoked since forever, since before you were born."

"No way. You're lying."

"No, really. When were you born?"

"1987."

"Wow, 1987 [looking wistfully up into space]--those were the days. But I haven't smoked dope since way before that."

"Whoa. For real?"

"What do I got to do? Okay, turn off the security cameras, and I'll light up my little cigarillo right here in the store." (Big state offense, smoking in a public place!)

Anyway, as for that particular dream, GD, I had been listening to some Allman Joys (way pre-Allman Brothers) a couple days before, so maybe it took a couple nights to work its way into dreamworld. As for the drug part, I have dreams sorta like that 2-3 times a year. Usually, I realize I'm falling off the wagon, and sometimes I don't indulge, but usually I do. In this case, with that novel delivery system (fire extinguisher type thing) being aimed at me,I felt I practically couldn't stop it.

I feel I'll eventually cut out cigarillos totally, like I did with reefer--even if it means cigarillos will start haunting my dreams. Dreams of Groucho Marx and Winston Churchill.

---

chuangchuang Friday Jul 25 02:28 AM

black signle

[size=2]I realy agree with you and think this is very interesting...black dating onlinesize]

---

Gravdigr Monday Jul 28 06:47 PM

Hahahaha!! Maybe I should quit too then, I could use a few dreams like that.

---
Your reply here?

The Cellar Image of the Day is just a section of a larger web community: a bunch of interesting folks talking about everything. Add your two cents to IotD by joining the Cellar.