Clodfobble Sunday Jul 13 10:32 PM

July 14, 2008: Unicorn

A nature reserve in Italy has officially claimed the world's first living unicorn.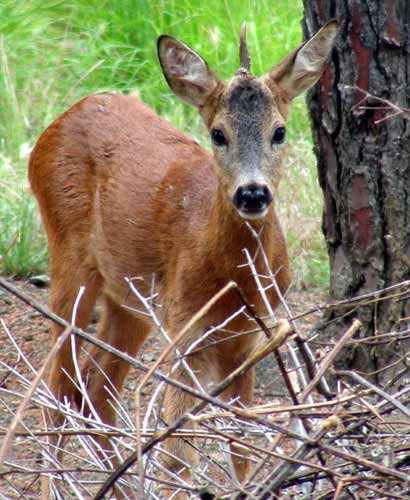 Okay, actually it's a deer with some sort of genetic mutation. But the deer is healthy in all other ways, and also has a twin with two normal horns. Gilberto Tozzi, the director of the Centre of Natural Sciences in Prato, Italty, believes that animals with similar mutations must have inspired the myth of the unicorn, which would explain why it has appeared in so many different cultures across history.

Now if we could only find a dragon skeleton, we'd be set.

---

spudcon Sunday Jul 13 10:44 PM

I've read a theory that unicorns were erroneously thought to exist in antiquity, when people saw early paintings of animals in profile, appearing to have one antler, or horn, but it was only that way because the ancient artists had no idea how to draw a 3d object, or perspective. The drew the pictures from a straight on one side view.

---

xoxoxoBruce Sunday Jul 13 10:59 PM

It would probably win a head butting contest.

---

sweetwater Sunday Jul 13 11:45 PM

I think it's Max, from How the Grinch Stole Christmas.

---

zippyt Monday Jul 14 12:36 AM

Unicorn Stew ??

---

SPUCK Monday Jul 14 05:16 AM

But the little deer tiz not white...

---

Griff Monday Jul 14 07:21 AM

---

Shawnee123 Monday Jul 14 10:02 AM

Is that an impale-a?

btw, do you not love those big dark eyes?

---

TheMercenary Monday Jul 14 11:54 AM

Dinner. In a few more years.

---

Griff Monday Jul 14 11:58 AM

Here is the bull and more.

---

sweetwater Monday Jul 14 12:13 PM

I remember seeing some of those "unicorn goats" at the state fair and the stories of horn bud modification that came out later in the newspaper*.

*newspaper ,for those of you who are of post-Internet vintage, is a 3D device of cheap paper and cheaper ink used to communicate news to subscribers

---

HungLikeJesus Monday Jul 14 12:59 PM

This weekend I took several pictures of a white deer not far from my house.

In the first picture, you can see the white deer on the right and a regular deer on the left.

After I got home, I downloaded the picture to the computer and noticed that it's not actually a deer - it's a unicorn!

---

Elspode Monday Jul 14 08:56 PM

---

Gravdigr Monday Jul 14 10:58 PM3D?? Never seen a 3D newspaper...

---

sweetwater Tuesday Jul 15 09:11 AM

If it's not written on a Mobius strip, it's 3D even if one of the D's is very thin... isn't it?

---

xoxoxoBruce Tuesday Jul 15 11:24 AM

Yup, 'tis.

---

Sundae Tuesday Jul 15 12:51 PM

I dreamed of jackalopes last night.
I blame this thread.

---

toranokaze Tuesday Jul 15 04:55 PM

I heard that the unicorn was accurately the rinno.

---

dar512 Tuesday Jul 15 05:09 PM

They've all been driven into the sea by the red bull.

---

Griff Tuesday Jul 15 05:31 PM

Probably the worst animated movie ever. Nice reference!

---

dar512 Tuesday Jul 15 05:46 PM

The book on which it is based is excellent, however. Well worth a read if you like that kind of thing.

---
Your reply here?

The Cellar Image of the Day is just a section of a larger web community: a bunch of interesting folks talking about everything. Add your two cents to IotD by joining the Cellar.