xoxoxoBruce Sunday Jul 13 12:53 AM

July 13, 2008: Kelburn Castle

Kelburn is supposedly the oldest castle in Scotland to have been continuously inhabited by the same family, and probably built before 1200 AD.
In 1977 the tenth Earl of Glasgow and his wife, opened most of Kelburn's grounds and gardens to the public and introduced new attractions.
I imagine the upkeep on this place, could put a strain on even an Earl's budget.


This is Kelburn.





This is Kelburn on drugs.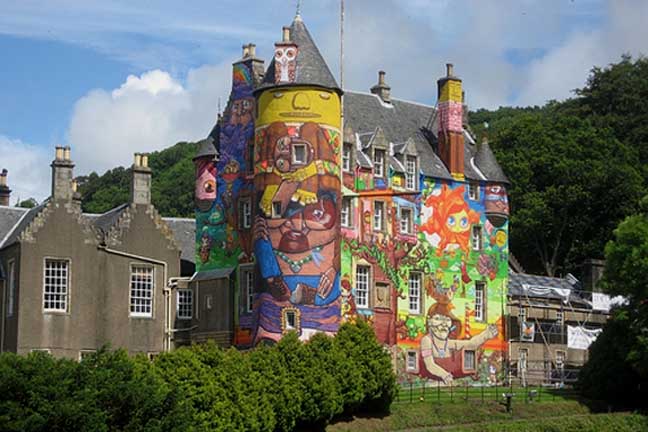 Just kidding about the drugs... I think.

It seems an earlier attempt to restore the castle walls used a cement, or stucco if you will, that is actually damaging the original stone walls, and must be removed/replaced in a couple of years.
So the Earl and his Mrs, got permission from Historic Scotland to bring four (in)famous graffiti artists from Brazil, and paint the place.

They say the project's point is, "whilst challenging the public's understanding of both urban graffiti art and the British institution the building represents."

I think, they are trying to draw more tourists to help pay for the massive cement job, only two years away.



Lot's more pictures.

---

skysidhe Sunday Jul 13 01:56 AM

famous? Whenever the word famous is used to describe an artist it is usually licence to create a mess.

A mural in keeping with the landscape would have been more fitting. I can't stand the fact that someone ghetto-ized a historic monument no less one in Scotland.

---

SPUCK Sunday Jul 13 04:50 AM

I fully agree. Major U G L Y.

---

spudcon Sunday Jul 13 06:26 AM

Ditto.

---

Sundae Sunday Jul 13 06:32 AM

Plenty of castles in Scotland - yay for something different I say.
Anyway, it's only temporary.

We have a famous graffiti artist in London - Banksy.
So I'm happy to believe they have them in Brazil too.
You have to admit the guys (above) can paint, it's not all tagging and random words.

---

xoxoxoBruce Sunday Jul 13 09:02 AM

They were thinking of Banksy when they first dreamed this project up, but later decided to go with the four Brazilians. I don't know why, maybe they were cheaper.

---

Imigo Jones Sunday Jul 13 10:02 AM


The closer you look, the more interesting certain parts do become.


One of several renditions of the Hummel Girl from Ipanema.



Disregarding the castle and considering this just as a painting, or as many paintings thrown together, there are parts that have merit. Even taking the castle itself into the equation, parts of the painting work:


In this detail, the stones in the water and along the bank somewhat relate to the castle's stonework.


Here the artists work the architectural elements of their "canvas" into the painting in a creative, appealing way.

I do agree that it's a shame to do this to a historic site. If it is only done for the short term "to draw more tourists to help pay for the massive cement job," though, as Bruce figures, then maybe no permanent harm done. That's assuming the earl doesn't call in the artists to paint the redone walls, too!

The worst aspect of this painting may be in its total disregard for the greater visual context, its zero "keeping with the landscape," as you put it, skysidhe. For it's not just an isolated painting in a frame but architectural design, which--whether part of a cityscape or plopped down in the woods--should harmonize with its surroundings. So, if you want to paint a castle turret, how about something less obtrusive:


---

skysidhe Sunday Jul 13 10:33 AM

Interesting points Imigo. I can't imagine any American wanting to cross an ocean to see graphitti but that's just me. I like to keep my image of romantic secluded Europe intact.

At least Bansky is understated xob. I don't understand this premise though.

They say the project's point is, "whilst challenging the public's understanding of both urban graffiti art and the British institution the building represents."

It's just one of those thoughts put out there to sell an artists itchy palms. It's an idea wrapped up as an higher thought. Like: Why don't we just leave McDonald's wrappers on the Moon. We would call it trash. Some crack pot would call it urbanizing.

I did though enjoy reading your thoughts Imigo.

thanks!

---

xoxoxoBruce Sunday Jul 13 11:29 AM

---

freshnesschronic Sunday Jul 13 01:14 PM

hmmm

I think it's friggin' awesome!
It's a way to break stereotypes and be different.
I'd thoroughly enjoy it if I ever got to see it.

Plus the video on the website is great too.

---

Clodfobble Sunday Jul 13 01:55 PM

When I was a kid, my mom and stepdad moved to a new house, and the inspection revealed termite damage to the garage. The termites were long since exterminated, but the walls needed to be gutted and most of the studs replaced. So they let me and my brother draw, paint, and bash holes all over the walls before they tore out the drywall. It was a lot of fun.

---

xoxoxoBruce Sunday Jul 13 02:30 PM

---

Sundae Sunday Jul 13 02:43 PM

This is a private house. It is in fact of note because it is a private house. To protest - albeit in a subdued way - about how the owners choose to treat that house, especially if they are doing so to prvide funds for its upkeep is surely unreasonable.

However, if everyone with Roman remains on their land decided to build swimming pools/ extensions/ new houses/ supermarkets on them, then where would the rest of us look for heritage?

But then should the rest of the world have to support countries with many items of historical/ architectural interest like Egypt, as they do not have as developed an economy...?

To my mind there should be some national intervention (we have the horribly ineffective & political and bribe-suspected English Heritage). But then we're spoiled by a wealth of history and know we can happily bulldoze plenty without many people being any the wiser. What we got rid of in the 60s! Woooo-eeeee! Progress? Nope. It all had to be rebuilt in the 90s anyway.

I ended up falling in love with the biggest eyesore in my home town. I'd join any campaign to keep it if they suggested pulling it down now. Let it serve as a warning. But if they decided to paint it like Kelburn Castle? Yay! You'd need a few more buckets of paint though.

---

xoxoxoBruce Sunday Jul 13 02:54 PM

---

Sundae Sunday Jul 13 03:02 PM

It's possible they will get a grant for repairs.
Scotland and England do have different laws so I can't be sure.

We lived in a listed building in a conservation area, and to us all it meant was that we had restrictions placed on what we could do to the property and any work done had to be approved in advance then checked after and amended at our own cost if it "wasn't in keeping". We didn't get any help with maintenance.

Not complaining - we knew this when we moved in and we lived in a beautiful setting. And the extension on our cottage wasn't listed (built before listing was applied) so we could do what we wanted to that. Not a problem as it was at the back and invisible to anyone else, but it meant we could have a satellite dish

We wouldn't have been able to otherwise.

Some conservation areas have restrictions things as minor as door colour. But I understand some American communities have similar restrictions without even the excuse of heritage.

---

xoxoxoBruce Sunday Jul 13 03:42 PM

Yes, deed covenants (read restrictions), are quite common in tracts put up by a single contractor/builder. We also have "historic" areas that have all kinds of rules, some quite severe.

---

Sundae Sunday Jul 13 04:32 PM

Sorry - I was referring to the deed covenants and certainly not impying you had no history to maintain. I know you weren't correcting me, but just in case it came across that way to anyone else.

---

BeltNah Sunday Jul 13 05:44 PM

There is a time lapse video of the artists painting the castle somewhere on the internet. Im sure someone with a little bit of time could easily find it on you tube.

---

skysidhe Sunday Jul 13 06:57 PM

That said. It is just an opinion. I know it isn't permanent which is part of the reason the petition to paint it was accepted otherwise I guarantee it would have been denied. The Earl and his ms have every responsibility to maintain the integrity of the original structure.


There is a difference between progress preserving heritage. I guess it's just a musty ole building to some. Better buldoze it for progress sake? Maybe that's not what you are saying SG. Either way I am done talking about it.

Cheers!

Recommendation concerning the Preservation of Cultural Property Endangered by Public or Private works
http://portal.unesco.org/en/ev.php-U...CTION=201.html

---

Sundae Sunday Jul 13 07:23 PM

Sky I was simply raising a point following on from your post - I wasn't attacking your POV.

I love my country and the UK and the British Isles. I love the fact you can barely spit without hitting a piece of history. I am very much for preserving things for the country/ continent/ world. Especially as we can afford to.

I honestly meant that as an aside, it raised a genuine interest of mine. Where do we draw the line between looking after people and looking after buildings? I'm not suggesting for a second this is the case in the UK. But there are almost definitely parts of the world where money goes to maintaining monuments while healthcare and education are neglected.

---

skysidhe Sunday Jul 13 08:16 PM

lol @ can barely spit without hitting a peice of history.





and then I had this image of a british Obama telling people they are bitter clinging to their castles....and ....? ( insert whatever else europeans hang onto )

If you don't get that, you see Obama was caught saying the people in the midwest were bitter clinging to their guns and religion.

You see we don't have any castles to cling to. I did see on the street of dreams show this am a 2.5 million dollar house with 2 kitchens, and indoor pool and a wine cellar AND a secret media center. Probably for watching bootleg porn. It still isn't a castle.

I know this sounds silly that's because I am sweating in the heat. I am cooling down with a nice cool glass of ice tea and I hope you have a wonderful rest of the day too.

* hugs*


[edit]
ps. The government(s) will always find a way to siphon money away from healthcare and education anyway. I think that's a universal fact. Be proud in your historical landmarks. We secretly envy them. We our proud of our natural landmarks because that's all we have. I am pretty sure we arn't proud of mount rushmore. now if anyone wants to come and paint that thing I wouldn't mind :P

---

xoxoxoBruce Sunday Jul 13 08:25 PM

Now what if the neighborhood says, they don't care about your comfort or bank account, they don't want anything changed?

What if the local government says so?

What if the national government says so?

Who in hell are they, to tell you what you can do with property that's always been in your family?

---

xoxoxoBruce Sunday Jul 13 08:35 PM


---

skysidhe Sunday Jul 13 08:39 PM

*speaking for self *

---

spudcon Sunday Jul 13 10:37 PM
Having said that, I still say that castle is butt-ugly after the paint job, but it's their property, and I hope no one fines them, or makes them remove it before they're ready.

---

xoxoxoBruce Sunday Jul 13 11:05 PM

No, they won't be penalized. They went through proper channels and got the blessing of the government.

---

spudcon Monday Jul 14 03:20 AMe in NY. The Bureaucracy doesn't have to follow its own rules.

---

TheMercenary Monday Jul 14 11:59 AM

That castle paint job is horrid. What the hell were they thinking?

---

Shawnee123 Monday Jul 14 12:28 PM

Everyone has a right to be hideously stupid, I guess.

---

Sarasvati48 Monday Jul 14 12:51 PM

Hmmm...didn't know that mural art was "ghetto". I hope this is only temporary, which I think made that point in the original article, but, while out of place, I think these images would look fantastic in the right venue...

---

TheMercenary Monday Jul 14 03:16 PM

---

HungLikeJesus Monday Jul 14 03:36 PM

What makes that a castle, as opposed to just a big house? That looks like some of the houses in Grosse Pointe, Michigan.

Here's the Earl that owns the Castle:




DMX (Earl Simmons)

---

TheMercenary Monday Jul 14 04:04 PM

yea, but he is not the Duke of Earl.

---

Sundae Monday Jul 14 06:37 PM
Scotland!
Careful. Scots will rip out your innards and cook them for that sort of mistake



If it's old enough, and fortified, and built to withstand a siege, it's a castle. I guess the houses in Grosse Pointe only miss on one point!

---

xoxoxoBruce Monday Jul 14 11:12 PM

Oww, merc hagis.

---

Imigo Jones Tuesday Jul 15 03:12 AM
Didn't he sing "Orkney from Muckle Skerry"?
---

Shawnee123 Tuesday Jul 15 09:00 AM

lmao @ imigo!

---

Tree Fae Tuesday Aug 12 11:30 PM

Here is another Scottish Castle with a ongoing history. The Dalyell family has been living in this house since 1612. The house has belonged to a Trust set up for country houses. It was turned over in 1944 with the contingency that the family would still reside there even as it was opened for tours. It is in Linlithgow, 20 miles west of Edinburgh.

Oh and one branch of my family descends from Dalyell's who came to the colonies in the early 1700's. Harry Truman also comes from the same line. I first got to learn about this part of my family history at a program at the Truman Library. I found it pretty damn cool to know that my family has a castle out there. Someday I will see it!!

---

Tree Fae Tuesday Aug 12 11:32 PM

Oh forgot to mention its name. It is called the House of Binns (hills). It sits on top of a hill above the river Forth.

---

dar512 Wednesday Aug 13 10:33 AM

Because to go there means you've been binned (trashed).

Yeah, I know it's a reach, but I couldn't resist the multicultural joke.

There's also a programming joke in there somewhere regarding forth, but that was too obscure, even for me.

---
Your reply here?

The Cellar Image of the Day is just a section of a larger web community: a bunch of interesting folks talking about everything. Add your two cents to IotD by joining the Cellar.