xoxoxoBruce Tuesday Jul 8 10:08 AM

July 8, 2008: Whycocomagh Simpsons

Neatorama points to these flickr images of wooden Simpsons cutouts.




Quote:

it turns out she'd made all of these wooden simpsons cutouts herself, from scratch, as a surprise for her son who was graduating from school.

[ETA: i think i had some info wrong the first time; someone commented that "Dal LLB" on the banner the simpson family is holding refers to a Dalhousie University Bachelor of Laws degree.]

she told us that he'd worked really hard and only took breaks to watch the simpsons. apparently these took her about three months to do. how awesome is that?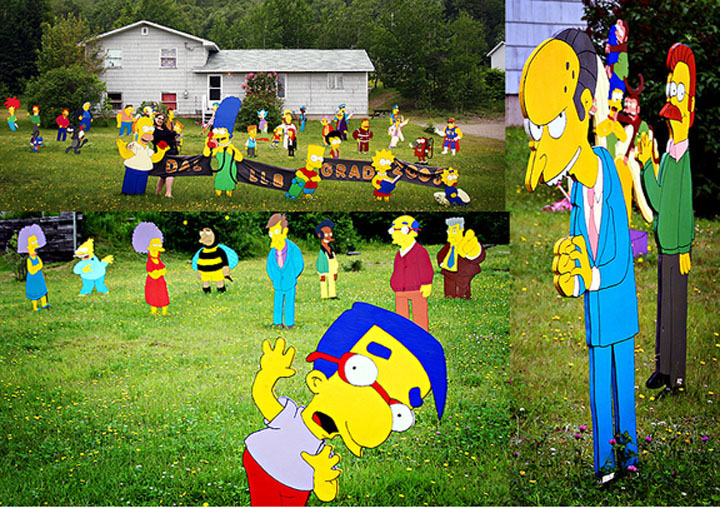 photos by flickr's brantastic

Very awesome, what a great Mom.
I do wonder though, after her son is surprised and the graduation party is over, what will he do with them? If he just graduated from law school. Whycocomagh is a town of less than 900 people, on Cape Breton, Nova Scotia, so the fledgling lawyer will probably be off to the big city.
I fear these will be stuck away in Mom's garage or basement, rarely to see the light of day. That would be a great shame.

---

Clodfobble Tuesday Jul 8 10:55 AM

Can't ever sell them, or it would be copyright infringement...

---

xoxoxoBruce Tuesday Jul 8 11:00 AM

She can sic her son the lawyer on them, if the squawk.

---

birdclaw Tuesday Jul 8 02:50 PM

I guess you are never too old or too educated to enjoy the goodness of the Simpsons.

---

Imigo Jones Tuesday Jul 8 03:59 PM

Quote:

Originally Posted by

xoxoxoBruce

I fear these will be stuck away in Mom's garage or basement, rarely to see the light of day. That would be a great shame.

. . . . . . . . . . . . . . . . . . . . . . . . . "HA-ha!"
---

newtimer Tuesday Jul 8 11:59 PM

How could the son possibly have been surprised? For three months, Mom was in constantly in the living room, with huge stacks of wood, several paint buckets, and a TV showing the Simpsons.
He probably helped her.

---

xoxoxoBruce Wednesday Jul 9 12:03 AM

He was at college.

---

Scriveyn Wednesday Jul 9 05:48 AM

What's the average mental age of someone graduating at law school?

---

sammyjogoogoo Sunday Jul 13 03:06 PM

Just amazing :)

My mother Sylvia Googoo made these. With a little help when she needed it from her daughters; Myself & Emma. My brother Jarvis was in school graduating with his law degree. But he did help put them up on the yard when he had his little visit home after graduation.

---

Sundae Sunday Jul 13 03:20 PM

Sammy, pleased to meet you!

Does your Mum do something along artistic lines in her job?

In the news article she is focussed on simply as a Mother, with no indication of what she does for a living or hobby. She is obviously talented. And specifically with a saw and a paintbrush. It's hard to believe she hasn't produced anything else - we'd love to see it if she has.

---

xoxoxoBruce Sunday Jul 13 03:52 PM

Welcome to the Cellar Sammyjo.


Can you tell me what's going to become of these fabulous characters?
I've been up your way a couple times, and it's a nice area... little rough in winter, but beautiful.

---

deadbeater Friday Jul 18 11:42 PM

I don't think Matt is the type that will go all Disney on Mama and sue her for copyright infringement. If anything he may buy a couple for his museum.

At least I hope.

---
Your reply here?

The Cellar Image of the Day is just a section of a larger web community: a bunch of interesting folks talking about everything. Add your two cents to IotD by joining the Cellar.