coolcat Friday Jul 4 06:28 PM

July 5, 2008: Sloth Bear Pet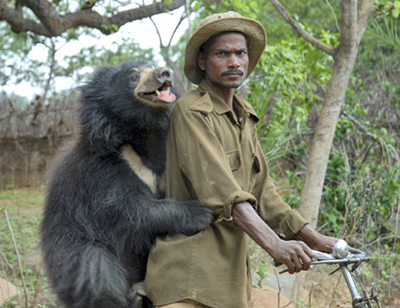 This sloth bear pet was removed from his human family.

http://orissamatters.com/2008/07/02/ram-singh-munda/

This creature reminds me of the bear on the animated Jungle Book movie.



---

DanaC Friday Jul 4 07:45 PM

Quite a sad story really. I heard about this on the news a little while ago. He rescued it as an orphaned cub or something, took it home and hand reared it, partly because it was an orphaned cub and partly as something to help his daughter get over her mother's death. Now he's facing prosecution and the bear has been taken away from what is essentially its loved and loving family. One of those occasions when the law, though necessary, is a blunt instrument.

---

spudcon Friday Jul 4 10:35 PM

So, are sloth bears good to eat?

---

xoxoxoBruce Friday Jul 4 10:47 PM

For those that can't/won't link...

Quote:

Ram Singh Munda has gone back from Bhubaneswar to his village in Keonjhar with the feeling that peoples of Orissa love him and totally appreciate his humane nature and the way he has nurtured Rani by rescuing her from the grip of death.

But he may go back to Jail if a mentally dull officialdom in the lower level of Orissa's Forest Department is not discouraged from wild use of the Wildlife Protection Act against him in total disregard to the noble qualities the innocent tribal personifies.

Released from Jail on bail, he had rushed from his village Rutisila under Ghatagaon Block of Keonjhar on June 27 to Bhubaneswar to meet Rani in Nandanakanan zoo. His six-year-old daughter Dulki, orphaned by her mother, had also accompanied him.

Who is Rani?

The entire learned world by this time has known her. She is a bear cub, rescued around eighteen months ago from the grip of death while lying abandoned and dehydrated in the Jungle. Ram Singh Munda had given life to the hopeless cub by bottle-feeding her curtailing his daughter's food out of sheer compassion and had adopted her and given her the name and had given her the comfort she so badly was in need of then to survive. A widower, rearing his baby daughter, Ram Singh knew the agonies of a motherless child and hence he knew how to take care of Rani. By limitless love, he had convinced her that she was neither orphaned nor abandoned.


The article is more of an editorial about this miscarriage of justice.



Quote:

So, looked at from any angle, there is no real case against Ram Singh Munda. An honest judiciary will never find him guilty. The Wildlife Protection Act never vouches for any prosecution against him for having rescued, saved and adopted the bear cub found abandoned in dying condition in the forests and for bringing her up from infancy to adolescence in a healthy state with all the love and care a man, despite abject poverty, could ever have given to an infant animal, the like of which has never occurred anywhere on records so far in the entire world.



---

spudcon Saturday Jul 5 08:15 AM

First, the guy in the picture looks thoroughly pissed off. Second, snip "Ram Singh Munda had given life to the hopeless cub by bottle-feeding her curtailing his daughter's food out of sheer compassion and had adopted her and given her the name and had given her the comfort she so badly was in need of then to survive." - Does that really say he stopped feeding his daughter to feed the bear?

---

Sundae Saturday Jul 5 09:39 AM

Quote:

Originally Posted by

spudcon

Does that really say he stopped feeding his daughter to feed the bear?

It's telling that there's no picture of his daughter.
She probably wasn't as cute as the bear.

---

xoxoxoBruce Saturday Jul 5 09:57 AM

There are two pictures of her at the link.

---

Sundae Saturday Jul 5 10:03 AM

Damn. Another fine theory shot down in flames.

---

xoxoxoBruce Saturday Jul 5 10:04 AM

Hey, in one she's in a cage. Work with it.

---

busterb Saturday Jul 5 01:30 PM

Does he have pants, on? The bear looks like in the high mile??

---

Imigo Jones Saturday Jul 5 02:04 PM

The Bear Dancer (pic)

"Rani, thrown into an isolated enclosure by forest officials, refusing to receive food and lying dejected, in a fraction of a second danced in delight as Munda knocked at the wire walls of the enclosure, and the moment was so emotionally surcharged that the officer in-charge present on the spot could not know that he was defying the rules of the zoo as he ordered his men to open the gate and allow Munda the pleasure of the bear's grateful hugs [pic linked above]. It was a rare reunion of a father (the man) and a daughter (the bear) the like of which the world has never seen so far in real life."




50-year-old American precedent:
Mr. Green Jeans, Dancing Bear, and Captain Kangaroo

Dear Subhas Chandra Pattanayak,
Thank you for writing this wonderful story, which moved me so deeply that I need to know where to send that surcharge.
Please, however, see the enclosed black-and-white photo and the following:
* Lion Whisperer
* Siegfried & Roy
* Tippi Hendren ranch
* Oh yeah: that dude in Alaska
* That chimpanzee whisperer a couple years ago

If only Mr./Ms. Pattanayak were an American citizen, in order to be named to the Supreme Court:

"When Sec.39 shows wild animals as government property, sub-sect.3 thereof at cl. (a) discourages a man to 'acquire or keep in his possession, custody, or control' a wild animal sans prior permission of the Chief Wildlife Warden or his authorized officer. . . .

"Secondly, he has not 'acquired' Rani. He has 'adopted' Rani as his child. Adopting an animal is not illegal within the mischief of terms used in Sections from 39 to 42 as shown above.
["Mischief of terms"? We may be about to find out what this means.]

"Thirdly, Rani is not a 'wild animal'

and hence sections 39, 40 and 42 are of no force in the instant case.

"The term 'wild animal' is defined under Sub-Section 36 of Section 2 of the Act. Accordingly 'wild animal' means 'any animal found wild in nature.' If the animal is not 'wild in nature', the words 'any animal specified in Schedule I, Schedule II, Schedule, IV or Schedule V, wherever found' added thereto would not apply as the same is a mere qualifying extension of the concept centering around the term 'wild in nature.' Rani is never 'wild in nature' and hence, these sections are not applicable against Ram Singh Munda.
[Rather, "was never"?]

"That Rani is never 'wild in nature' is proved by the very fact that when the forest officers who are prosecuting Ram Singh Munda transported her to Nandankanan zoo, they had never administered any tranquilizer on her. In full public gaze, she had accompanied them like a very good-natured human being assuming that those two-legged animals might be as good and noble as Ram Singh Munda.
[

"No, I've never found Rani 'wild in nature.' In fact, I find her rather civilized."] . . .

"However, if the law enforcers do not believe their own agents who took Rani from Ram Singh Munda's house to the zoo at Nandankanan without experiencing in her any 'wild nature' [now sliding the rest of the way from 'wild in nature' to 'wild nature'], they may peruse this much-circulated pictures afresh.

The Munda family in happier times (pic)

"Do they find this bear rescued from death and adopted as a daughter by the kind-hearted tribal as an animal 'wild in nature'?"
Case dismissed!




In Keeshan v. Columbia Broadcasting System (1958) the State of New York Court of Appeals, First Appellate Division, ruled that Captain Kangaroo be allowed to raise Dancing Bear from a cub in his marsupial pouch.
Speaking for the majority, however, Justice Abe Fortas appended this qualification:
"Plaintiff's parental privileges shall not extend beyond such point that Dancing Bear becomes so large as to present a clear and present danger to the health and structural integrity of said marsupial pouch, at which time the Court will remand Dancing Bear to the custodianship of the Bronx Zoo."

When that day did come two years later, Bob Keeshan (Captain Kangaroo) resisted giving up his parental privileges--or rights, as he called them--and had Dancing Bear continue to perform on the television show Keeshan hosted. Keeshan repeatedly pointed out that Dancing Bear was of the species Ursus checkerus, known among ursaphiles as being relatively "not wild in nature. . . . It should not be confused with other species of dancing bears, such as Ursus ballardus." Furthermore, claimed Keeshan, Dancing Bear had consistently demonstrated it was not "wild in nature," as seen in its amicable, nonpredatory interactions with all other actors on the show, including Mr. Moose and Bunny Rabbit.

Nevertheless, when gentle persuasion from representatives of the New York Zoological Society failed to make Keeshan give up Dancing Bear, charges were filed, and Keeshan fought. State of New York v. Keeshan eventually made its way to the Supreme Court of the United States, where in his last opinion written before his untimely stroke and retirement after 23 years on the Court, Associate Justice Felix Frankfurter wrote,
"The State has a vital, compelling interest in the welfare of Dancing Bear, who, under the pretense of being part of a 'family business,' has been forced into virtual slavery by the defendant, including being made to dance without pay on two limbs--in a manner clearly uncomfortable and most unnatural to one of his kind--merely for the amusement of the defendant, the unindicted coconspirator Hugh 'Lumpy' Brannum, and the defendant's juvenile coterie of followers."

---

Sundae Saturday Jul 5 02:18 PM

- When I caught Gerald in '68, he was completely wild
- Wild? I was absolutely livid!


---

Cloud Saturday Jul 5 02:57 PM

oh, dear. I'm afraid I had a rather severe reaction to "Mr. Green Jeans, Dancing Bear, and Captain Kangaroo."




---

xuanlu425 Thursday Jul 10 10:52 PM

Angelling

Very good, hoped that writes a better article, here aoc gold want to propose that some my view, hoped the author holds reader's point of view, take them as the starting point, found the new breach, stood looks at the question in Age of Conan gold standpoint, like this will have is better, more real ffxi gil.

---
Your reply here?

The Cellar Image of the Day is just a section of a larger web community: a bunch of interesting folks talking about everything. Add your two cents to IotD by joining the Cellar.