xoxoxoBruce Thursday Jul 3 12:01 AM

July 3, 2008: Movie Set

I spotted these pictures in the reader's mail section, of an Aussie website that is very NSFW (ORSM dot net), so I won't link it.



Quote:

You may have heard that Nicholas Cage is currently filming a movie in and around the Macedon area. It's based on a Steven King novel called "The Knowing". I've grabbed these photos of the house set built for the movie on Mount Macedon. It's only an exterior and just scaffolding inside. The caretaker there told me it took them 7 weeks to build, using all new materials which they then "aged". They built the little red shed as well. All the stone work is just fibreglass. It's built in some rich guy's front lawn and they gave him $100,000 to borrow the space.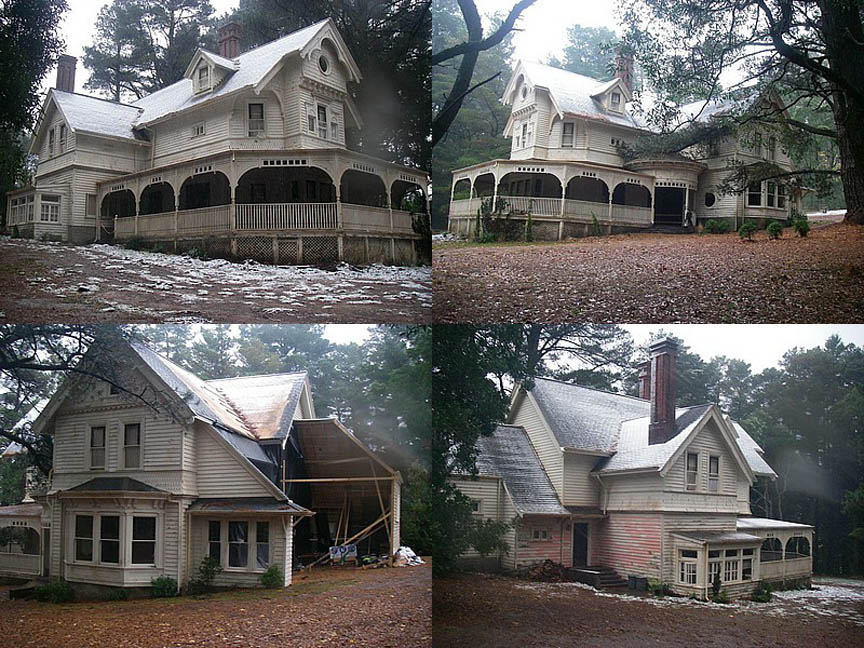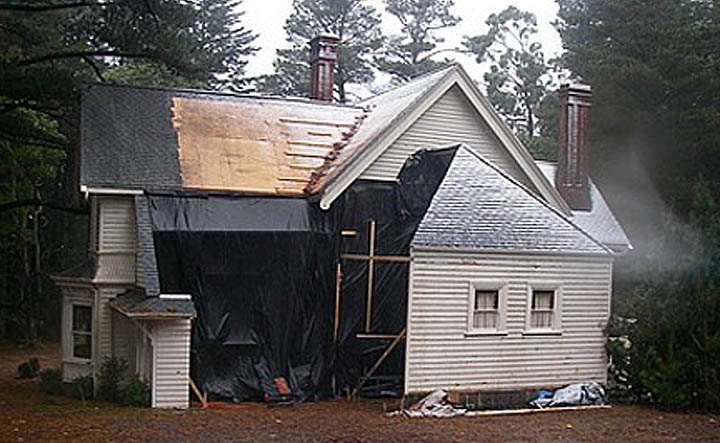 So remember folks, movies ain't real. Come to think of it, most of the people in 'em are pretty phony too.

---

spudcon Thursday Jul 3 12:38 AM

Same goes for TV news shows too.

---

Sundae Thursday Jul 3 05:56 AM

I've never heard of The Knowing, but in searching for it I found excerpts of The Duma Key so I'm off to eBay to get a copy!

Beautiful unreal house.
I can imagine living there.

---

Imigo Jones Thursday Jul 3 10:01 PM

Quote:

You may have heard that Nicholas Cage is currently filming a movie in and around the Macedon area. It's based on a Steven King novel called "The Knowing".

Let's try this again:

Quote:

You may have heard that Nicolas Cage is currently filming a movie in and around the Macedon area. It's based on a Stephen King novel called "The Knowing".

IMDb discussion thread
Q: "I read that this film was based on a Stephen King novel, does anyone know if this is true?"
First reply: "I don't think it's true. I'm pretty familiar with Stephen King's work, and I don't think he ever wrote anything like this. I've also read the script and there's no mention of it being based on any previous work."

The writing credits make absolutely no mention of Stephen King. Also, the movie's title is simply Knowing, no "The."

IMDb synopsis:
"A teacher (Cage) opens a time capsule that has been dug up at his son's elementary school; in it are some chilling predictions -- some that have already occurred and others that are about to -- that lead him to believe his family plays a role in the events that are about to unfold." That is, National Treasure III: International Treasure.

All the other actors seem to be Aussie, as are all the locations, mostly in and around Melbourne.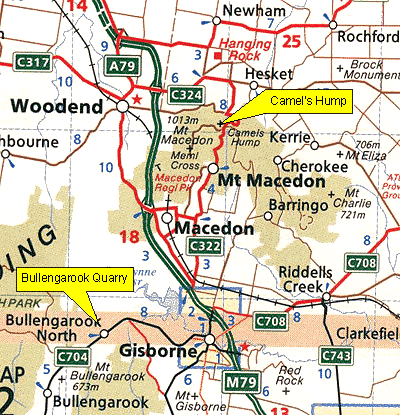 Mt. Macedon area N of Melbourne--must be terrific!

"Mt Macedon is an extinct volcano which rises to 1010 metres above sea-level, making it the highest peak of the Macedon Ranges. The area associated with the mountain possesses immense scenic and natural values and a richly developed English cultural heritage, particularly in terms of its horticulture and architecture. At the foot of the mountain is the township of Macedon (population 1250) while, part way up the hill, 65 km north-west of Melbourne, are the lovely tree-lined streets and gardens of Mount Macedon (population 670). . . .

"In the 1870s, the beauty and coolness of the slopes began to attract members of Melbourne's wealthy social elite and the government released some blocks on the south side of the mountain to the landed and business classes. Consequently a number of grand Victorian homes were established (including one for the state governor) as summer residences." [Interesting history, natural history, sights, and amenities.]


English colonists discover Mounted Macedon
---

Sundae Friday Jul 4 05:36 AM

Wow. That's the best example of ignoring the elephant in the living room I've ever seen.

Thanks for the info Imigo. Very thorough as always.

---

nil_orally Sunday Jul 6 08:27 AM

Great pub at Woodend.


---

batterygogo Thursday Jul 10 03:32 AM

If you want to Extend the Life of Your laptop Battery, You can do it follow this

If you want to Extend the Life of Your laptop Battery, You can do it follow this.1 Shut Down CompletelyWhen your notebook is running on toshiba battery power, there are things you can do to extend its charge. For one thing, when you're finished working, shutting down your computer instead of putting it into Stand By or Hibernate modes preserves apple battery power. Though Stand By and Hibernate enable you to restart quickly, both modes continue to draw power from your asus battery. (Hibernate uses less juice than Stand By, however.)2 Turn Off Wi-Fi, Bluetooth and Cellular ModemsAlways turn off Wi-Fi, Bluetooth, and cellular modems when they're not needed. These wireless network technologies can be a significant drain on your laptop battery charge. Many newer notebooks have buttons to turn wireless connections on and off. You can also go to Start, Connect To, "Show all connections," then select the connection you want to enable or disable.laptop battery recalls, due to the potential risk of overheating or fire, have inconvenienced millions of mobile professionals. But lithium ion batteries -- widely used to power today's laptops -- are here to stay, at least for the foreseeable future.Below is advice on keeping your notebook's lithium ion acer battery in top condition and powering your portable PC as long as possible.3 Use It or Lose ItIf unused for long periods of time, lithium ion batteries can very slowly lose their capacity to hold a charge. Fortunately, lithium ion batteries hold their charge better over time than other rechargeables, including nickel cadmium and nickel metal hydride. But you want your spare to be ready when you need it, so if you've got an extra battery for your notebook, use and then recharge it on occasion to keep it ready to go.

---

SPUCK Thursday Jul 10 04:26 AM

What are you a asshole spammer ?

---

bcde862 Thursday Aug 7 04:45 AM

silkroad

yeah,great topic,I enjoy your sro gold

---
Your reply here?

The Cellar Image of the Day is just a section of a larger web community: a bunch of interesting folks talking about everything. Add your two cents to IotD by joining the Cellar.