xoxoxoBruce Tuesday Jul 1 01:39 AM

July 1, 2008: Lion Whisperer

Mail Online, tells about this crazy dude in Africa.


Quote:

Animal behaviourist Kevin Richardson has such an intimate bond with big cats that he can spend the night curled up with them without the slightest fear of attack.

Richardson, 32, who is based in a wildlife conservation area near Johannesburg in South Africa, works his unusual magic on other species too. Cheetahs, leopards and even unpredictable hyenas hold no threats for him.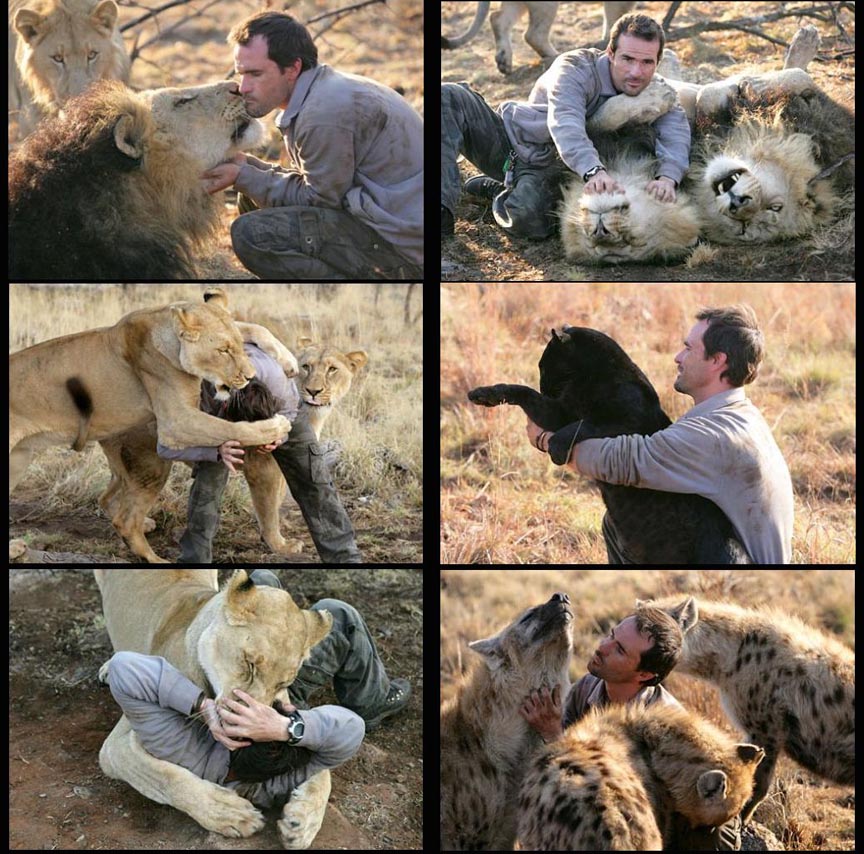 I don't care if he raised them all from babies, which he didn't, they are wild animals. Didn't he hear about the bear whisperer?

---

monster Tuesday Jul 1 08:14 AM

The next Steve Irwin?

---

glatt Tuesday Jul 1 08:22 AM

Think any insurance company was dumb enough to give him a life insurance policy?

---

TheMercenary Tuesday Jul 1 09:01 AM

He will eventually be eaten. They are just trying to get friendly with their next meal and when he lets his guard down... Wammmmmmo! Time to eat.

---

sweetwater Tuesday Jul 1 09:25 AM

Maybe he's packing catnip in those cargo pants. And I agree that he will be mauled at some point in the normal course of big cats being themselves. He is double-plus crazy to frolic with the hyenas that are delightfully strange in all ways - and are not big cats.

---

Sheldonrs Tuesday Jul 1 09:30 AM

I always got yelled at for playing with MY food!

---

dar512 Tuesday Jul 1 09:53 AM

This guy was good with big cats too.

---

footfootfoot Tuesday Jul 1 08:53 PM

Quote:

Originally Posted by

dar512

I'm glad I'm not the only one who thought "CRUUUNCH"

---

Gravdigr Tuesday Jul 1 09:20 PM

You know, it's just amazing that he was wearing the same clothes each time he encountered each of these wild animals. And, by "wild", I mean tame (as tame as lions get anyway). And by "amazing", I mean I think he's fulla shit.

As a side note, do lions and black panthers/jaguars share the same type of habitat? I know that a few decades ago black panthers used to hang out mainly in Los Angeles, but I don't know what they're up to now...

---

spudcon Wednesday Jul 2 12:45 AM

Actually, he's just giving them a false sense of security before he eats them.

---

HungLikeJesus Wednesday Jul 2 12:59 AM

That's his lucky shirt.

---

SPUCK Wednesday Jul 2 06:19 AM

We'll read about him again sometime I'm sure.

First time a lion smells hyena on him he's toast,, er cat food.

---

Elspode Wednesday Jul 2 09:22 PM

We've certainly come a long way since Clyde Beatty, though.

---

lumberjim Wednesday Jul 2 09:29 PM

he got eaten.

this link could have been a rick roll, but it's not. it's an interview with rick astley talking about rick rolling.

---

xoxoxoBruce Wednesday Jul 2 11:42 PM

Doesn't matter, nobody will click your links anymore, anyway.:p

---

lumberjim Thursday Jul 3 12:45 AM

lick it, or click it.....i'm unmoved either way.

---

Flint Thursday Jul 3 10:57 AM

Quote:

Originally Posted by

lumberjim

he got eaten.



this link could have been a rick roll, but it's not. it's an interview with rick astley talking about rick rolling.

Awesome.

---
Your reply here?

The Cellar Image of the Day is just a section of a larger web community: a bunch of interesting folks talking about everything. Add your two cents to IotD by joining the Cellar.