xoxoxoBruce Tuesday Jun 24 01:44 AM

June 24, 2008: Saw What?

Sawfish on the left, and Sawshark on the right.
No, there is no Sawdolphins.

If I saw either one, I'd be walking on water, damn quick.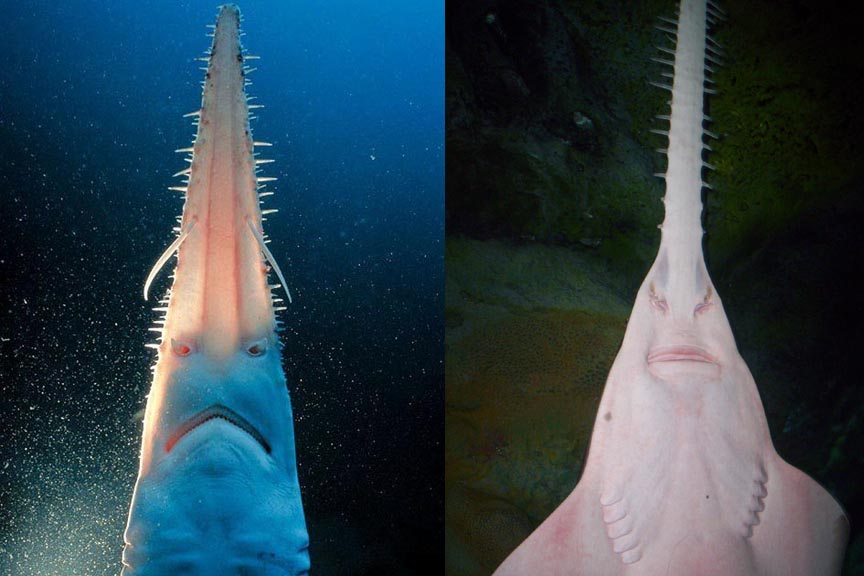 ---

Skylight Tuesday Jun 24 03:39 AM

both have got to get nose jobs..

---

SPUCK Tuesday Jun 24 05:41 AM

I never saw one of those before.

They have incompatible saw pitches..

---

DanaC Tuesday Jun 24 05:55 AM

Are sawfish a type of shark? They look so similar from underneath...

---

DucksNuts Tuesday Jun 24 06:31 AM

They both look like members of the KKK

---

spudcon Tuesday Jun 24 07:21 AM

Saw fish?
http://cellar.org/attachment.php?att...1&d=1213881210

---

footfootfoot Tuesday Jun 24 09:36 AM

I see said the blind fisherman as he picked up his fish hook and saw.

Or not.

---

xoxoxoBruce Tuesday Jun 24 10:44 AM

---

Imigo Jones Tuesday Jun 24 11:49 AM


A happy sawshark comes from a loving home.


.


Father: Hammerhead dolphin
Mother: Circular sawshark

---

Diaphone Jim Tuesday Jun 24 12:09 PM

The shark is the one on the left, not right. They are especially strong since those long things on their noses are barbels.

---

barefoot serpent Tuesday Jun 24 12:19 PM

Torpedoes! Los!

---

barefoot serpent Tuesday Jun 24 12:22 PM

or saw-whet?

---

birdclaw Tuesday Jun 24 02:12 PM

Looks like they are both frowning. But I guess if I had a head shaped like that I wouldn't smile much either.

---

Sarasvati48 Tuesday Jun 24 03:54 PM

Sharks are fish...

---

Sarasvati48 Tuesday Jun 24 03:57 PM

Oh, and they belong to the same family...

---

Big Sarge Tuesday Jun 24 04:04 PM

The sawfish & the sawshark are two different creatures. Did you know the sawfish have been known to swim up the Mississippi River? They can grow to be about 18-20 feet long

---

Madman Tuesday Jun 24 04:19 PM

I wonder if they have teeth? Sure would hate to get bit by one.

---

Sheldonrs Tuesday Jun 24 06:48 PM

If you are swimming and you see a sawfish and a hammerhead Shark, you are screwed.

---

Aliantha Tuesday Jun 24 07:17 PM

Just because they live in the same environment doesn't mean they're the same creature.

Saying sharks are fish is like saying humans are snakes. Obviously there are some humans with snake-like characteristics, but they're still not snakes.

---

Aliantha Tuesday Jun 24 08:05 PMPristiophorus cirratus and is found in the waters around southern Australia's outer continental shelf, and is endemic to that region.

There are a few different varieties of saw shark, but they all come from the Pristiophorus family. Lay people will often refer to a sawshark as a sawfish though, so it's possible that's where the confusion arises? You can see that the one on the left has the two longer prongs. That's what identifies it as a saw shark. The one on the right doesn't have them and the structure of the snout is different.

---

Elspode Wednesday Jun 25 12:20 AM

A shark is a fish. It is a cartilagenous fish.

---

spudcon Wednesday Jun 25 01:03 AM

But are they good with tarter sauce?

---

Cloud Wednesday Jun 25 01:05 AM

their little eyes are cute.

sort of.

if you squint.

---

xoxoxoBruce Wednesday Jun 25 01:12 AM

Those aren't eyes, they're ports for the frickin laser beams.

---

Gravdigr Wednesday Jun 25 09:55 AM

---

Sundae Wednesday Jun 25 08:17 PM

The next in the sequence is posted on the WTF NSFW thread.
Saw arse.

---

Imigo Jones Thursday Jun 26 02:46 AM


The Sawshark Redemption

Brighter close-up of mouth

---

SPUCK Thursday Jun 26 06:22 AM

Tuna will croak if they stop swimming.

---

Sundae Thursday Jun 26 08:11 AM

Gaudi's gaudy folly.
They sure don't look like shark teeth to me.....

---

spudcon Thursday Jun 26 03:35 PM

Isn't that the latest module on the ISS?



---

HungLikeJesus Thursday Jun 26 03:59 PM

No, it's the new WTC.

---

Griff Monday Jun 30 09:22 AM

That is not appropriate humor. Some of us lost bids on the new WTC.

---
Your reply here?

The Cellar Image of the Day is just a section of a larger web community: a bunch of interesting folks talking about everything. Add your two cents to IotD by joining the Cellar.