xoxoxoBruce Saturday Jun 21 07:31 PM

June 21, 2008: Wet Times

When the polar icecaps melt, or the Canary Islands send a 100 ft high tidal wave across the Atlantic, or maybe a super volcano turns the Pacific into a wave machine, are you ready to survive without toys?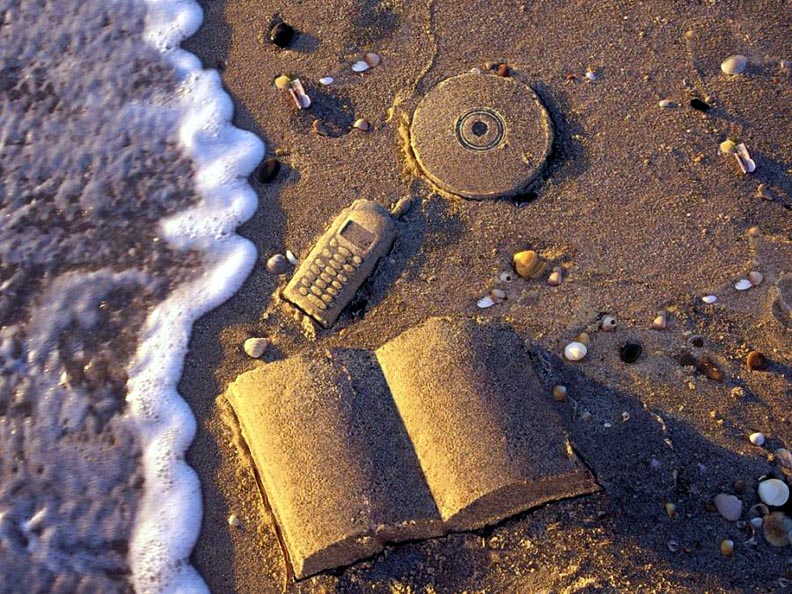 You might not have Google to tell you what to do.
That old Scout Manual may have dissolved.
ATMs may have no power.
No, you may not call a friend.
Got a good cat recipe?

---

footfootfoot Saturday Jun 21 07:39 PM

That's when you want the jack of all trades.

---

lumberjim Saturday Jun 21 09:03 PM

i aint skeert

---

sweetwater Saturday Jun 21 10:54 PM

How long can you tread water?
HaHaHaHaHa
[/Bill Cosby Fx]

---

Flint Saturday Jun 21 11:59 PM

I can hold my breath a loooooong time! [/Creepshow]

---

Cloud Sunday Jun 22 01:03 AM

(looks for the soggy newspaper)

---

Aliantha Sunday Jun 22 01:11 AM

My Dad goes on about this sort of thing all the time. He's definitely a believer in the end of days type apocalyptic prophesies. Just the other day he was telling me how when the pacific plates moves some time in the next couple of years, we're going to get massive tidal waves here too, and that we'll have to be prepared to survive for at least two years without any shops etc, and to defend our land and grow our own food.

I usually tell him that I'll either do that or drown when the wave comes in, but I'm not going to spend all my time stressing about it.

---

newtimer Sunday Jun 22 02:51 PM

I live about an hour's highway-drive away from the Pacific. Could a few massive tidal waves would wipe out everything between me and there, giving me a beachfront property? A dream come true!

---

pandybat Monday Jun 23 04:22 PM

Nice pic! Makes you think, doesn't it?
Too bad it's a bit photoshopped.

---

glatt Monday Jun 23 04:28 PM

What's it make you think about? Opening up a can of spam? You know, for survival food?

---

Gravdigr Monday Jun 23 07:56 PM

At first glance, I thought it was going to be yet another picture of Martian dirt!:p

---

xoxoxoBruce Monday Jun 23 10:58 PM

Quote:

Originally Posted by

pandybat

Nice pic! Makes you think, doesn't it?
Too bad it's a bit photoshopped.

Welcome to the Cellar, Pandybat.


It's a good picture or it's not, makes no difference how it was created.

---

pandybat Tuesday Jun 24 01:53 PM

Gosh you guys! Calm down.

I didn't say it was a bad pic...I just noticed some photoshopping in it.

I love the message of the picture though. Makes you think about what you would do it you suddenly had to go back to life with no gadgets. Scares me a bit, that's for sure.

---

val5150 Tuesday Jun 24 03:02 PM

Quote:

Originally Posted by

pandybat

Nice pic! Makes you think, doesn't it?
Too bad it's a bit photoshopped.



I agree. It is a nice picture and does have some value for making us examine out technological dependencies, but I would be more impressed it looked genuine. Had those three items and the handfull of rocks and shellls actually been rolling around in the surf, they would not have been deposited as shown. Anyone who walks on the beach should be able to see the technical faults in this image. But as it goes in the art world, even a bad response is better then no response at all!

---

xoxoxoBruce Tuesday Jun 24 11:06 PM

---

footfootfoot Wednesday Jun 25 09:26 PM

Exited? Staged left!
Excited? Take a clam walk.


(Silly, clams don't walk.)

---

SeanAhern Saturday Jun 28 11:49 AM

I hadn't really looked for the Photoshopping before you mentioned it, pandybat. But now that I do, I almost can't stand to look at the water behind the leading edge. The clone stamping is so obvious that it almost looks like blurry double-vision.

---
Your reply here?

The Cellar Image of the Day is just a section of a larger web community: a bunch of interesting folks talking about everything. Add your two cents to IotD by joining the Cellar.